Dems are troglodytes about women and self-defense, and they're selling this as a virtue for the next election
Colorado State Rep. Joe Salazar's ham-handed, even troglodyte, advice for campus women worried about rape came as no surprise to me.  My experiences at UC Berkeley thirty-odd years ago left me fully prepared for this Leftist approach to females and true self-defense, an approach that hides both misogyny and an overriding fear for the men involved in a potentially dangerous situation.
Long-ago, when I attended Cal, my economic situation  — too poor to afford on-campus housing, too middle-class to get meaningful financial aid — meant that I lived at home and commuted.  This was not an ideal way to attend college.  I spent an awful lot of time in transit and I had a hard time maintaining a social life (something made harder by the fact that I worked my way through college).
A significant chunk of my transit time was devoted to finding all-day parking and then walking to and from that parking.  The closer one got to campus, the more limited the parking options were:  there was resident-only parking, 30-minute parking, 1-hour parking, 2-hour parking, etc.  Since my job and my classes kept me on campus all day, I usually ended up parking between a mile and a mile-and-a-half away from my classes.  The walk, although time-consuming was pleasant, although less so if I had a lot of books to carry or it was raining.
In my senior year, however, things changed, because there was a rash of rapes and assaults on women near campus.  I was less than thrilled when, during winter's early, dark afternoons, I had to walk to my car alone.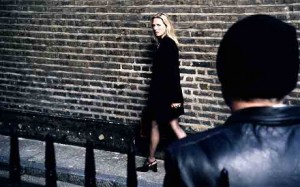 Since many women around this same time were unhappy about walking to their dorms, apartments, and cars alone, the campus police instituted an "escort service."  With this service in place, women could go to the campus police office and an authorized man (I don't know if they were employees or volunteers), armed with a walkie-talkie, would walk them to their destinations.
I immediately availed myself of the service — only to discover that it wasn't a service at all. The deal was that these escorts were not allowed to exceed a half-mile radius.  The reason given was that their walkie-talkies didn't work outside of that radius, so it was unsafe for them to go further. You got that, right?  It was unsafe for the men to exceed a half-mile radius but presumably more safe for the women to continue on their own.
The nice escorts would stand at their little boundary to listen in case they heard your screaming.  Frankly, I really didn't feel that this auditory aid amounted to much.  You see, the reality of this so-called "escort service" was that I was left on my own on Berkeley's dark and unfriendly streets.
Given the program's manifest inadequacies, I rather quickly abandoned the whole notion of applying to the campus police for aid in getting to my car.  Not only was it unhelpful, it actually increased my risk.  Since there were only a few escorts available at any given time, I had to hang around the office waiting and waiting, even as the skies grew darker and the streets scarier.
This experience at UC Berkeley was the first time I ran headlong into the Progressive's devotion to lip service over actual service.  They made lots of noise, but they cared more about men than about women, and more about image than reality.
Those unpleasant evenings on campus, when I felt alone and defenseless, returned to me in living color when I heard about Colorado State Rep. Joe Salazar's bizarre advice to women facing a scary campus environment:
It's why we have call boxes, it's why we have safe zones, it's why we have the whistles. Because you just don't know who you're gonna be shooting at. And you don't know if you feel like you're gonna be raped, or if you feel like someone's been following you around or if you feel like you're in trouble when you may actually not be, that you pop out that gun and you pop … pop around at somebody.
The gloss is that "he cares."  The reality is that this ostensible "caring" is mere lip-service.  What Salazar carelessly let slip is the misogyny that underlies so much strident feminism (perfectly realized in this amalgam of this Koran and an anti-rape rally).  The Nanny state is built upon the elite's belief that individuals cannot care for themselves, and nowhere is this more obvious than in the claim that women are incapable of recognizing danger or acting appropriate when they do recognize it.
Moreover, rather than worrying about high-risk women being hurt, Salazar is terribly worried that low-risk men will get hurt ("you just don't know who you're gonna be shooting at").  Here's the deal Rep. Salazar:  the good guys, the men who don't rape, don't stalk women and they don't interview women ("Hey, babe, can you tell me the time?  No?  Too bad.  You're cute.  You know you're cute, don't you?").  What they do is to keep a respectful distance and attitude.  Do that, and you won't get "popped."
In other words, Salazar is my UC experience all over again:  lip-service and misogyny, wrapped up in a package of making sure that the men are safe.
It's not just Salazar, of course.  Looking at this much-publicized advice from University of Colorado.  Apparently awed by the abilities its bulimic students have shown over the years, the university advises women who are threatened to vomit on demand (emphasis mine):
Be realistic about your ability to protect yourself.
Your instinct may be to scream, go ahead! It may startle your attacker and give you an opportunity to run away.
Kick off your shoes if you have time and can't run in them.
Don't take time to look back; just get away.
If your life is in danger, passive resistance may be your best defense.
Tell your attacker that you have a disease or are menstruating.
Vomiting or urinating may also convince the attacker to leave you alone.
Yelling, hitting or biting may give you a chance to escape, do it!
Understand that some actions on your part might lead to more harm.
Remember, every emergency situation is different. Only you can decide which action is most appropriate.
I especially like that first one:  "Be realistic about your ability to protect yourself."  With that advice in mind, ask yourself this:  Am I more likely to protect myself against a power-hungry predator who may be hopped up on drugs by doing this?
Or by doing this?
By the way, don't fall into the trap of thinking that Salazar's going to be humiliated about this one.  Although the conservative blogosphere is pointing fingers, liberals who were outraged by Todd Akin's stupid rape quote are perfectly fine with Salazar's stupid and demeaning advice to women.
And why not?  They agree with it.  Moreover, their agreement matters because, just as the Dems used Akin and women to give Obama that last little push he needed to get into the White House, Dems are planning that same strategy with women and guns.  They're already starting the "women who love their communities hate guns" trope, which we can expect to get worse with time.
Long-essays like mine are great at educating women about guns and warning conservatives about future gun attacks, right?  Oh, God no!  I wish.  In a short-attention span universe, I am a poison pill.  After the first paragraph, the average voter's eyes are rolling back into her head, she's reaching blindly for her TiVo clicker or her smart phone, and she's totally tuned out.
The reality is that, in short-attention span America, we do not need long essays like mine.  I'm a pre-programmed essayist, though, and, sadly, I can't seem to help myself.
What I'd love is to be more visual, so that I could create pithy posters or punchy videos that could easily be circulated on Twitter and Facebook, all of which drill home the same point:  guns make women safer, not less safe.
If you have photoshopped a poster that puts together gun statistics (such as these) in a clever, easy-to-see way, or you've created a video that does the same, let me know, and I'll do my best to promote it.  Dems are already planning for the next election, so we need to as well.