The homogeneity of Leftist thinking at American institutions and its effect on poverty at the ground level
I've written before about one of my favorite writers, Paul Fussell.  He wrote a wonderful essay entitled Thank God for the Atom Bomb
, about the righteousness of dropping the atom bomb.  He was in the Army when Truman dropped the bomb, so Fussell wholeheartedly approved — and had the data to back up his personal opinion.  (More recently released data completely backs up his 30 year old hypothesis.)  I also wholeheartedly approve, as my Mom was a few weeks away from dying in a Japanese concentration camp when the bomb dropped.
Fussell also wrote what I think is one of the greatest books ever about WWI, The Great War and Modern Memory
.  I just bought the Kindle version to reread because my copy, which I bought in college, has disintegrated. It's a beautifully written book that looks at both the war and concurrent war literature to track a vast paradigm shift in intellectual thought during the four years the war lasted.  Young men went in imbued with Victorian ideas of chivalry and honor; they came out jaded, cynical, and completely unable to accept that aggression is sometimes necessary and could have been useful in preventing Hitler's rise. It is a triumph of both military writing and literary writing.
What you might not know about Fussell was that this iconoclast was a university professor.  Nowadays, the phrase iconoclastic professor is an oxymoron.  Not so in Fussell's heyday.  Wikipedia sums up his military and academic career:
Fussell attended Pomona College from 1941 until he enlisted in the US Army in 1943. He landed in France in 1944 as a 20 year-old second lieutenant with the 103rd Infantry Division,[8] was wounded while fighting in Alsace, and was awarded the Bronze Star and Purple Heart. He was honorably discharged from the army in 1946, returned to Pomona to finish his B.A. degree in 1946-7, married fellow Pomona graduate Betty Harper in 1949, and completed his MA (1949) and Ph.D. (1952) at Harvard University.

He began his teaching career at Connecticut College (1951–55) before moving to Rutgers University in 1955 and finally the University of Pennsylvania in 1983. He also taught at the University of Heidelberg (1957–58) and King's College London (1990–92). As a teacher, he traveled widely with his family throughout Europe from the 1950s to 70s, taking Fulbright and sabbatical years in Germany, England and France.
As his writing shows, Fussell was an entirely original thinker who didn't march to the beat of anyone's drum.  Indeed, he delighted in challenging what was already becoming stifling academic orthodoxy:
Fussell stated that he relished the inevitable controversy of Class: A Guide Through the American Status System (1983) and indulged his increasing public status as a loved or hated "curmudgeon" in the rant called BAD: or, The Dumbing of America (1991). In between, Thank God for the Atom Bomb and Other Essays (1988) confirmed his war against government and military doublespeak and prepared the way for Wartime: Understanding and Behavior in the Second World War (1989). The epiphany of his earlier essay, "My War", found full expression in his memoir Doing Battle: The Making of a Skeptic (1996), "My Adolescent illusions, largely intact to that moment, fell away all at once, and I suddenly knew I was not and never would be in a world that was reasonable or just". The last book by Fussell published while he was alive, The Boys' Crusade: The American Infantry in Northwestern Europe, 1944-45 (2003) was once again concerned with the experience of combat in World War II.
Fussell was never petrified or brainwashed by his academic career.  I wonder what Fussell would have thought if he'd been a teacher at Bowdoin in the last twenty years or so.  Bowdoin found itself in the news lately because of what David Feith calls "The Golf Shot Heard Round the Academic World."  It all started when Barry Mills, Bowdoin College's president, had a golf game with investor and philanthropist Thomas Klingenstein.  During the game, the subject of academic diversity came up.  Both Mills and Klingenstein would agree that Klingenstein didn't like it.  According to Mills's retelling at a subsequent graduation ceremony, Klingenstein was hostile and, in a word, dumb.  Writes Feith:
In his address, President Mills described the golf outing and said he had been interrupted in the middle of a swing by a fellow golfer's announcement: "I would never support Bowdoin—you are a ridiculous liberal school that brings all the wrong students to campus for all the wrong reasons," said the other golfer, in Mr. Mills's telling. During Mr. Mills's next swing, he recalled, the man blasted Bowdoin's "misplaced and misguided diversity efforts." At the end of the round, the college president told the students, "I walked off the course in despair."
Klingenstein got word of this graduation address, which implied that the anonymous golf-companion was a troglodyte and racist, and knew that Mills was talking about him.  Klingenstein decided to set the record straight.  Rather than just saying "that's not what I meant," or offering his opinion about diversity, Klingenstein took his money and funded a National Association of Scholars project that carefully examined Bowdoin's curriculum, especially in the last ten years.  The results were eye-opening, to say the least — or, saying a little more than the least, eye-opening to anyone who hasn't been paying attention to what's going on in, and the product (i.e., graduates) coming out of, these academic "gatekeepers of civilization":
Published Wednesday, the report demonstrates how Bowdoin has become an intellectual monoculture dedicated above all to identity politics.

The school's ideological pillars would likely be familiar to anyone who has paid attention to American higher education lately. There's the obsession with race, class, gender and sexuality as the essential forces of history and markers of political identity. There's the dedication to "sustainability," or saving the planet from its imminent destruction by the forces of capitalism. And there are the paeans to "global citizenship," or loving all countries except one's own.

The Klingenstein report nicely captures the illiberal or fallacious aspects of this campus doctrine, but the paper's true contribution is in recording some of its absurd manifestations at Bowdoin. For example, the college has "no curricular requirements that center on the American founding or the history of the nation." Even history majors aren't required to take a single course in American history. In the History Department, no course is devoted to American political, military, diplomatic or intellectual history—the only ones available are organized around some aspect of race, class, gender or sexuality.

One of the few requirements is that Bowdoin students take a yearlong freshman seminar. Some of the 37 seminars offered this year: "Affirmative Action and U.S. Society," "Fictions of Freedom," "Racism," "Queer Gardens" (which "examines the work of gay and lesbian gardeners and traces how marginal identities find expression in specific garden spaces"), "Sexual Life of Colonialism" and "Modern Western Prostitutes."

Regarding Bowdoin professors, the report estimates that "four or five out of approximately 182 full-time faculty members might be described as politically conservative." In the 2012 election cycle, 100% of faculty donations went to President Obama. Not that any of this matters if you have ever asked around the faculty lounge.

"A political imbalance [among faculty] was no more significant than having an imbalance between Red Sox and Yankee fans," sniffed Henry C.W. Laurence, a Bowdoin professor of government, in 2004. He added that the suggestion that liberal professors cannot fairly reflect conservative views in classroom discussions is "intellectually bankrupt, professionally insulting and, fortunately, wildly inaccurate."
This is an intellectual, academic paradigm shift of almost incomprehensible magnitude.  Since its inception, regardless of the reality on the ground, America's self-image (which was sold to generations of school children and college students right up until the 1950s) was of an inclusive nation, a melting pot, dedicated to the principle that all American citizens are entitled to equal treatment under the law; have a right to equal access to American opportunities (with it being up to the people whether to take that access); and are subject to the downside risks should they refuse to seize the opportunities or violate the law.  With slavery and Jim Crow, we deviated from the principles, but the principles were sound.
At Bowdoin, though, and others like it, the paradigm has shifted.  Young people are taught a new, ugly paradigm about their country:  America is composed of disparate groups, with a few select groups made up of white men (and, probably, Jews) controlling the nation and doing what they can to exploit, denigrate, and impoverish a never-ending, every-growing list of victim classes, ranging from women, to homosexuals, to non-white races, to Muslims, to fat people, to anything that can be brought under the umbrella of victim.  There is no such thing in this world as equality of opportunity.  There is only equality of outcome that can be attained by using the government to strong-arm the ruling class of white males (and, possibly, Jews) so that they redistribute their ill-gotten gains to the victims.
I was talking the other day to a friend who works at elementary schools in a large, urban ghetto.  These schools have no white children.  The schools are dreadful, and the children — innocent victims all — suffer terribly.  They grow up in abysmal poverty, and they don't have role models within their homes showing  education or wealth.  Their neighborhoods are rife with crime (especially gun fire) and substance abuse. Almost all come from broken homes.Their streets are dangerous because of gangs.  The message one receives from those brave enough to work in those neighborhoods is that these children can succeed only if we pour government funds into their schools.  And if those funds don't work, then we need to pour more in, and still more in.
In my mind, I compared these children — and they are so sad, since they are bright little lights that are blinking out — with the immigrants who came to this country between, say, 1850 and 1950.  They lived in ghettos; they lived in abysmal poverty; their parents didn't speak the language of wealth (many didn't even speak English); the streets were dangerous, not because of gunfire, but because of knives, disease, and starvation; there was significant substance abuse (alcoholism and opium); schools were grossly underfunded, etc.  And yet these children became working class, their children became middle class, and their children became upper class.  It wasn't a 100% success rate at every generation, but it was a substantial rate at every generation.
They went from this: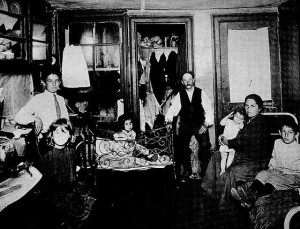 and this: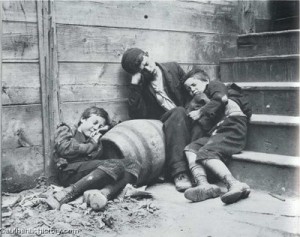 to this: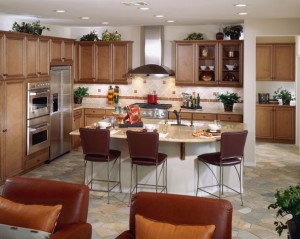 What's the difference between then and now? I don't believe that it's because American blacks (and it's mostly blacks stuck for generations in ghettos) are forever developmentally disabled by slavery. John McWhorter points out that blacks were ascending rapidly
, both socially and economically, before Lyndon Johnson's Great Society enticed them into welfare and single parenthood (welfare pays single mothers better than two parent families).  Starting in the 1960s, the increasingly Left-leaning white leadership in America told blacks that, the end of slavery and Jim Crow notwithstanding, they are not created equal and they are not equal under the law.  They are different — they are needier.  Without Mama and Papa government, they are nothing.
I think it's this paradigm shift, one that starts in the Ivory Towers by creating infinite victim classes, all of which that can be raised up only by government intervention and control, that trickles down into the streets. In the old days, you had to do it yourself, so you did. Nowadays, the government is supposed to rescue you. Homes don't emphasize education, self-sufficiency, and upward mobility. They emphasize "Why isn't the government helping?"  This is not about race, or slavery, or poverty — it is about an intellectual environment that explicitly educates future leaders that government needs race-victims, and slave-victims and poverty-victims to fulfill its purpose.  Without those classes, government is meaningless and by definition a vehicle of evil.
Paul Fussell, who thought outside the box, would not have approved.  (Or at least I like to think he wouldn't have approved.)