A matched set about gun control and crime
From John Lott, describing what happened in Washington, D.C. when the Supreme Court decided District of Columbia v. Heller, reversing D.C.'s draconian anti-gun laws:
When the Heller case was decided, Washington's Mayor Adrian Fenty warned: "More handguns in the District of Columbia will only lead to more handgun violence." Knowing that Chicago's gun laws would soon face a similar legal challenge, Mayor Richard Daley was particularly vocal. The day that the Heller decision was handed down, Daley said that he and other mayors across the country were "outraged" by the decision and he predicted more deaths along with Wild West-style shootouts. Daley warned that people "are going to take a gun and they are going to end their lives in a family dispute."

But Armageddon never arrived. Quite the contrary, murders in Washington plummeted by an astounding 25 percent in 2009, dropping from 186 murders in 2008 to 140. That translates to a murder rate that is now down to 23.5 per 100,000 people, Washinton's lowest since 1967. While other cities have also fared well over the last year, D.C.'s drop was several times greater than that for other similar sized cities. According to preliminary estimates by the FBI, nationwide murders fell by a relatively more modest 10 percent last year and by about 8 percent in other similarly sized cities of half a million to one million people (D.C.'s population count is at about 590,000).
From the New York Post, describing what's been happening in Manhattan since New York State enacted its draconian anti-gun law:
Some of Manhattan's wealthiest neighborhoods are exploding in a wave of violent crime that hearkens back to the bad old days when people feared going out at night, according to NYPD data obtained by The Post.

Chelsea, Gramercy Park, TriBeCa, SoHo and Midtown South all posted a frightening rise in rapes in the first three months of 2013 compared with the same period in 2012. Felony assaults in the usually peaceful West Village nearly tripled, the new crime statistics show.

Greenwich Village's 6th Precinct tied the Rockaways' grimy 100th Precinct for the city's biggest year-to-date overall crime spike.
A graphic tells the story: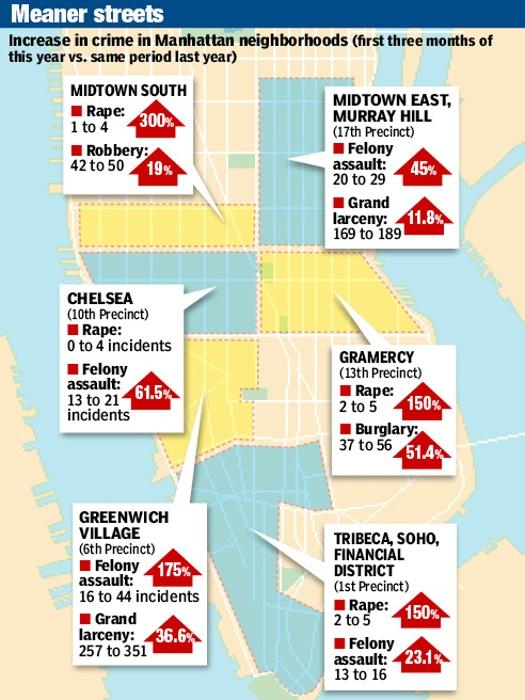 I wouldn't presume to draw any conclusions from these two sets of data. I'll leave you all to draw your own conclusions.