When it rains it pours (and that's bad for the Obamites)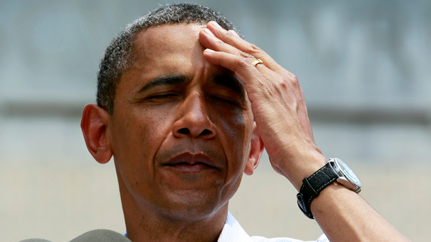 In the past four years, conservatives have felt disheartened by the Obama deluge.  Since he first took office, conservatives have been playing defense on so many things:  ObamaCare, changes in the military to allow gays to serve openly and women to serve in combat roles, attacks on Israel, a non-declared war in Libya, caving in to Iran, announcing defeat in advance in Afghanistan, attacks on Second Amendment rights, far-Left political appointees, etc., etc.  You know that I've frequently blogged about feeling disheartened and overwhelmed.  The only victories that have come down the pike are Obama's having to retreat from his attacks against Israel (but a little more on that later) and the Democrats' recent gun control loss.  The first came about, not because of anything conservatives did, but because reality interfered with Obama's grand plans.  The second seemed to come about because of conservative efforts, but it also happened because it turns out that Obama's second term is not going to be as shiny as the first.
This time around, Obama is on the receiving end of the "if it rains, it pours" expression.  In the last week, all the straws he thought he'd gathered neatly in his hands have been scattered to the winds.  Here's my list of the last two week's worth of scandals and mishaps.
1.  The most recent round of Benghazi hearings revealed that Obama's hand-picked Secretary of State bungled affairs in Libya so badly that four men, including an American ambassador, died on a teeny plot of U.S. soil, at the hands of terrorists affiliated with al Qaeda.
2.  Those same hearings revealed that a significant part of Hillary's failure resulted from her need to align with Obama's officially stated policy position on al Qaeda:  It was decapitated when Barack Obama, practically single-handedly except for a small assist from some expendable Navy SEALS, killed Osama bin Laden.
3. Those same hearings revealed that, while the attack was going on, both the President and the Secretary of State got some much-needed sleep to prepare for the next day's campaigning.
4.  Those same hearings revealed that Obama absolutely refused to send help, whether because it would have interfered with his political narrative, or because he was afraid of "coming on to strong" in the Muslim world, or because that would have interfered with his beauty rest.  We don't know the motive; we just know the fact.
5.  Those same hearings revealed that Obama and Hillary (and by using that term I mean the entire chain of command that ends with them at the top of the heap) worked frantically to create a cover-up pinning the attack, not on al Qaeda, but on an obscure, slightly shady Christian film-maker, who languishes in prison even today.
6.  Obama's Justice Department, headed by Eric "Fast & Furious" Holder, tapped 40 different phone lines at Associated Press, including it's official line in the House of Representatives.  Associated Press, which has been an untiring water carrier for the administration — touting its agenda, hiding its troubles, attacking its enemies — might just have been mugged by reality.
7.  The families of the 17 SEAL Team 6 members who died on August 6, 2011, when a Taliban rocket took out their insufficiently-armed helicopter (and killed 21 other military personnel) are on the warpath.  They claim that it was Obama's and Biden's boasting about SEAL Team 6's role in the Osama bin Laden killing that paint a target on their sons' (and brothers' and husbands' and fathers') backs.  To rub salt in the wound of seeing their brave men die, not in the service of their country, but as necessary sacrifices to Obama's political ambitions, Obama's Pentagon, when it conducted the official memorial service at Bagram Airbase in Afghanistan, refused to allow these men's Judeo-Christian God even to be mentioned, but invited a Muslim Imam whose invocation, of necessity since it was an Islamic prayer, cursed them for being infidels.
8.  News broke that the IRS deliberately audited conservative groups who were seeking tax exempt status because their primary goal was education.  Any groups with giveaway words in their names such as "Tea Party," or "Patriot" or "Constitution" were swept up in the effort.  In addition to audits, the IRS also asked intrusive questions aimed at eliciting information about donors. Although the IRS tried to claim that the problem was a local office, it quickly became clear that the directive came from Washington and that the IRS has known for years what was going on and denied it.
9.  The dust had scarcely settled on this IRS revelation when it emerged that the IRS had also targeted pro-Israel groups, who advocated policies different from Obama's "get Israel at all costs" approach to foreign affairs.
10.  And the dust was still floating on the IRS's attack on pro-Israel groups (and do keep in mind that Israel is America's ally), when it emerged that the IRS had leaked to a Leftist advocacy group tax information about organizations on Obama's political enemies' list.
11.  Obama's EPA granted almost all waiver requests from friends of Obama and denied almost all waiver requests from Obama's political opponents.  Coincidence?  I think not.  This isn't a huge scandal — yet — but it could develop in interesting ways.  I mean, we all understand that the EPA is filled with far-Left political hacks.  That's why it's not as shocking as the IRS scandal.  We've always assumed that the IRS is an equal opportunity money grabber.
11.5  It's not really an administration scandal, but the verdict against Kermit Gosnell, which came from a jury that was 3/4 pro-Choice, shows that the Leftist pretenses about late-term abortion, and life-birth baby care (which Obama opposed) is starting to float into the public awareness.
I haven't looked at the headlines in the past half-hour, but I suspect that more sordid scandals are popping up now that the dam is breaking.  Conservatives find all four corners of these scandals (Benghazi, IRS, Navy SEALS, and AP intimidation) disturbing.  Leftists, predictably, care only about the IRS and the AP intimidation.  Whatever.  As long as the media starts taking corruption in the Obama administration seriously, it's all good.
Here are some good links for more information about the scandals.  (You've probably noticed that I was too lazy to hyperlink any specific facts, because I had opted for this end-of-the post data dump.)
Richard Baehr talks about the President's silence as his lies are revealed.
Leftists may be right to pretend Benghazi is not a problem, because the public doesn't care.
Barry Rubin explains why Obama will not be getting any further mileage out of attacking Israel.
The Anchoress has a perfect visual to explain Jay Carney's role in life right now.
Richard Fernandez asks whether the breaking wave of scandals is just a cosmic coincidence or if we're witnessing a breaking p0int.  I think it depends on how angry the media is about the AP story, and how fearful they are about a politicized IRS.
Bryan Preston helpfully sums up the four major scandals (no, make that five major scandals) currently plaguing the administration.
Michael Ramirez has the perfect cartoon.
And my friend Wolf Howling has two great posts summing up precisely what's wrong with the whole Benghazi debacle:  the lack of a military response (which goes straight to Obama) and the reason, contra Obama, that there is a "there there."