Florida assures its citizens that they can all be murderous thugs
Putting aside all the racist rhetoric flying around from the Left, the uncontroverted evidence coming out of the Zimmerman trial proved that (a) a hooded figure was sitting on top of another man brutally beating him and (b) the man being tried for murder showed all the signs of someone who was on the receive end of a severe beating, from the broken nose to the bleeding back of his head.  Putting aside the racist rhetoric from the Left, the incontrovertible facts that the court refused to admit (incontrovertible because they came from the dead man's own phone), showed that the dead man was a drug user and fighter who was fascinated by guns and violence.
Now, Florida's state capitol has announced that you (and you and you and you and you!) are Trayvon!  This assault on American (and Floridan) integrity and decency takes the form of a painting unveiled at the state captiol, purporting to show a hooded figure being shot in the back of the head (which avoids the fact that Trayvon wasn't running away but was, in fact, intensifying his full front assault) by a man who looks like a cross between George Zimmerman and Stalin.  However, instead of seeing Trayvon's face in the hoodie, it's a mirror.  (This ham-handed propaganda device somehow made me think of "Soylent Green" — you know, the bit where he says "It's people!"):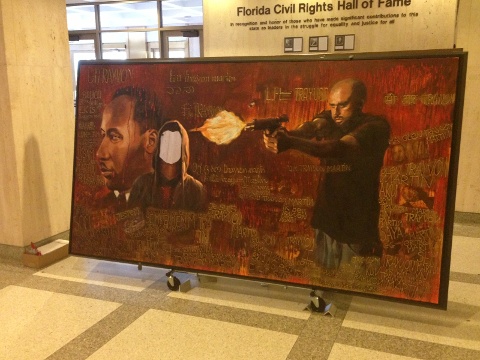 In other words, says the State of Florida, we're all drug addled thugs who try to beat people to death.  Even worse, if you look at the wall sign behind the painting, it says that we're looking at the Florida Civil Rights Hall of Fame.
If you'd like to let the State of Florida know that you find this fact-free, racist at of political propaganda offensive, you can contact the capitol building at the building's website.  As always, remember that a polite, firmly worded message is effective.  Obscenities, personal attacks, and threats only make you look bad and strengthen the other side's sense of self-righteousness.