Why Romeo and Juliet? Why not Much Ado About Nothing?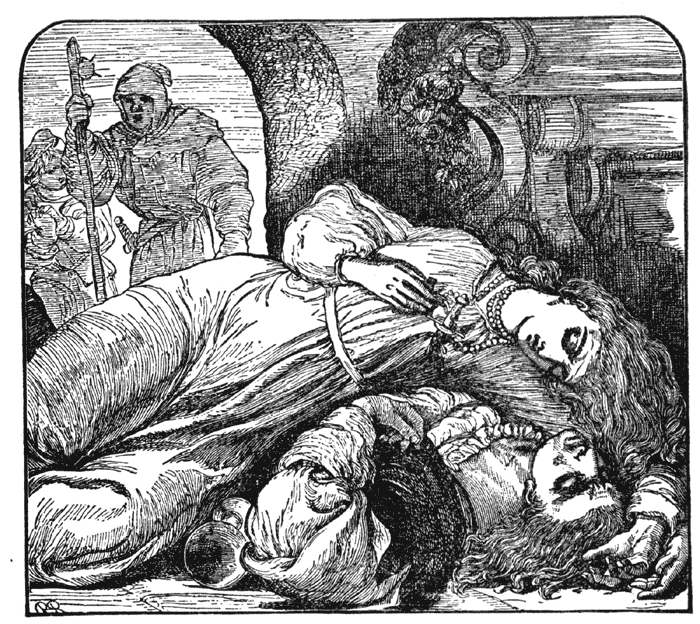 My two favorite Shakespeare plays are Julius Caesar and Much Ado About Nothing.  I'm also quite partial to Richard III.  My least favorite Shakespeare play is Romeo and Juliet.
Sure, I know that R&J has some of the most exquisite prose and poetry in the English language.  Indeed, I think that's part of the problem.
Shakespeare's writing disguises that Romeo and Juliet are two of the worst nincompoops ever to be created from an artist's imagination.  They are everything that is bad about teenagers:  fickle ("Rosamund?  Who the heck is Rosamund?"), overwrought, manic-depressive, impulsive, and woefully short-sighted.  Their failings bring death and destruction in their wake, and in this regard they are aided and abetted by the equally foolish nincompoops who surround them.  West Side Story recognized these failings, and tried to clean up Tony and Maria a little bit, by having him be less fickle, and having only one of them die at the end, slightly lessening the pile of bodies.
The only sensible analysis I've ever heard about Romeo and Juliet came from a professor at Berkeley who suggested to the class that Shakespeare didn't intend to write an ageless romance.  Instead, in a time when all classes of families arranged marriages for their children, his goal was to support this adult-controlled system by showing that, if youngsters are left to their own devices, their adolescent failings lead to disastrous choices for everyone involved.
Of course, that's not how high school English teachers approach Romeo and Juliet.  Instead, they focus obsessively on everybody's feelings.  Unlike Shakespeare, who thought that over-reliance on feelings brings tragedy in its wake, the modern way to teach R&J is to have classrooms full of 14, 15, and 16 year olds compare their feelings to R's & J's, and then to wallow in precisely the type of irrational thinking that Shakespeare thought was so dangerous.  It's as if the schools are intentionally creating emotional, adolescent, loose-cannon nincompoops.
For Gawd's sake, people!  Can't you see that, if everyone ends up suffering meaningless deaths, they've probably pursued a foolish, not a wise, course of conduct?  None of the dead in R&J sacrifice themselves to save another or to save their country.  All die because of rage, revenge, impulse control, and woefully poor lines of communication.
Wouldn't it be much more useful for students to read Much Ado About Nothing?  To the extent the play has a moral lesson, it has an obvious and useful one for the cesspool of gossip that is a modern high school:  gossip can ruin young women.  This is as true now as it was then.  In a day and age of social media, terrible stories keep popping up in newspapers about teenage girls who commit suicide after pictures of them misbehaving (usually because they were drunk) hit their schools' social media and cause them to become reviled outcasts.  Poor Hero almost suffered that fate.  It's good to have a play that focuses on moral purity, dangerous rumors, and rescuing sullied reputations.
And of course, nothing surpasses the delightful interplay between Beatrice and Benedick.  Whether on paper, e-reader, TV, or movie screen, most every romantic comedy written since Much Ado About Nothing relies on this Shakespearean formula of witty and wary lovers who use their words to both repel and attract.  Indeed, the two of them produced one of my favorite Shakespearean insults:
BEATRICE: I wonder that you will still be talking, Signior Benedick; Nobody marks you.

BENEDICK: What, my dear Lady Disdain! are you yet living?
Honestly, could anything be more pithy and cutting, yet surprisingly polite, than Benedick's comeback to Beatrice's insult?
If you ever get the chance, I highly recommend Joseph Papp's 1973 version of Much Ado About Nothing, which is set in small town America at the end of the 19th century.  The acting is delightful and the setting is perfect.  High school English classes would be so much happier if students could laugh at and learn from Much Ado About Nothing, instead of spending their time wallowing in the pathetic teen culture that is Romeo and Juliet.