Tonight marks the first night of Rosh Hashanna, the Jewish New Year.  More specifically, tonight is the 5,774th year that Jews have honored this particular holiday.  It is, so far as I know, the oldest continuously operating calendar in the world.
Tonight also marks a Jewish New Year that sees the world balancing delicately on a thin red line, one that Obama drew a year ago, and that he today denied.  To those who point out his unequivocal words, he says "Pish tosh.  Truth is now, as it has ever been, defined by my needs at any given minute."  It's nice to own your own reality.
Because the red line at issue is in the Middle East, Israel and her Jewish subjects are always the Arabs' first target, never mind their own ills and failures.  As has happened many times in the past, some Jews, both in Israel and the diaspora, wonder if there will be a "next year, in Jerusalem."
But while this New Year happens to fall during a worrisome time, Rosh Hashanna is be definition a time of hope and renewal.  Yad Vashem reminds us of this with its collection of New Year's cards from the years immediately before, during, and after the Holocaust.
I was particular struck by the cards the Jews created in 1940 in the Lodz ghetto (renamed Litzmannstadt after a German general).  Despite the ever-tightening noose the Nazis were putting around Poland's population, the residents still took time to observe this essential moment in the annual calendar: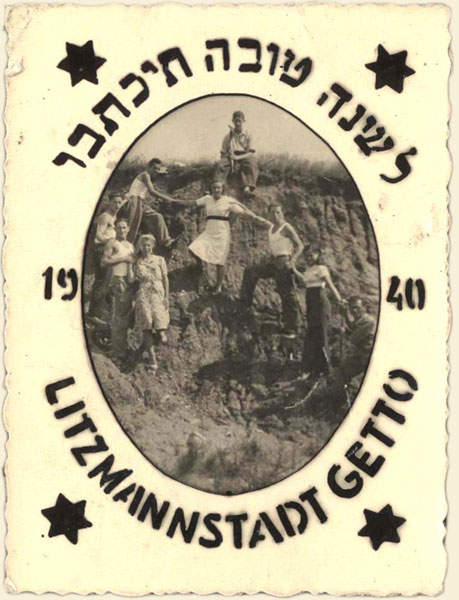 I doubt many, if any, of the people in that picture taken in better times survived the war:
On September 8, 1939, the Germans occupied Lodz and renamed the city Litzmannstadt (after the German general Karl Litzmann, who had conquered it in World War I). Lodz was home to 223,000 Jews on the eve of World War II. At the war's end, no more than 7,000 Jews from the Lodz Ghetto had survived the camps.
Seven thousand survivors out of 223,000 once vital, living people may sound like a depressing start to the New Year, but I have a point.  From those 7,000, as from all the other pockets of survivors across Europe and, from the Arab pogroms, across the Middle East, came one of the world's most spectacular countries.
Israel is spectacular by every metric:  It is a thriving, pluralist, inclusive, liberal democracy that emerges like a glittering stone from a surrounding swamp of tyrannical medievalism.  It grants equal rights to all citizens, has one of the highest literacy rates in the world, has an armed force that is the wonder of the world (thanks, of course, to decades of American support), and contributes to scientific, technological, and agricultural advancements at a rate far in excess of its small size.  If you visit it, you find a dynamic, fun-loving people who are fiercely devoted to LIFE.  Unlike its surrounding neighbors, Israel is not a death cult; it's a life force.
Many have tried, but none, ever, whether Babylonians, or Romans, or Germans, or Muslims, have succeeded in snuffing out completely this light unto the world.  And when this light in the world survives, we are all, every one of us, made better and brighter because of it.
So every year is a Happy New Year because Jews have survived for 5,773 years and will undoubtedly bring their ferocious will to live and to contribute to the world's well-being for another 5,773 years.
Shana Tova, my friends!