Another bouquet of goodies from the blogosphere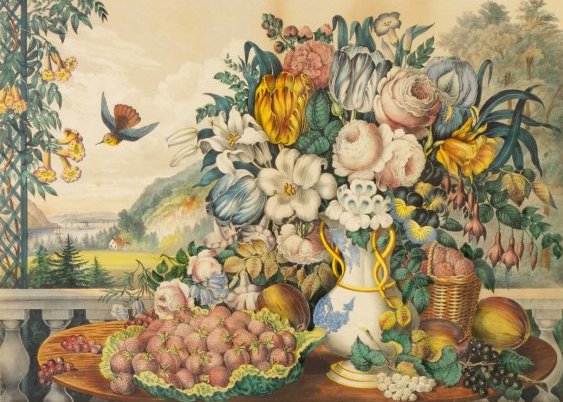 Before I begin, how do you like this lovely Currier and Ives image of nature's bounty?  My webmaster, Trip, suggested that as part of my site upgrade, I try to have a few images that are strongly associated with posts that might not otherwise be image-rich.  When I think of my "flotsam and jetsam" or "clearing off the spindle" posts, I always think of a bountiful bouquet.  So, here I am, "branding" my posts.  And here I go, sharing the blogosphere's bounty:
According to MSNBC, Consumer Reports, which had first warned its readers away from the Obamacare Exchange, is now raving about it:
"Now we're saying, 'it's time,'" [Nancy] Metcalf [Consumer Reports health care expert] said, in particular praising the new window-shopping function, in which users can peruse health plans without registering with the site. The requirement to make an account before viewing options was considered one of the main causes for the site's initial traffic bottleneck. "It's terrific, I've tried it, it was working yesterday through the busiest times," Metcalf said.
Dig down in the report, though, and you discover that the only thing Metcalf is actually raving about is the fact that the revised website gives consumers a chance to see products early in the process, rather than waiting until after having given over all their information.  Otherwise, Metcalf notes that problems persist, problems such as actually buying insurance:
Metcalf warned that consumers had no control over the back-end problems, which are giving inaccurate information to insurance providers, and said that if you enroll through Healthcare.gov and don't hear from your new provider within a week, your best bet is to contact the insurer directly.
In other words, Consumer Reports, which was an early Obamacare supporter, is trying to put lipstick on a pig, while ignoring the effluvia flowing out of the pig's back end.
Should you want a better sense of what's going on with Obamacare, I always recommend Jonah Goldberg, who can make you smile, even when what he's reporting is actually the stuff of tears.
Still, one can't ignore the fact that more people have been using Obamacare since November 30.  It remains to be seen whether any of the 29,000 last reported are satisfied customers or are even customers at all.  It's also unknown whether they are customers who fund subsidies or customers who use subsidies.  To many of the latter and too few of the former and yet another Obamacare flaw will reveal itself to the public at large.  Right now, it seems as if the youngsters who are required to buy insurance to prop up Obamacare are staying away in droves.  In any event, as it is, no one currently has any ideas what the subsidies will be, so the insurers are guessing and the government is essentially writing them a blank check.
What we do know is that a lot of people are waiting in long, long cyberlines.  Charles C. W. Cooke has a great post about socialism's love affair with lines.  I've told jokes on the subject (with pictures!), and Cooke includes an absolutely splendid 1979 Tory ad out of England — an ad that might have something to do with Margaret Thatcher's success: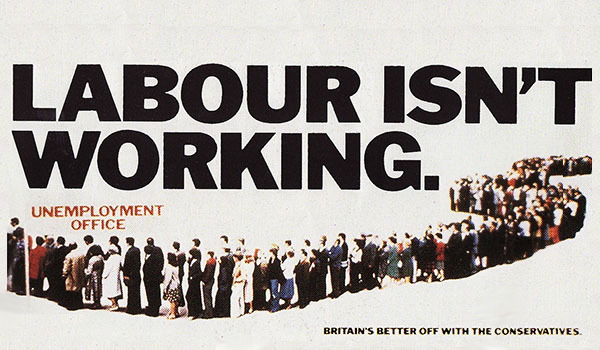 Okay, that's the Obamacare portion of this bouquet post.  Now on to other stuff:
Surprisingly, despite the Islamist sweep that followed the Arab Spring, if one ignores Iran and the bomb, Israel expects 2014 to be a safer year for it than 2013 was.  Basically, it's benefiting from the fact that Arabs and Muslims in surrounding nations are so busy fighting amongst themselves, they don't have the energy to attack Israel.  In addition, citizens in those countries are noticing that their own governments, rather than Israel, might be the problem.
Karl Marx loathed Jews.  Why therefore should we be surprised that Marx's political descendents despite them too?  In New York, which has now moved as far Left on the American spectrum as it's possible to do without going full Soviet, the Jew-haters are stealthily crawling out from under cover.  I recently spoke with a delightful, ultra-liberal New York Jewish transplant who couldn't believe that de Blasio could herald an antisemitic tinge to New York politics.  Perhaps a few years will leave him a sadder but wiser, and less liberal, Jew.
The House has the power of the purse.  Why doesn't it use it?  Angelo Codevilla points out that, now that the Senate has taken the nuclear option regarding the filibuster, the House can take the nuclear option regarding budgets, at least insofar as controlling judicial nominations goes.  I'm of two minds about this.  The House has power of the purse for a reason, so there's no reason it shouldn't use it in the face of a starkly ideological Senate.  Having said that, just as people have pointed out that the Democrats may regret ending the filibuster if/when Republicans regain power, Republicans may be worried about letting the "no funding" genie out of the bottle in the House because of the presumably inevitable day when Democrats will regain power.
Speaking of inevitability, weren't we told that Obama's election, and then his re-election, heralded a new era of unending Democrat majorities?  Apparently no one told that to the youth vote, which has become disenchanted with a Democrat government that lies to them, spies on them, takes their money, and leaves them without a future.  Remember, the higher on the pedestal you place yourself, the further and harder you're going to fall.
And a sad story about one of the Sudanese "Lost Boys" who's finding it harder than anyone could have realized when it comes to making it in America.