I've finally figured out the secret for getting Obama to support Israel *UPDATED*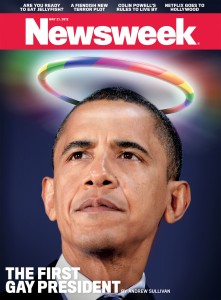 Since his first day in office, Obama has both passively and aggressively sought to undermine Israel. Unfortunately, he's proven to be very good at that, which stands in stark contrast to his administrative ineptitude with Obamacare. Under Obama's watch, Iran is getting near the nuclear bomb; the idea of a multinational Israel is gaining traction, even though it will probably have the same effect as Iran's bomb; and Kerry, knowing that Israel is on the ropes now that Obama abandoned her on Iran, is pushing his advantage, to Israel's disadvantage.
It's time for Israel to think outside of the box, and I might have figured out a workable strategy. To appreciate this strategy, we need to go for a bit of nation hopping, first to India and then to Russia. The answer to Israel's survival lies in Obama's dealings with those two nations.
When you have weak leadership, whether in a business or a country, all the dams break — everything flies apart.  The latest entry in this category is America's row with India.  America arrested an Indian diplomat, something that always creates a kerfuffle because of diplomatic immunity.  Worse, America treated this diplomat as it would any arrestee, by doing a full body (and body cavity) search.
In the old days, India would have objected strenuously and perhaps sent a few diplomats home.  That was when America was a country to be both feared and respected.
In Obama's America, however, things are different.  Very, very different:
New Delhi cops used tow trucks and a backhoe to dismantle the American Embassy's long concrete barriers — which are designed to prevent cars from speeding up to its gates in front of the compound.
In other words, in a nation that's been subject to its own appalling Muslim attacks, the Indian government just declared open season on the American Embassy.  One assumes that, in doing this, it know precisely how careless Obama's State Department is when it comes to protecting its outposts overseas.
As the Jews say at Passover, "Dayenu," meaning "it would have been enough."  But India wasn't content to stop there when it came to thumbing its nose at the world's "super power":
In other acts of aggression:

Several India officials boycotted a scheduled powwow with a US congressional delegation visiting this week.
Authorities demanded back special ID cards they issue to US Embassy workers and their families for certain privileges and halted the importing of goods such as alcohol to their commissary.
Officials vowed to probe the legal status of household help used by US Embassy workers — and what those employees get paid.
One political leader even suggested locking up the domestic partners of gay diplomats in retaliation for Khobragade's arrest — following a ruling last week from India's supreme court that essentially made homosexuality there illegal.
If the Indian government had merely removed embassy security, demanded the return of special ID cards, and looked into the legal status of household help, you can be absolutely certain that Obama would have contented himself with issuing one of his government's mealy-mouthed threats that, at a future date, it will issue threats. (i.e., "The United States is very disturbed about the Indian government's actions and is contemplating writing a letter of protest in which it promises that, should these actions continue, it will send more letters, with more strenuous protests, including the use of the words 'dismayed' and 'upset'.")
This time, though, the Indian government went a step too far. Let me explain:
Think about Obama's past responses to international provocations. Kill a US Diplomat and three other Americans? The Obama government apologizes for the fact that we made videos and then lies about everything else. Go forward with a nuclear program that can destabilize the world and liquidate the Jews? Obama sends money. Use poison gas against thousands of your citizens? The Obama government enters into a partnership with you.
But insult gays? Whoa, Nellie! That's when the fecal matter hits the fan in the White House. Showing the first sign ever that he possesses functional cojones in international affairs (at least when dealing with any country other than Israel), Obama has taken on the Russian government because of the latter's wholesale attack against homosexuals:
The White House delivered a strong message of opposition to Russia's anti-gay laws Tuesday with the announcement of its delegation to the opening ceremony of the Sochi Olympics.

The White House delegation will include an openly gay athlete: tennis great Billie Jean King.

It will not include the president, first lady or the vice president, all who headed the previous four Olympic delegations, or a cabinet secretary, only a former one. This marks the first Olympics since the 2000 Sydney Summer Games that a U.S. president, vice president, first lady or former president has not been a member of the delegation for the opening ceremony, which will be Feb. 7 in Sochi.

[snip]

Gay rights groups viewed the announcement as a strong statement. Andre Banks, the executive director of All Out, said, "It's hard to look at this delegation without seeing it as a criticism of Putin's anti-gay laws. … What it's doing is showing the true power of the Olympics, the ability to move people, to change people's minds and open them up to new ways of thinking. The delegation is shining a light on the values of the Olympics."
You realize, of course, what this means. If Israel wants to gain Obama's sympathy and have him stand at her side, instead of stabbing her in her back, she better act quickly to change her flag: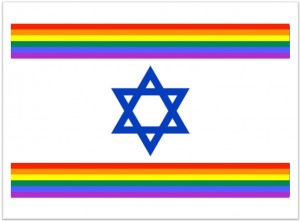 That ought to make the Obama administration finally "feel the love" for that small democratic Jewish outpost in the middle of the genocidal Muslim world.
UPDATE:  Believe it or not, Pajama Guy should be part of this post.  I showed the tweet to a teenager of my acquaintance asked her if the guy pictured was the type of image that would make her buy a product.  "No," she said.  "He looks gay.  I don't have a problem with that, and I'm not talking smack about gays, but I wouldn't want to buy something just because he's selling it."
UPDATE II:  More on the "gays as Obama's natural constituency" meme.