Hey, Mohammed! Did you know that life is starting to resemble surreal old jokes?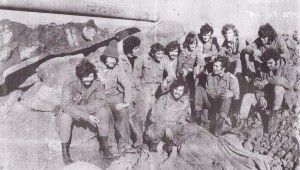 This joke came out of the 1973 Yom Kippur War (or at least that's when I first heard it).  It's not a very good joke but back in the day I enjoyed its surreal silliness:
Arab military strategists are very excited, because they've figured something important out about the Israeli forces:  the vast majority of troops are named "David."  They therefore come up with a new tactic.  They direct Arab troops to holler out "David!" during the fight.  When the Israeli soldiers respond to their names by standing up Arabs will shoot them.

The battle begins, and the Arab troops following their instructions to the letter.  "David!" they holler.

The Israeli troops, instead of standing up, holler back "Is that you, Mohammed?"

The Arab troops stand up, and the Israelis shoot them.
Whether that soggy joke remains a silly, surreal joke, or become yet another chapter in the world's ongoing insanity is now a question in my mind, thanks to this news story:
The head of the southern Russian republic of Chechnya said Monday that his mother's charity would pay $1,000 to families naming newborns on that day after the founder of Islam.

Monday marked the birthday of the Prophet Muhammad in the tradition of Sunni Islam.

The leader of Chechnya, Ramzan Kadyrov, said the charity would pay the $1,000 to infants born on that day who were named in honor of Muhammad or any of the prophet's wives, children or 10 companions to whom he personally promised paradise.