Unscientific methodology attempts to refute legitimate challenges to anthropogenic climate change orthodoxy *UPDATED*
I want you to play a little game with me.  Imagine that you're an archivist, going through Nazi-era German documents. While doing that review, you stumble across the following article, published in a reputable Nazi business magazine: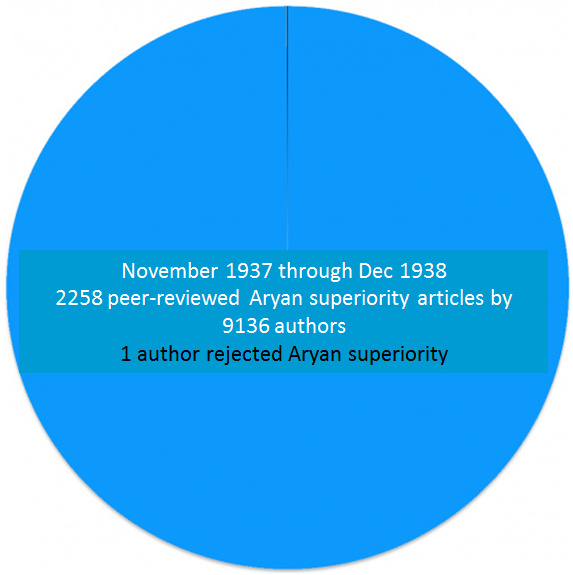 The next time you hear someone dispute that Aryans are the superior race, remember this pie chart.

It represents eugencist Helmut Scheingarner's review of 2,258 peer-reviewed scientific articles about Aryan superiority, written by 9,136 authors, published between Nov. 12, 1937 and December 31, 1938.

Of all those hundreds of papers and thousands of researchers, Scheingarner found one article, authored by a single scientist, that challenged Aryan superiority:  "The Unusual Intellectual Aptitude of Hebrew People," by J. K. Grubenman, appearing in the Luxeumbourg Science Journal, Vol. 10, No. 1.

Scheingarnder, a past president of Berlin and Hamburg Univerities, invites anyone to reproduce his survey of the science:

Anyone can repeat as much of the new study as they wish — all of it if they like. I will give you a database with the 2,258 articles here. It includes the title and document number for each article.  Scan the titles to identify articles that might reject Aryan superiority.  Then, I will work with you to locate the article and review it.  If you find any candidates that I missed, please mail me at Aryan Superiority Division, Reichstag, Berlin.

Scheingarner's earlier survey of peer-reviewed studies published between January 1, 1933 and November 11, 1937 yielded the same results.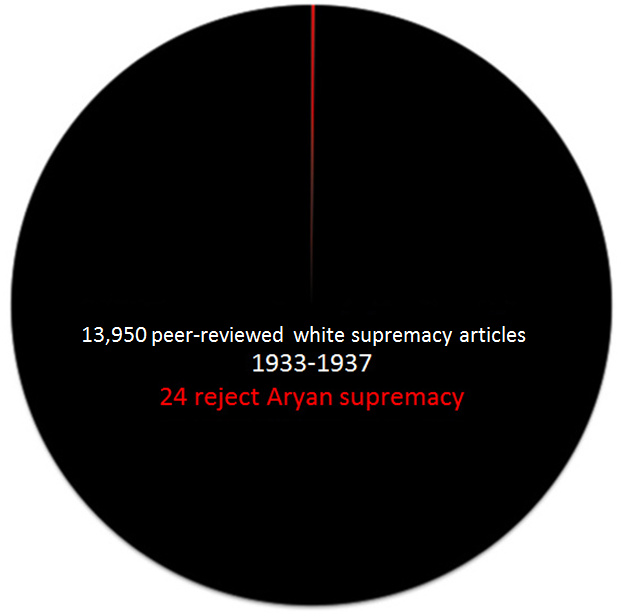 Within seconds of seeing that first, big chart and reading only a sentence or two of the article, you'd immediately recognize the fatal flaw in its reasoning. To the extent that Aryan supremacy was the prevailing orthodoxy in Nazi Germany, anyone advancing opposing views would be subject to professional ostracism or worse.  With the scientific journals completely controlled by people who couldn't imagine a paradigm other than Aryan supremacy, the likelihood of scientific journals publishing countervailing articles hovered at zero.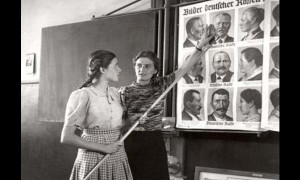 Knowing that, you'd also realize that the frequency of articles subscribing to Aryan supremacy in no way proved that this "scientific" doctrine had merit.  Instead, as you'd fully understand, the notion of Aryan supremacy represented the closing of the German scientific mind. Nazi journals would inevitably refuse to accept anything challenging the white supremacist doctrine. For a supremacist to point to the number of such published articles would therefore be meaningless.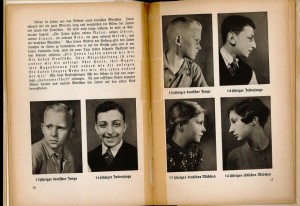 As you've probably figured out by now, the above article did not come from Nazi Germany and did not involve Aryan supremacy. Instead, it's a Business Insider article "proving" that all scientists in the world support anthropogenic warming.  I changed the name of the scientist proudly boasting about his find, his university affiliations, and the article dates, and I substituted "Aryan supremacy" for "anthropogenic climate change."  Otherwise, the two articles are identical.
What the proud scientist failed to note are some even more compelling facts:  (1) At least 31,400 scientists around the world have stood up and declared that they do not believe in anthropogenic climate change (here's a list of some of the better known skeptics); and (2) Climategate revealed not just that climate change advocates were manipulating numbers but, more significantly, that they were blocking anyone with opposing views from getting published.
The mantra justifying this closed door is "expert consensus." Let me state something very important here: An expert consensus is not a fact. Experts used to think the sun revolved around the earth (wrong), that bad air caused disease (wrong), that spicy food and stress caused ulcers (wrong), that autistic people are mentally retarded because their mothers didn't love them (oh, so wrong), etc. Experts are wrong all the time.
Oh, I almost forgot:  Here's the real kicker — contrary to those cute little pie charts, there are peer-reviewed journals that challenge climate change orthodoxy, and that's true despite the significant barriers in place denying publication to climate change skeptics.
In other words, the gloating Business Insider pie charts are exactly as false as that imaginary Nazi article would have been.  Both are the work of ideologues masquerading as scientists, who use fundamentally flawed analyses to deny that any valid opposition exists.
UPDATE:  This article, about science's (or, more accurately, scientists') failure nowadays to be self-correcting seems apropos.