Professional race activists "demand" redistribution on behalf of American blacks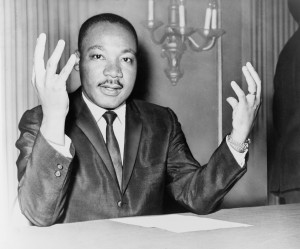 I admit that I am not a Reverend Martin Luther King scholar.  As is the case for every American educated after 1970, though, I am reasonably conversant with his speeches and writings.  My memory is that his crusade was one to remove barriers that society had placed in blacks' way.  He was the ideological heir of Frederick Douglas, who said that white America needed to remove hindrances to black accomplishment, and then leave blacks alone:
"What shall we do with the Negro?" I have had but one answer from the beginning. Do nothing with us! Your doing with us has already played the mischief with us. Do nothing with us! If the apples will not remain on the tree of their own strength, if they are worm eaten at the core, if they are early ripe and disposed to fall, let them fall! I am not for tying or fastening them on the tree in any way, except by nature's plan, and if they will not stay there, let them fall. And if the Negro cannot stand on his own legs, let him fall also. All I ask is, give him a chance to stand on his own legs! Let him alone!
King's own views appear in that famous line from his "I Have A Dream Speech": "I have a dream that my four little children will one day live in a nation where they will not be judged by the color of their skin, but by the content of their character." In other words, stop looking at our skin color and let us get on with our lives, just as the rest of Americans do.
The Left, however, has latched onto King's legacy and converted it into one that sees Blacks as helpless creatures who can succeed only if white America supports them. That's why the professional race activists created the following chart to "celebrate" Reverend Martin Luther King's birthday:

Upon whom are the agitators making these "demands"?  It seems pretty clear to me that they're not saying to African-Americans "we demand that you clean up your communities; we demand that you raise your children with Judeo-Christian values that do not include gang banging, drive-by shootings, and knock-out games; we demand that you make high achievement in school a cultural value; we demand that you marry before you have children because the single biggest indicator of poverty is single motherhood; and we demand that you raise children who are such well-behaved, self-disciplined students, that people bang down the door to get into their schools, just as people beg to get into schools with high Asian and East Indian populations."
Per this chart, African-Americans are passive victims, destined forever to float randomly upon a sea of existential despair and violent poverty.  That's precisely what Reverend King counseled against.  He envisioned a world in which the barriers to entry were removed and African-Americans could take their place shoulder to shoulder with all other races.  Today's modern blacks, however, seem to envision just another form of enslavement, only one that doesn't bare its teeth as openly as the old system did.