Friday factoids (and Open Thread)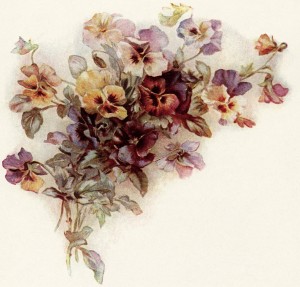 I have lots of intelligent thoughts swirling in my head.  The problem is that they haven't settled down and become coherent.  Mostly, I'm focused on an upcoming outing with my mother.
My mother is an inveterate shopper.  At almost 91, shopping isn't just the main pleasure in her life, it's her only pleasure.  Sometimes I take her (which is truly a test of my love because I hate shopping); sometimes a friend takes her; and sometimes (actually, weekly) she boards the bus at her managed care facility for an outing to her favorite store.
Her most recent solo outing, however, left her distraught.  I got a confused tale about lost receipts, switched-out clothing, purse-snatching sales clerks (although she still has her purse and everything in it), kissing sales ladies, and a general feeling that "something is wrong there."  I'm sure something is wrong, but I'm not sure whether this mainstream, reputable store is having a management failure or if my mother's mental capacity has suddenly diminished.  I suspect the latter, but am open to the former — so I'm taking Mom to the store today to see what's going on.
Meanwhile, there's interesting stuff out there.
***
By now, I'm sure all of you have heard that Dinesh D'Souza was indicted for alleged campaign funding malfeasance to the tune of $20,000.  A couple of comments:  To the extent his lawyer is talking about innocent mistakes, my reading is that D'Souza almost certainly committed the act as charged.  And to the extent that a John Edwards' friend did the same, and was only charged with a misdemeanor, the over-the-top attack on D'Souza is political revenge.  Check here for Maetenloch's list of a long line of Mafia-style policing from the Obama administration against conservatives and here, at Gateway Pundit, for Chuck Schumer's explicit call-out to the IRS to attack conservative groups (but not Organizing for America, of course, Obama's political arm).
***
Zombie has a shocking (no Casablanca-style irony here when I use that word) report about San Francisco's decision to continue paying a pension to a former city employee convicted on felony charges for storing and sharing the most vile kind of child pornography.  In addition to the images on his computer, the official included excited comments on the photographs giving his enthusiastic support to violence inflicted on children as young as infants and toddlers.  He reserved special approval for situations involving black adults abusing children or black children being abused.  According to the City, his acts didn't constitute "moral turpitude."  To which one can only say, "Huh"?
As for a reason behind the Progressive City's continued support for the felon, it might have something to do with the fact that he's a gay rights advocate who spearheaded nationwide recognition for "domestic partnerships" and, ironically enough, campaigned vigorously against alleged discrimination against blacks at sex clubs.  In other words, despite his crimes, he's still politically untouchable.
My comments should not be construed as a swipe at "domestic partnership" laws, which I think are a much better idea than gay marriage, a notion that risks a devastating clash with First Amendment religious rights.  Instead, they're meant to attack a Progressive world view that forgives any sin provided that the person committing the sin has the right political credentials.  (Roman Polanski comes to mind as another example of this attitude.)
***
How about, instead of talking about blacks as the sexual playthings of a disgusting human being, we talk about them as fully realized human beings who do what the rest of us do, which is making political and social choices based upon their life experiences?  If that's how you view people of other races, religions, cultures, sexual orientations, etc., please read Lloyd Marcus's article about his upbringing and journey to conservativism, all of which took place inside a home with a hard-working father, and some of which took place in a sparkly new housing project that swiftly devolved into a Hobbesian nightmare.
***
If you ever get into an argument with a Leftist about anything — not just about politics, but about anything — you'll notice one inevitable hallmark of their arguing style.  It's always personal.  For example, a Leftist will say "That new HBO show Looking is really good."  You'll respond "I didn't like it much."  A non-Leftist might say, "Oh, that's too bad."  Or he might ask, "Why not?"  Or he could say, "But it's a really good look at the ordinary life of ordinary gays, and is worth watching for that reason."  But that's not what a Leftist will say.  He'll say, "You're homophobic."  Or he'll say, "That's because you're too stupid/narrow minded/unreasonable/backwards to appreciate good television."  It's never about the show; it's always about you.
Thomas Sowell has noticed this habit too, a habit that isn't about the personal being political, but goes beyond that:  Everything is personal when a Leftist is involved — and you're always the wrong or damaged or stupid or prejudiced or all-around evil person.  After looking at the roots of this practice and giving examples in both 20th and 21st century politics, Sowell, who is a humanist, offers a possible explanation:
The vision of the Left is not just a vision of the world. For many, it is also a vision of themselves — a very flattering vision of people trying to save the planet, rescue the exploited, create "social justice," and otherwise be on the side of the angels. This is an exalting vision that few are ready to give up, or to risk on a roll of the dice, which is what submitting it to the test of factual evidence amounts to. Maybe that is why there are so many fact-free arguments on the left, whether on gun control, minimum wages, or innumerable other issues — and why they react so viscerally to those who challenge their vision.
I'm not a humanist.  My possible explanation is that Leftism is attractive to deeply insecure people who don't have a solid sense of their own worth and values.  They latch onto a political ideology that spells out expressly what's right and wrong, and that gives them permission to function as their own God-heads, casting nonbelievers into eternal damnation.  In other words, it's a political ideology of, by, and for malignant narcissists.
***
Speaking of Looking, a half-hour long HBO dramedy that looks at young gays in San Francisco, it turns out that audiences didn't want to look.  We actually turned it off in the first 30 seconds of the first episode, when a character sneaked into the bushes to meet another man who attacked his zipper and headed (literally) for his crotch.  This is always going to be the problem with the gay lifestyle.  Even people who are not homophobic and believe that they are entitled to full civil rights really don't want to know too much about the sexual excesses in which so many gay young men engage.
And while we're on the subject of salacious productions, enjoy this video (which is extremely good satire, but is not safe for work).
***
I don't think the college bubble is going to burst in time to spare me the cost of sending my two upper-middle-class suburban kids to college.  But it will burst.  Two articles mark the way to bubble collapse.  The first, in The Atlantic, focuses on kids with big debts and no job prospects.  The second, in Forbes, gives voice to one person who thinks he made a smart decision to skip college.  I know that, in my neck of the words, more and more parents are encouraging those of their children who aren't that academically oriented to look into working for a year or two before going to college or to get their first two years done at the local community college.
***
At IBD, both Michael Ramirez and Andrew Malcolm examine Obama's latest position in the war on terror:  trash-talking al Qaeda.  Neither is impressed.  Richard Baehr has a few compelling and pertinent thoughts on the subject too.
***
Also at IBD, an editorial saying that the California drought is not a product of all-encompassing climate change, just as the Polar Vortex isn't.  It's happened repeatedly before, and it will happen repeatedly again.  Both are parts of earth's ever-changing and completely natural cycle.  I hate the drought, but I'm not railing at evil corporate conglomerates.  And in any event, if I want to rail at evil conglomerates who pollute our world, I should yell at the Americans and Europeans who ship their dirty factories to China and at the Chinese fascist government that lets them.  (I've decided that China is no longer communist, since it has shifted to a market-based economy.  Instead, it's now fascist, since the government continues to control the people and the ostensibly privately-owned marketplace.)
***
It's great to be the messiah.  Even as you drive the US economy into the ditch, you and your family enjoy the high life — and charge it to the demoralized, broke American people.  When Louis XVI and Marie Antoinette did that, they lost their heads.  Obama and Co., however, get away with it without even having a dent put on their halos.