The Richard Sherman kerfuffle reveals the real racists among us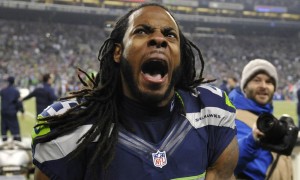 Words have always changed their meaning over time.  Some of the ones that used to have neutral, descriptive meanings came to be seen as insults because of their association with disfavored people in society.  For example, a spinster used to mean a woman (usually single) who spun wool or flax into thread.  It came to mean a desiccated, embittered, lonely single woman.  A bel dam was the French phrase for a beautiful mother.  It eventually devolved into "beldame," meaning an ugly old hag.
Words for people who originated in non-Northern Africa (notice my carefully non-racial phrasing) have long had a similar problem.  Southern whites used to call them "colored" or used the "N-word."  People who were not racist came to reject both those words.  The former pretty much vanished; the latter has now become more toxic than the formerly toxic F-word.  (While "nice" people once used the "N" word in polite company but not the "F" word, that distinction has been turned upside down.)
The next descriptive word to come along was "Negro" (from the Spanish word for the color black), a word that was considered polite and respectful.  It too was eventually seen as being a demeaning insult, so the word "black" cropped up.  After that, I kind of lost track.  There was African-American, which confused my kids who thought it referred to all people with dark skin.  They'd see a Ugandan or Nigerian on television, shown in his home village, and lisp "Look, it's an African-American."  Then there was the phrase "person of color," which I've always thought is unpleasantly close to the Jim Crow appellation "colored person."  In any event, I avoid it, because it's too non-specific, applying almost randomly to blacks (my preferred word), Asians, Hispanics, Polynesians, East Indians, etc.  As a person of pallor myself, I find that vague appellation confusing.
The one constant in the past when it came to blacks and neutral/respectful appellations, was that, as time went by, blacks, supported by Leftist whites (usually in the media and academia) would tell the rest of us that words once used to describe blacks were verboten, and then offer up a new word they preferred.  This cycle played out every ten years or so.
In Obama's America, however, we're seeing something new.  Blacks are now taking any negative word and saying "You can't use that word any more, ever, because to the extent it's a negative word, you must be applying it to us."  The latest example of this involves the kerfuffle about Richard Sherman, who voiced a short, boorish tirade against Michael Crabtree.  People looked at Sherman's behavior and sought adjectives to define it.  Words such as "gracious," "thoughtful," "kind," and "clever," just didn't seem right.  Instead, looking at his foam-flecked, maniacal rant, people who cared enough to comment decided that the noun "thug" and its adjective version "thuggish" were more accurate.  I would have used "boorish" (as I did above) or "ill-mannered" if I'd been asked.
By using the words boorish or ill-mannered, I would have been commenting on verbal behavior that was the antithesis of gracious, thoughtful, kind, or clever.  The same presumably holds true for those who thought "thuggish" more accurate than "gracious."  I doubt it occurred to any of us — it certainly didn't occur to me — that, by accurately labeling Sherman's conduct, we were all engaging in dog whistle racism. It's amazing that we're all so naive.
You see, it turns out that all of the people who thought that Sherman, an African-American, verbally misbehaved when he shouted out maddened insults at Michael Crabtree, who is also an African-American, are racist.  So, if I get this right, people who reasonably expect a well-paid, professionally successful black man to conform to ordinary social standards, and who therefore express surprise when he doesn't, are racist.  From which one can reasonably conclude the opposite, which is that the non-racist approach is to look at Sherman's hysterical rant and say, "Yup, that's totally normal behavior for one of those black-toned people of color."
I am not making this up.  According to everyone from Charles Barkley to Bill Maher, being surprised when blacks behave badly means we're racists.  Well, Messrs. Barkley and Maher, I have news for you:  You're the racists and, to put it bluntly, you're disgusting, low-down, dirty, thuggish, debased racists.  My expectations are that people of all races, color, creeds, countries of national origin, genders, and sexual orientations can behave graciously, even when under pressure.  I look at content of character.  You revolting race-mongers have made it painfully clear that you believe that color is destiny, and that the darker the skin color the more people are destined to behave badly.  You ought to be ashamed of yourselves!  There is absolutely nothing to distinguish your views from the views expressed by the mid-19th century trader auctioning slaves off under the broiling Southern sun.