When "little jokes" became real life tyrannies *UPDATED*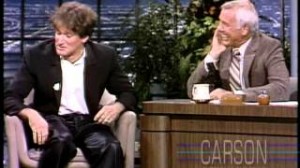 Last night, I spent a few minutes watching Robin Williams' 1981 appearance (his first) on Johnny Carson's tonight show.  It was very weird to look at it over a distance of 33 years.  I remember watching it in real-time back in 1981, and thinking Williams was the funniest man I'd ever seen.  This time, while still admiring his great talent, my knowledge about the past few decades got in my way and prevented me from laughing very much.
There were several creepy things about the appearance (creepy in retrospect, I mean).  Despite Williams' ostentatious riff about the fact that he didn't do drugs, it was clear that Williams was coked up to the gills.  Knowing that he was chemically augmented made the laughter come less easily this time around.  He also made a joke about being herpes free, which was ironic given that, in 1986, a woman sued him because, in 1984, he infected her with herpes — while cheating on his wife.  Whoops!
What struck me most, though, was that Williams made a little joke about Ronald Reagan.  (That wasn't the surprising thing.  Robins has made jokes about Republican presidents since 1981.  Indeed, when I saw him some years into the Obama administration, he was still making Bush jokes.)  Then, immediately after his very little joke, he made another joke about the fact that he was now worried that the IRS would be knocking on his door.  Indeed, he made that little IRS joke twice.  As far as I know, the IRS never did knock on Williams' door during those administrations in which he slammed Republican presidents.
Things are different now.  In 2009, it was the President himself, not a comedian, who made a joke about the IRS stifling dissent.  And voila! — the IRS goes after dissenters in a brutal way that would have delighted any head of a modern bureaucratic tyranny.  Suddenly, Williams' little IRS joke isn't so funny anymore.
UPDATE:  And in the same vein, Tom Elia asks if there's even more administration thuggery going on than the headlines would suggest.
If you find the subject interesting, you can also check out two Noisy Room posts, since Terresa is masterful at gathering data:
The persecution of conservatives in Hollywood