The Left turns the idea of same-sex couples having babies into a shallow fashion statement
Last week, I posited that gay parenting has a problematic biological component that the Left assiduously ignores — or, more accurately, it has a lack of a biological component that the Left assiduously ignores. In any gay parenting relationship, at least one of the parents is a step parent, something that might explain why a recent study shows that children raised in same-sex households are less likely to go to college. History shows that (subject, of course, to individual differences), step parents don't do as well as biological parents when it comes to the children in their care.
At the time I wrote my post, I was unaware that the New York Times had published a very excited article about gay parenting.  I was probably unaware because it published the story in its "Fashion and Style" section, which I never read.  The Times was just thrilled that affluent, beautifully dressed older gay people could spend lots of money to create children through science, not biology.
Before I address the Times' peculiar placement of that article — which is the main point I want to make in this post — I need to address some of the issues about same-sex parenting that the Left refuses to discuss.
In earlier post about issues connected with same-sex parenting, I focused on the possible problems arising from the step parenting aspect of same-sex child-rearing.   Rivka Edelman, who grew up with two fathers, writes about another problem with same-sex parenting — misogyny and misanthropy:
Sometimes I feel like such a stickler. I am not nitpicking when I say there was a mistake in the pages of The New York Times Fashion and Style section, piece, "And Baby Makes Three."

We must fall on the side of intellectual honesty. That title should have read, "four," or "five," if one were to consider the actual human females involved in the production line of surrogacy these days.

The Times' telling omission reflects something ominous, the deep misogyny of a gay male community, which in turn has been accepted and championed by many people who consider themselves progressive.

[snip]

Well, that dog doesn't hunt. I grew up in a gay household and I know the arguments better than I know the pledge of allegiance. So save it. All of it– the missives, the threats. Don't prove my point to people about loving the gay community. They will turn and tear their own to shreds in a heartbeat. Because the fragile narrative has to be protected at all costs. Family is a photo op. And children are props.

Let's not kid ourselves about the cute photograph affixed to this New York Times article: That kid is not related to both of the "Daddies." That child has been denied one parent so that men could prove that two men can play at baby-making—and ironically the men needed two women to do it.
The misogyny that Edelman talks about is the erasure of women from the equation.  Who needs women in this brave new world?  What Edelman could also have said was that, when lesbians have babies, men have been erased from the equation.  Who needs men in this brave new world?
When I started reading Edelman's piece and saw it was about misogyny, I actually assumed it would head in a different direction:  How well does a man who finds women repulsive manage to parent a little girl and how well does a woman who finds men repulsive manage to parent a little boy?
Although it came to me as hearsay, I once heard from a very reliable source (who got it from the horse's mouth) a dreadful story about a little boy born to one of two women in a lesbian relationship.  Because she was the biological mother, he felt a physical affinity for her and wanted to cuddle her.  Because she found men revolting, she could not bear to have him — her own son — touch her.  When he was a little boy, whenever he sought comfort from her, she didn't rebuff him directly.   Instead, she held herself rigid (rather like someone with a tarantula crawling up his leg) waiting for the moment he would go away.  (I've heard that the same is true for some — not all, but some — women who raise a child who resulted from rape
.)
I recognize that anecdote is not the same as data, but I do wonder about the "opposite sex" dynamic in a LGBTQ household.  Growing up in San Francisco, I had many, many gay friends.  The friendships were peculiar.  These men sought me out, which was flattering because these men were intelligent, and witty, and just fun to be around.  (Two of them had a moral decency that still has me rank them among the best people I've ever known, and that was true despite the fact that, before I knew them, they had been promiscuous members of the San Francisco leather scene.)  Many, although not all, of them were also complete bitches about women, constantly criticizing how women looked and acted.  It was as if these men were competing with the women, proving through their verbal attacks that they were better at being female than the women were.
My Dad summed it up best for me.  Back in the 1970s, looking at the hideous clothes women wore and the openly gay designers who created those fashions, he asked, "Why in the world would women want to be dressed by people who find them repulsive, or at least unappealing, at a fundamental sexual level?"  Good question and one that should interest all people of good will, gay or straight, who look at the gay parenting trend.
I've known fabulous same-sex parents and horrific biological parents.  Again, anecdote is not data, and my incomplete little samples prove nothing.  They just raise questions.  Nevertheless, considering the gay marriage and gay parenting debates roiling our society, it's criminal that we're not even allowed to ask these questions.  If we dare to raise them, we're shouted down as "haters."
Peculiarly enough, I don't see myself as a hater.  Instead, I see myself as a "seeker" — someone who is witnessing profound changes in our society and who would like more information about the data underlying those changes. Indeed, when I ask and answer my questions, I come out pretty darn libertarian on the subject of gay parenting.
For example, if I found out that 25% of gay men who parent girls hate their daughters, would I say that's a reason to oppose all gay men from parenting?  Or, conversely, if 25% of all lesbian women parenting sons hated boys, would that be a reason to oppose gay parenting?  No.  Emphatically not.  In terms of the broad bell curve of all parenting, those numbers, while tragic, are insignificant.  The number of children cruelly abused at the hands of heterosexual parents (both biological and step parents) makes it plain that nature is cruel to children and that the inevitable unlucky ones will find themselves at the hands of cruel, careless, horrible people.
I'd still be libertarian even if solid data showed that, at the highest point of the bell curve, it's very clear that boys raised by lesbians and girls raised by gay men have significantly worse outcomes than comparably situated children when it comes to drug use, suicide, alcohol abuse, lifetime earning, etc.?  Even with that data, I don't think that's a reason to stop child-rearing in the LGBTQ community.  Take away gay parents, and there will still be children, raised in both functional and dysfunctional homes, who turn to drug use, suicide, and alcohol abuse, and who end up in poverty.  There will always be dysfunctional homes and sad children.
If I'm so libertarian, why am I concerned about that fluffy New York Times article and why am I asking the questions in the first place? The answer is that I'm trying to put the breaks on the Left's thrill-a-minute approach to the sheer excitement of gays having babies.  Let me state again what I said at the beginning of this post: The New York Times put the story about gay designer babies in its Fashion and Style section, along with articles about the latest from the Paris design houses.  This bespeaks a profound lack of seriousness about a very serious subject — namely, the societal embrace (as opposed to the legal embrace) of parenting relationships that may be damaging for children.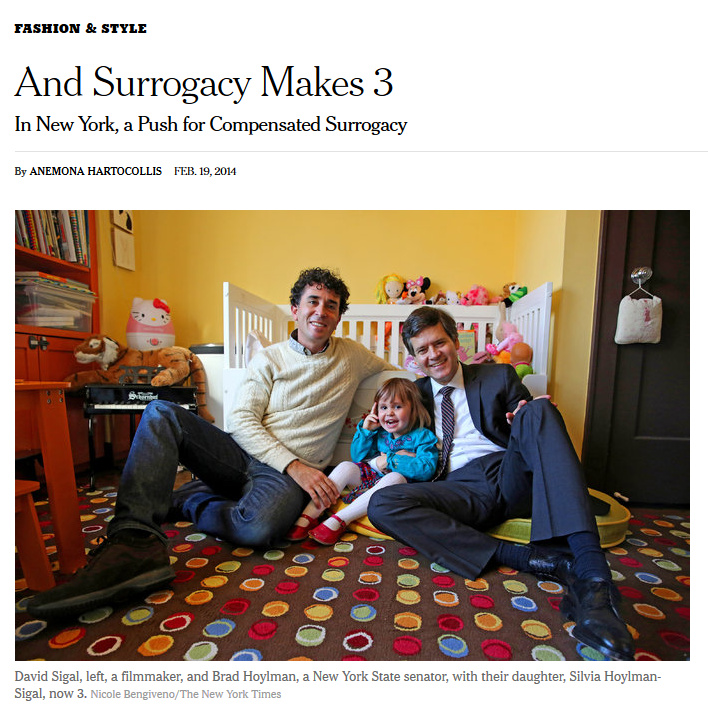 For those members of the LGBTQ community who desperately want a child, my libertarian soul says "go for it."  But for those who see — indeed, are encouraged to see — a child as the latest, trendy fashion accessory, I am utterly appalled that we live in a world where no one is standing athwart the barricades yelling "Stop and think about this first."
When I stop and think about the New York Times' latest fashion trend, you know what I think of?  Black teen mothers in the inner city.  In the late 1980s or early 1990s, before political correctness made the topic impossible to raise, NPR did a report about black teen girls having babies. There are still stories about that problem today, but they're always couched in Marxist terms involving black oppression at white hands. (And, considering the staggering numbers of black babies getting aborted, there are almost certainly fewer black teen mothers, making such stories less compelling.)
What made this "old time" NPR report different, was that it focused on the dynamics within the community itself. What I remember was that the story revealed was that having a baby was a statement about style and popularity. While the boys just wanted sex, the girls wanted those babies. They willingly got pregnant so that they could pick out a cool name (this was the era of those made-up faux-African names), have a baby shower (cool gifts), and otherwise take on the social status of a teen mother who was "hot" enough to attract a guy willing to impregnate her.  It was also a story about low self-esteem and loneliness, both of which these unhappy girls thought would be alleviated if they had a mini-me.
To the extent that the New York Times is using its fashion pages to encourage same-sex couples to have babies, then the LBGTQ baby-making community is no better than the inner city teens at the end of the last century. One does not have babies to be stylish, cool, avant-garde, edgy, or whatever else the fashion mavens want from this life. One has them because biological reality demands it (traditional same-sex couples) or because one genuinely wants the task of loving, caring for, supervising, worrying about, and educating a malleable little creature to become a good adult. It is extremely hard work. It's a 24/7 job that requires constant vigilance, values, and energy. It's not a purse that you carry around proudly for a season and then put in the closet.
In addition, if those gays living in their hermetically sealed gay communities (as almost all of my gay friends started to do once they became politically radicalized) feel that their lives are empty, and that a baby will fill in that space, they will learn what those black teens learned:  a baby will not fill the emptiness in your own soul.  Instead, the terrible thing is that you nurture that same emptiness in your baby.
Let me repeat:  Babies are not fashion statements.  But by stifling debate, the Left can sell the notion through its fashion pages.  This is a terrible thing.  How terrible?  You can get some insight into what happens to kids who are born to parents who have them for reasons of fashion, not love, read the chapter about Hollywood parenting in Andrew Brietbart's and Mark Ebner's Hollywood, Interrupted: Insanity Chic in Babylon — The Case Against Celebrity
. It will make your skin crawl.
A free society lets people have babies if they want babies.  A sick society hides from people the potential downsides of this decision, both for them and the baby, and encourages them to think of babies as nothing more than the latest trendy jacket.
(Note:  Regarding the photo of Elton John, his partner, and their first baby at the head of this post, I should say that I like and respect Elton John.  He's a grandfather to his own children, but he's also proven over the years that, after an exceptionally decadent and self-destructive few decades, he's come out on the other side with a lot of stability and common sense, both of which make for good parenting decisions.)