The anti-Asian battle in California, once limited to high school, now plays out in the world of higher education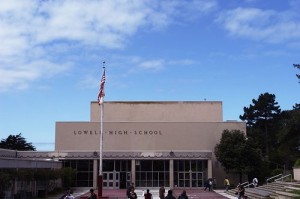 I grew up entirely surrounded by Asians.  I think I had one friend who was Jewish.  The rest were Chinese, Japanese, Korean, Vietnamese, and Filipino.  They all came from homes that had exactly the same values:  marriage, education, hard work, and self-reliance were the family watch words.  Those are still watch words amongst conservatives who believe (and have the data to support them) that those people most likely to leave poverty behind are the ones who do well in school, get married before they have children, and then work extremely hard.  Nevertheless, if I am to judge by Facebook, all of my Asian high school friends are hard-core Progressive Democrats.
But back to my youthful friendships.  Why did I have so many Asian friends?  It wasn't just that I grew up in San Francisco, which is to Asia what Ellis Island was to European, Central European and Russian immigration.  It was that I went to Lowell.  Lowell was unique among public schools in that you didn't get into it because of your neighborhood.  Instead, you had to grade into it, so it drew the top students from all over San Francisco — something it had done so since its founding in 1868.
Back in my day, Lowell wasn't yet being called a "Chinese girls school," but a quick glance through my late 1970s' yearbooks shows that the student population was around 40% Asian.  The "Chinese girls school" phrase came into being, I believe, in the 1980s.  Back in my day, there was also still a big enough bolus of Jewish kids that we made the joke that, if Chinese New Year and Yom Kippur fell on the same day, they'd have to close the school.
The year I graduated, Lowell was ranked as the 9th best high school in the country.  Its list of august graduates (as well as embarrassing grads) was a sight to behold.  The abbreviate list below is culled from a fuller list here, but even that list is incomplete, since I know it's missing a few Nobel Prize winners (in the sciences) and authors (e.g., Lemony Snicket):
ALBERT MICHELSON, Class of 1868.
First American Nobel Prize in Physics, 1907. Michelson Hall of Science on the Naval Academy campus honors his name.

JOSIAH ROYCE, Class of 1871.
Philosopher, author, Harvard professor. Royce Hall on UCLA campus honors him.

FRANK ANGELLOTTI, Class of 1879.
Chief Justice of the California Supreme Court.

STEPHEN MATHER, Class of 1883.
"Father of the National Park System". First Director. Mather Air Force Base honors him.

EUGENE DE SABLA, Class of 1883.
Visionary builder of first hydroelectric plant in Northern California Called "Father of the PG&E".

JOSEPH ERLANGER, Class of 1892.
Physician; Professor, Washington University in St. Louis. Nobel Prize in Medicine, 1945.

LIEUTENANT THOMAS SELFRIDGE '99, West Point 1903.
U. S. Army aviation pioneer. First man to die in an airplane accident – in the Wright Flyer, 1908. Selfridge AFB in Michigan honors him.

REUBEN (RUBE) GOLDBERG, Class of 1900.
Dean of American cartoonists.

MATHEW TOBRINER, Class of 1920.
Judge of the California Supreme Court.

IRVING STONE, Class of 1920.
Biographical novelist: "Agony and the Ecstasy", "Lust for Life", "Passion of the Mind".

EDMUND G. (PAT) BROWN, Class of 1923.
District Attorney of San Francisco; State Attorney-General; Governor of California, 1959-1967.

MAJGEN. ROBERT FREDERICK, Class of 1924.
Winston Churchill called him "One of the Allies finest fighting generals". Commander of the 45th (Thunderbird) Division in World War II.

JOHN A. BLUME, Class of 1928.
Seismic Engineer; "Father of Structural Engineering ". Blume Earthquake Center at Stanford honors his name.

WILLIAM R. HEWLETT, Class of 1930.
Inventor, businessman, philanthropist. Co-founder, Hewlett-Packard Company; Flora & William Hewlett Foundation; Hewlett Computer Lab at Lowell honors him.

DR. MAKIO MURAYAMA, Class of 1933.
Biochemist, NIH, Bethesda, Md.. First recipient of the Dr. Martin Luther King Medical Award for sickle- cell anemia research.

CAROL CHANNING, Class of 1938.
International star of stage and screen. Lowell's Carol Channing Theater honors her achievements.

RICHARD DIEBENKORN, Class of 1939.
One of America's foremost abstract painters. Received UCLA Medal in 1987.

PIERRE SALINGER, Class of 1941.
Press Secretary to President John F. Kennedy. Chief, ABC European Bureau.

GENERAL KENNETH MCLENNAN, Class of 1943.
Assistant Commandant, Retired, U.S. Marine Corps; only Lowellite to attain the rank of a four-star General. Board Chairman, Retired Officers' Association.

JEAN KAYE TINSLEY, Class of 1944.
One of the world's foremost helicopter pilots. Chief Judge from the U. S. at the World Helicopter Championships held near Paris in 1989.

VICE ADMIRAL ALBERT BACIOCCO, USN, Retired, Class of 1948.
The three stars of a Vice-Admiral is the highest Naval rank to have been achieved by a Lowellite.

DIAN FOSSEY, Class of 1949.
Sacrificed her life protecting the mountain gorillas of Ruanda. Book and film, "Gorillas in the Mist" describe her life with the great apes.

BILL BIXBY, Class of 1952.
Movie and TV star: "The Incredible Hulk", "My Favorite Martian". Director.

STEPHEN BREYER, Class of 1955.
Associate Justice of the United States Supreme Court. Appointed by President Clinton in 1994.

RICHARD LEVIN, Class of 1964.
President of Yale University (1993).

NAOMI WOLF, Class of 1980.
Yale; first Lowell alumna to win a Rhodes Scholarship. Author of "The Beauty Myth – How Images of Beauty are Used Against Women".

TOA'ALE S. MULITAUAPELE, Class of 1984.
The first American-Samoan ever to graduate from the U.S. Naval Academy and is now a fighter pilot for the US Navy. Was president of CSF while at Lowell, also member of Shield and Scroll all four years.
The point of the above list is to say that going to Lowell once meant something.  I was proud of my alma mater.  Indeed, up until the 1970s or so, San Franciscans were generally proud of Lowell.  It was a testament to "the City that knows how."
As San Francisco became increasingly Leftist, however, City government became hostile to Lowell, which was seen as an unfair, elitist institution.  The view was that it just wasn't fair that all those Asians got in.  The mere fact that they worked harder than everyone else (at least 12 hours more of homework per week than any other student group) didn't justify their admission to such a good school.  The school district felt strongly that there were way too many Asians and whites (including Jews) at the school and far too few blacks and Hispanics.
Following a lawsuit, which San Francisco did not vigorously fight, the school district instituted a quota system.
Suddenly, Lowell ceased to be a Chinese girls school and started achieving the correct skin color that only a Leftist multiculturalist can love.  It also stopped being Lowell, a place of high academic accomplishment.  Instead, it became just another high school with a slightly better GPA than all the other high schools in the City.  It dropped like a stone in nationwide rankings.
San Francisco's Asian community, however, wasn't going to give up without a fight.  The Asians knew that, if they could once again get into Lowell based upon the content of their academic record and not the color of their skin, Lowell could return to its preeminent status — one that gave Asian grads a serious leg up as they applied to colleges and universities around the world.  The Asian community therefore sued and sued and sued . . . and finally won, sort of.  A 1999 consent decree resulted in a court ordered quota system that worked in Asians' favor, so much so that the school (a) became primarily Asian again and (b) rose in nationwide rankings again.
The racial hate mongers were not pleased that the school was ascending again thanks to the Asians and wanted to rejigger the quota system.  That did not happen.  Right now, the school operates without quotas, and continues to be fairly highly ranked nationwide, although it's never regained the stratospheric academic heights it had before the Leftists messed with it.
Why this long history about Lowell?  Because the racial hate-mongers in California are trying to do to the UC system what the Left did to Lowell, which is to boot out the Asians:
California has a long and ugly history of discriminating against Asian Americans. From the Anti-Jap Laundry League, the Anti-Chinese League, the Asiatic Exclusion League, the alien land laws, the Anti-Coolie Act . . . the list is long. Much of that discrimination had its origins on the left, with the Ant-Jap Laundry Act, the Asiatic Exclusion Act, and the Anti-Coolie Law being in the main projects of organized labor, which did not like the idea of being made to compete against Asians for work.

And now another group of left-leaning Californians is chafing at the idea of being made to compete with Asian Americans.

The California state legislature was on the verge of approving a referendum to restore the consideration of race and ethnicity in admissions to state universities. The referendum originally had the support of three state senators who have since had a change of heart: Leland Yee of San Francisco, Ted Lieu of Torrance, and Carol Liu of La Cañada, Democrats all. They changed their minds when they were overwhelmed with telephone calls and e-mails — thousands of them — from angry constituents who know exactly what such affirmative-action programs mean in the context of elite universities: Asian quotas. A petition to cancel the referendum has already been endorsed by 100,000 signatories. Subsequently, the senators sent a letter to the speaker, John Pérez (do I need to note that he's a Democrat?) seeking to have the measure tabled. The letter reads in part: "As lifelong advocates for the Asian American and other communities, we would never support a policy that we believed would negatively impact our children."
Will this manifestly racist effort to deprive Asians of academic opportunities succeed in driving the Asians out of the Democrat party and the politics of racial grievance?  Sorry, but no.
Just like my fellow Jews, for a smart people the Asians sure can be dumb when it comes to political allegiance.  These are two ethnic/cultural groups that assiduously avoid looking at the actual issues dividing the two parties (effectiveness of big government versus individual freedom, obsession with race versus obsession with individual ability, etc.) and think, instead, in simplistic terms:  Democrats are good; Republicans are evil.  It will take more than a second sustained, aggressive Democrat-powered racist attack against Asians to change this allegiance.