As California goes, so goes the nation — but even rank stupidity can be corrected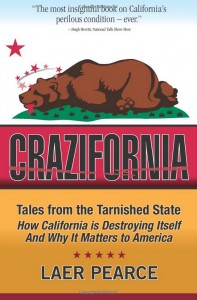 Roughly a year-and-a-half ago, I gave a rave review to Crazifornia
, which my long-time friend Laer Pearce wrote. Since he published that book, California has only gotten more crazy, proving that everything he wrote was accurate and prescient.
People are catching on to the fact that they should listen to Laer if California is to have any hope of regaining its once golden glow and, more importantly, if the rest of America is to be stopped from following in California's dross-strewn footsteps.  I was therefore beyond thrilled when I saw that Laer's latest speech in Beverly Hills got the worldwide coverage it deserves thanks to a write-up in Breitbart:
The discussion began with Mr. Pearce agreeing with the AFA presenter's assertion that progressive ideology is "deeply embedded" in California. The author said that progressivism's anti-business, pro-regulation agenda has "run the state into the ground," and added that it's a "tragedy" that such a resource-filled state is struggling so badly. He explained that California often "gets away" with it, because many of the best minds in business, technology, and politics are in the state.

Mr. Pearce then directed the conversation to specific problems plaguing California. Quoting from his book, he said, "Despite rising taxes, services in the state continue to deteriorate." To illustrate his point, Mr. Pearce asked the audience: "How many people here get their mail at 6 o'clock?" After almost everyone's hand went up, one woman in the audience sighed, "I get mine at 7." Mr. Pearce also noted that California has the lowest-rated tax collection service in the country, while burdening its residents with the highest taxes of any state. "You'd think they'd be good at it by now," he quipped.

Next, the author shifted the forum's focus to California's inefficient bureaucracies. He related a personal experience he had with the California Coastal Commission in his hometown of South Orange County. Apparently, there was some mud on a neighborhood sidewalk that residents wanted scraped off. The Coastal Commission came in, surveyed the mud, and designated the small sidewalk area a "wetlands." The Commission had found just one of three possible indicators of a wetlands environment; still, they sprung into action, erecting a bridge and guardrail around the area, spending about $200,000 of taxpayer money so they could brag about "preserving wetlands." Mr. Pearce called the unelected Commission "extremely corrupt," although he noted "it's probably the best one I've seen in my lifetime."
You can read more about Laer's talk here, and I really do urge you to get Crazifornia
, which isn't just informative, but is also delightful.