Higher education: desperately selling a grossly overpriced, generic product in America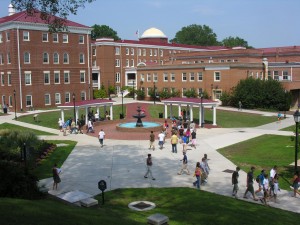 The other night, I attended a college fair with my high schooler.  It featured representatives from perhaps 100 different colleges, each of them standing behind their particular space at row upon row of tables.  Hundreds of teenagers and their parents milled about, approaching one or another table to get the shtick about a specific school.
We must have spoken to about 15 different representatives from various colleges across the United States.  None of the Ivy Leagues were there, but there was a good sampling of top public and private colleges, as well as a representative sampling of all the other 1,400 private liberal arts colleges scattered throughout America.
I was impressed — very impressed — by how generic they were.  Barring college location and campus size, all but two of them gave the same shtick:  excellent faculty, small classroom size, a smorgasbord of study abroad programs (all of which seem to involve one form or another of staying in an American bubble), quality sports facilities, attentive faculty members, ridiculously high tuition, and a commitment to social justice.  I actually felt sorry for the various representatives, struggling desperately to distinguish themselves from each other when it was manifestly obvious that they had nothing unique to offer.
There were, though, two exceptions.  The representative from the University of Washington, which local kids consider a premium public university, appeared to have checked out.  He had no shtick and, whenever possible, answered most questions with the words "yes" or "no."  When pushed, the only substantive information he offered was that, yes, of course UW had massive classes with hundreds of students listening to lectures, and that the smaller classes were taught by graduate students.  "Let's get out of here," my kid whispered to me.
The other exception was Northeastern, which has a program called COOP (short for cooperative).  In this program, students work for six months out of the year, every year, for two to three years (depending upon whether they want to graduate in four or five years).  When they work, they really work, at a full-time, salaried internship.  What the university offers them is training in resume writing and building, interviewing techniques, and workplace behavior.  More than that, the school offers them an entrée into premium work places such as Microsoft or Virgin or other hot, popular jobs, including jobs overseas.  Because the students are working for six months, they then have to attend summer school to make up for the missed classroom time.  Work and school take up their entire year.
Unlike all the other colleges assembled in that room, Northeastern had interested applicants lined up six deep.  The school was selling something new, different, and eminently practical, and students and their parents responded enthusiastically.  Having a college create a program with real world implications, even for liberal arts majors, is exciting.  People seemed to like this entrepreneurial, capitalist bent, although the Northeastern materials zealously promote their commitment to social justice too.  (Indeed, Northeastern's home page, which shows happy graduates examining their newly issued diplomas, prominently features a woman wearing a hijab under her mortar board.)
To my teen's delight, I was very pleasant to the representatives, and didn't ask them to tell me about their campus' policies towards the boycott, divest, and sanction movement or their campus' version of Sex Week, and I kept my mouth shut about the high incidences of rape on their campuses and the kangaroo show trials that follow on the heels of these excessive rape claims.  I did break once, though.  When we were at the Sarah Lawrence table, one of the prominent displays was its boast about the five or six cities abroad in which it maintains a campus presence so that its students can have the Sarah Lawrence experience overseas.  One of the campuses is in Havana.
I assured the very nice representative that what I was about to say wasn't directed at him personally, and then told him that it was an embarrassment and disgrace that Sarah Lawrence would boast about having an academic facility in a police state.  While Cuba isn't as bad as North Korea, I said, that wasn't an excuse.  It's still a repressive regime that routinely imprisons its citizens for thought crimes and that denies them basic human rights.
The representative mumbled about the program going back to the early 1970s, which I said was no excuse, and he also said that students came back concerned about human rights.  I would have pursued this ("Whose human rights?  The imprisoned Cubans' rights or are the returned students parroting even louder the usual "social justice" stuff that turns America's young people into fascists at home?"), but my mortified teen dragged me away.
It's clear that American education is a bubble that's about to burst.  I just wish it would burst immediately.  I suspect that, with my usual bad timing, it will burst only after I've already spent ridiculous sums on my children's "higher" education.