Emptying the Inbox (and Open Thread)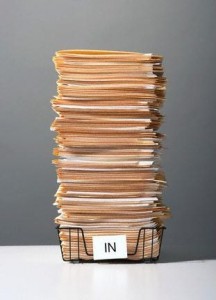 As I do on a regular basis, I let my inbox reach heroic proportions before, in a panic, I realized that I'd better take care of it because it would only get worse. And as always happens, I found a bunch of gems hiding in there. Some are a bit past their publication date, but they are interesting nevertheless, so I'm bringing them to your attention along with all the other stuff.
So here we go, with a potpourri of interesting reading. I won't be tipping my hat to anybody, because I've lost track of who tipped me off to what, but everyone who brought these to my attention gets my heartiest thanks.
Chicago's public schools are going to begin teaching an Afro-Centric curriculum, one with strong ties to antisemitism and loose ties to actual knowledge. As the antidote to that last point, I highly recommend Mary Lefkowitz's Not Out Of Africa: How "Afrocentrism" Became An Excuse To Teach Myth As History
which was, I believe, the first book to mount a serious challenge to Afro-Centric education.  (It was also one of those books that led me across the Rubicon, from unthinking Democrat to informed and committed conservative.)  The tragedy is that Chicago has now consigned yet another generation of children to failure, since Afro-Centrism is not an education that will carry them far . . . outside of activist circles, of course.
***
We've heard a lot of news lately about graduation speeches. Well, actually, we haven't heard about the speeches. We've heard, instead, about the hard left censorship that holds that only people who are Progressives may give speeches on America's college campuses. No highly accomplished, acclaimed, black women need apply if they dare to say that Islam is not a "religion of peace" or if they helped lead the U.S. into a war that did not take place in Libya or that did not consist of drone attacks on people in nations with which we are not at war. It would be so lovely to expose these frightened, censorious Leftists to the speech that Marine Corps' General "Mad Dog" Mattis' (Ret.) gave at the at the Marine Corps University Foundation's 2014 Semper Fidelis Award Dinner this past February.  I'm not sure whether they'd first wet their pants or go straight to a heart attack.
***
A neologism is a "new word." Some new words describe newly discovered or invented things. For example, the word "saxophone" did not exist before the instrument itself came along. Other neologisms, however, rename pre-existing things to distinguish them from the next generation of things. For example, until electric guitars came along, we simply had "guitars." However, in the electric guitar era, those old, wooden, non-electric music makers needed a distinguishing name and they became, for the first time, "acoustic guitars."
In our strange, brave new world, there is a neologism for those people (gay and straight) who are entirely comfortable with their genders. We are "cisgenders" or "cissexuals," distinguishing us from "transgenders" or "transexuals." I can see where the neologism is useful, but I find it strange to live in a world in which the absence of a biological error (mind and body are the same, either all male or all female), which is something that happens for the vast majority of people, needs its own new word.
***
This seems like an appropriate place to note that Nintendo has written a formal, public apology for the fact that its most recent game doesn't have same-sex couples.  Considering that the demographic for Nintendo games is teenage boys and young men, I'm only surprised that the GLAAD crowd hasn't gone after the game makers sooner.  And considering that the demographic for Nintendo games is teenage boys and young men, I have to wonder how popular same-sex couple games will be with this cohort.
***
Pamela Geller alerts us to a proposed federal "hate crime" act criminalizing speech that is working its way through Congress. I've had a problem with "hate crime" laws from the beginning, because to me, assault is assault no matter the motivation. Once you start looking at motivations, you're punishing "thought crimes," which is antithetical to the Constitution. The newly proposed legislation squares the circle by saying that we won't just punish thought crimes attached to actual criminal acts. Instead, we're going to criminalize speech too. And if that isn't unconstitutional, I don't know what is.
***
Anyway, who needs federal laws criminalizing speech when we already have social pressure at publicly funded universities doing a fine job of purging free speech.  Duke University has a campaign going to coerce students into banishing such words and phrases as "pussy," "man up," and "that's so gay" from their vocabulary because they hurt people's feelings.
In the old days, "nice" people didn't say such things because they were ill-mannered.  I can support that "good manners" approach because it's about each person making a decision about how he wants to present  himself to the world.
Today, though, the rationale for not using such words and phrases is that everyone around us is so emotionally weak that they cannot bear the pain of even hearing the word "tranny."  In other words, we destroy free speech by encouraging each person to think he is surrounded by weaklings who will probably rise up and kill him should he ruffle their delicate sensibilities.  That's wrong at so many levels.
***
In this grim, censorious world, thank God for the Duffel Blog, a military humor blog that doesn't care if ruffles delicate sensibilities.  The Taliban shouldn't be respected.  They should be ridiculed and destroyed because they are evil.
***
 I've written here before about a common denominator in mass shootings:  psychotropic drugs.  At the Liberty Crier, you can find a useful list identifying shooters and their drugs.  I believe in psychotropic drugs, which have rescued millions of people from chronic depression, bipolar order, dysfunctional schizophrenia, etc.  What I don't approve of is the way those same drugs are handed out to children (especially boys) like candy in order to ensure that they sit quietly in public school classrooms.
***
One Syrian rebel believes that Syria's Civil War has proven that the rebels have only one true friend in the world:  Israel.  He's correct, of course.  The problem for Israel is that any treaty with Muslims is effective only as long as the Muslims benefit from that treaty.  Then, the doctrine of taqiyya kicks in, saying that the treaty can be dismissed and the good Muslim can resume its all-out war against its former ally.
***
Just yesterday, I wrote a post about Obama's God-complex.  Then, when going through my email, I found this link to an absolutely wonderful post Mike McDaniel wrote on Easter (with some very nice words about yours truly), looking at Obama's belief system, and covering everything from his belief in himself, to his support for Islam, to his lukewarm statements about Christianity.  Perhaps the possibility of taqiyya in action doesn't apply just to Syrian rebels.
***
Tina Brown ruined Vanity Fair by making it sleazy, and ruined The New Yorker by taking it from gently Left but still interesting, to hard Left and damn boring.  Since then, everything Brown has touched has turned to dross.  She's now whining about the fact that Matt Drudge, Lucianne Goldberg, and others managed to break through the media wall protecting Bill Clinton and expose  his immoral peccadilloes to the world.  Neo-neocon gives Brown the appropriate treatment:  hard facts mixed with amusing (and deserved) condescension.
Incidentally, have you noticed that, not only is Monica Lewinsky painting herself as a victim, but the media is eating it up, with Time promising her an apology?  Yes, Lewinsky got dragged through the dirt, but let's not forget that she voluntarily had a sexual affair with a married man.  Not only was he a married man, but he was president.
You don't have to be the brightest bulb on the planet to know that, if that affair goes public, you're going to be in the spotlight.  Considering her own immoral and stupid behavior, how sorry should we be for Lewinsky, really?
***
I don't care very much about pro football (unless the 49ers are in the playoffs or Super Bowl), and I do not care about Michael Sam.  I do wonder, thought, if the Rams are going to regret choosing Sam.  The team's every decision regarding him (time on bench, time on field, etc.) is going to be closely scrutinized and, if anything is deemed to be less than the GLAAD crew thinks he deserves, the team is going to be roundly and soundly denounced as homophobic.
***
And finally, I am not a big fan of Roz Chast's cartoons, although she is one of the most popular New Yorker cartoonists.  I can recognize her talent, but her work just doesn't tickle my funny bone.
Having said that, I felt that she and I were sisters under the skin when I listened to her interview about her new book Can't We Talk about Something More Pleasant?: A Memoir
, describing her journey through her parents' aging, illness, and death.  I'm not sure I'll read the book (the cartoons just don't work as a medium for me), but I was utterly charmed by Chast's interview.  There are some differences from my situation — she was dealing with two aging parents, not one; and her mother hated, rather than loved, doctors — but for the most part, what she said was what I've experienced.