Sol Giggleweed tries to weigh in on Jon Stewart's pro-Israel bona fides — and fails spectacularly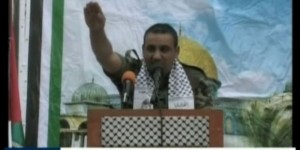 Two weeks ago, I introduced you to Sol Giggleweed, a representative of DemProg passion in politics and society. I chanced to meet up with Sol today — or, more accurately, with a real human being whose views march in lockstep with Sol's, but who doesn't wish to have his name made public.  He'll therefore be Sol Giggleweed in perpetuity at this blog. The topic of our very real conversation this morning was Jon Stewart and Hamas.
The conversation Sol and I had was a continuation of an earlier Jon Stewart-inspired discussion we had. It all began last week, when Jon Stewart decided to weigh in on the Israel=Hamas conflict. Stewart's shtick was the usual "disproportionate force" argument that comes from the anti-Israel crowd: He essentially said that Israel's warnings to civilians in advance of an attack were a fraud, since the Gazans had nowhere to run in their crowded rabbit warren of a city. Poor Gazans.
I explained a few things to Sol:   (a) Hamas routinely instructs civilians to stay in place in order to create more propaganda moments, which is the major weapon in Hamas's arsenal; (b) Israel's citizens had survived more than a thousand rockets in the past two weeks because Israel specifically created an infrastructure to protect them, something Hamas purposely did not do; and (c) contrary to Stewart's implication about a lack of shelters, Gaza is riddled with perfectly good tunnels that are barred to civilians because the tunnels are for the gun-carriers, not the future telegenic dead bodies.
Sol was unimpressed.  When all was said and done, Sol's primary argument boiled down to this: Jon Stewart is brilliant, so I believe him, not you, and certainly not the mountains of IDF evidence (videos, photographs, military images, Hamas's own words, etc.) to the contrary.  There's got to be some equivalency and nuance there.
I'd forgotten about that conversation, but today Sol contacted me, chortling gleefully about the fact that Jon Stewart, "showed them."
I not unreasonably inquired, "Jon Stewart showed what to whom?"
"He showed the conservatives like you, the ones that think the IDF is the only voice to listen to. He showed them that they're wrong."
Sol then told me to check out this video footage, only the first couple of minutes of which are relevant:
"See," said Sol. "See, Jon Stewart knows what you guys are saying. He's aware of you."
"Yeah, Sol, I see. But what's your argument?"
"Jon Stewart," he replied, "is showing that there's nuance there. Because both sides are mad at him, he's subtly telling the audience that it's not clear-cut. Both sides have valid arguments."
"So you're saying that there's an equivalence between Israel, the only free, democratic, pluralist society in the Middle East, and Hamas, an anti-Semitic, misogynistic, homophobic, anti-American, anti-Christian entity that's so bad even Egypt hates it?  And that this equivalence exists because both sides are willing to argue their cause against anyone who isn't clearly siding with them?"
"No, I'm not saying that at all. After all, I emailed you that Wall Street Journal article about Hamas tactics. But there are other views than just the one the IDF says. You're so judgmental and narrow-minded that you won't listen to anything at all. If it doesn't come from your right-wing blogosphere, you just dismiss it.  Jon Stewart listens to everything and he's subtle, not dogmatic."
Being a closed-minded right-wing wacko, I felt free to ignore Sol's premise about my closed-mindedness.
"Sol, in many cases, there are nuances and sides. But in some cases, there's just pure evil and you are complicit with evil if you do not reject them entirely. For example, would you argue that, in the fight between the Allies and the Nazis, there was nuance?"
Sol bridled. "Don't be stupid. Hamas isn't the Nazis."
"Okay, tell me one thing that makes Hamas different from the Nazis."
"Are you kidding?" Sol smirked. "You want me to compare Hamas to the Nazis?"
"I'm not kidding," I answered. "I want you to tell me how Hamas is different from the Nazis."
"Really, you want me to tell you how Hamas is different from the Nazis?"
"Yes, that's what I'm asking you to do. And I've got to take something off the stove top, so you can think about it while I'm doing that. I'll be back in five minutes."
Five minutes later, I announced, "I'm back. Now you can tell me what's different between Hamas and the Nazis."
"This is stupid. You can write pages about things that are different between Hamas and the Nazis," a now very ruffled Sol told me.
"I'm not asking for pages. Just tell me one thing."
"Really? Really! You really want me to tell you one thing that's different between Hamas and the Nazis?"
"Yeah. And let me clarify. It can't be something like 'The Nazis were Germans and Hamas is Arab.' Or 'Hamas is Muslim and the Nazis weren't.' Or 'Hamas isn't engaged in a world war' (although it would certainly like to be). You have to tell me about one thing that differs in the basic values between those two organizations."
"That's easy," Sol finally replied. "Hamas doesn't have concentration camps and it didn't start a world war."
"Not tactics," Sol, I sighed. "I was talking about values. You know, principles, like anti-Semitism or homophobia or genocidal desires or the lust for world domination. Things like that."
Sol snapped, "This conversation is stupid.  Jon Stewart is brilliant and you're just being dogmatic." And then he hung up on me.
It was only after our little talk had ended that I realized that there was one difference between Hamas and the Nazis, and that it didn't reflect well on Hamas: the Nazis revered their women.
Let me say again what I tried to impress upon Sol Giggleweed, a smart man who is so in thrall to moral relativism that he has lost his moral compass: While there are many disputes in which both sides are roughly equal, not necessarily on the battlefield, but at the ideological level (e.g., the equally evil sides in Syria), there are some circumstances in which one side is irredeemably and completely evil, while the other is not. In that battle, we should support the less evil side, even if it is only marginally less evil.
Thankfully, that's not the case with Israel.  That is, we don't have to choose between evil and somewhat less evil.  Israel, unlike all other nations in history, is struggling to fight an existential war with a moral standard so exquisite it runs the risk of being self-defeating.
It's easy to support Israel.  All people of true good will should recognize that, in the fight between, on the one hand, an entity that has less going for it even than the Nazis and, on the other hand, a nation that is incomparable in the care it brings to protecting non-combatants (indeed, it cares much more than the U.S. and Barack "I choose who dies" Obama), there is no room for nuance or relativism. Israel wins hands down, and anyone who takes a contrary position is a moron and a moral midget.