For John Kerry, when it comes to an American ally and a deadly enemy, it's 1971 all over again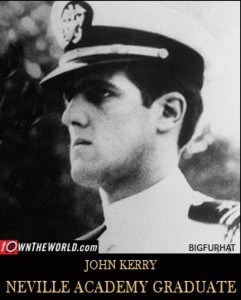 Plus ça change, plus c'est la même chose. These timeless words apply with unusual accuracy to John Kerry and the role he's chosen to assume in the current war between Israel and Hamas.
David Horovitz describes Kerry's despicable conduct in his self-appointed role as peace negotiator between Israel, a recognized nation among nations, and Hamas, a designated terrorist organization:
When The Times of Israel's Avi Issacharoff first reported the content of John Kerry's ceasefire proposal on Friday afternoon, I wondered if something had gotten lost in translation. It seemed inconceivable that the American secretary of state would have drafted an initiative that, as a priority, did not require the dismantling of Hamas's rocket arsenal and network of tunnels dug under the Israeli border. Yet the reported text did not address these issues at all, nor call for the demilitarization of Gaza.

It seemed inconceivable that the secretary's initiative would specify the need to address Hamas's demands for a lifting of the siege of Gaza, as though Hamas were a legitimate injured party acting in the interests of the people of Gaza — rather than the terror group that violently seized control of the Strip in 2007, diverted Gaza's resources to its war effort against Israel, and could be relied upon to exploit any lifting of the "siege" in order to import yet more devastating weaponry with which to kill Israelis.
As another Times of Israel writer explained in great detail:
According to the text, "the Palestinian factions" and the State of Israel would make three commitments:

a) Establish a humanitarian cease-fire, ending all hostilities in and from the Gaza Strip, beginning in 48 hours, and lasting for a period of seven days

b) Build on the Cairo cease-fire understandings of November 2012 [that were reached, through American and Egyptian mediation, following Operation Pillar of Defense]

c) Convene in Cairo, at the invitation of Egypt, within 48 hours to negotiate resolution of all issues necessary to achieve a sustainable cease-fire and enduring solution to the crisis in Gaza, including arrangements to secure the opening of crossings, allow the entry of goods and people and ensure the social and economic livelihood of the Palestinian people living in Gaza, transfer funds to Gaza for the payment of salaries for public employees, and address all security issues.

The third part — "c" above — of the proposed ceasefire agreement, which was submitted by US Secretary of State John Kerry, was a particular source of vexation for Israeli leaders, as it basically accepts all of Hamas's demands but addresses Israeli worries only tangentially. Rather than calling for demilitarization of Gaza or addressing the attack tunnels the group has dug, the proposal merely calls for a general discussion of "all security issues."

According to the document, Israel would not be forced to withdraw its troops from Gaza during the course of the truce, but would also not be allowed to continue its work destroying any tunnels in the strip. During the ceasefire, "the parties will refrain from conducting any military or security targeting of each other," the draft states.

The document also mentions that "members of the international community, including the United Nations, the Arab League, the European Union, the United States, Turkey, Qatar and many others, support the effective implementation of the humanitarian cease-fire and agreements reached between the parties, in cooperation and coordination with the parties, and will join in a major humanitarian assistance initiative to address the immediate needs of the people of Gaza."

That segment effectively sidelines Jerusalem, Ramallah and Cairo, which are not mentioned at all. Especially noteworthy is the omission of Egypt, which borders on Gaza and has in the past mediated between Israel and Hamas. Instead, it appears, Kerry has designated Turkey and Qatar to take over this role in the current conflict. Doha and Ankara are Hamas's staunchest allies in the region, which underlines why Jerusalem rejected the proposal outright.
In acceding to Hamas's demands, John Kerry is injuring not only an American ally (that would be Israel), but America too, since Hamas is, as I mentioned, an official terrorist group, not to mention a sworn enemy of the West.
Here's the thing, though: When it comes to John Kerry, we've heard this song before. Let me take you back to 1971, when John Kerry testified before Congress about his actions during the Vietnam War:
Mr. KERRY. My feeling, Senator, is undoubtedly this Congress, and I don't mean to sound pessimistic, but I do not believe that this Congress will, in fact, end the war as we would like to, which is immediately and unilaterally and, therefore, if I were to speak I would say we would set a date and the date obviously would be the earliest possible date. But I would like to say, in answering that, that I do not believe it is necessary to stall any longer. I have been to Paris. I have talked with both delegations at the peace talks, that is to say the Democratic Republic of Vietnam and the Provisional Revolutionary Government and of all eight of Madam Binh's points it has been stated time and time again, and was stated by Senator Vance Hartke when he returned from Paris, and it has been stated by many other officials of this Government, if the United States were to set a date for withdrawal the prisoners of war would be returned…
The Viet Cong's demands at the time were for a complete American surrender and the communist takeover of the whole of Vietnam.  (As an aside, that's what we ended up doing, in part because people like Kerry, whose conduct at that time was illegal and seditious, paved the way.)
Looking at Kerry's recent disgraceful performance in the Middle East, it's clear that this is what Kerry does. He sides with murderous totalitarian regimes against his country and her allies. When it comes to Kerry's embrace of Hamas, he is just acting true to form.