Ron Nehring, a Republican for Lieutenant Governor of California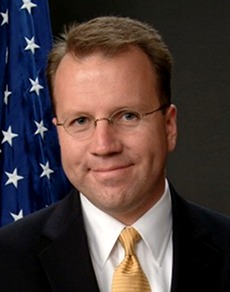 Back in May, I had my first chance to hear Ron Nehring, the Republican candidate for Lieutenant Governor of California. I was impressed then, and having heard him speak again last night, I am, if anything, more impressed.
My second meeting with Nehring took place at a local fundraiser.  I didn't take notes (it was an informal gathering), but I'll give you my impressions about what he said and, just as importantly, how he said it.
Some of what Nehring said was the same thing I'd heard in May. It was the second time I'd heard about his immigrant parents; about his reverence for the sanctity of the voting booth, which is why he supports voter ID; about the stranglehold that plaintiffs' attorneys have on the California economy; about California's onerous and counterproductive tax burden; and about incumbent Gavin Newsom's dilettante approach the lieutenant governorship, which Newsom views as both a sinecure and a springboard to becoming governor, rather than an actual job with responsibilities to the people of California (never mind that they give him a $123,965 annual salary to do something).
As I said, I'd heard all of the above before. Nehring has probably said all of the above hundreds of times. But here's where he's an excellent candidate: Nehring made this intimate speech to a couple of dozen people assembled on the deck of a private home sound as fresh as if he were speaking spontaneously and extemporaneously. There was no sense of rehashed ideas or words. Nehring was fully committed to what he was saying.  He spoke without notes or teleprompter but, instead, spoke from memory without ever giving the sense that he was reading a stale, flat mental script. One never sensed that Nehring was laboring through painful repetition. His beliefs matter to him, and he wants them to matter to us.
The person who introduced Nehring likened him to Ronald Reagan, which is a par for the course introduction when you have a rising young (he's 44) Republican candidate coming out of California. My instinct was to view this comparison as a rhetorical flourish, rather than an accurate description. Listening to Nehring, though, I found myself thinking that he shares a few very valuable traits with Reagan.
First, Nehring offers a comprehensive conservative ideology. He's not a businessman who wandered into Republican politics simply because he's upset that his own taxes are too high. Instead, he is a committed conservative who believes in limited government, low taxes, and intelligent, not perverse, incentives. He wants to reduce California taxes, do away with laws that give trial lawyers incentives to shake down little people and strong-arm businesses, address California's looming unfunded pension nightmare, and generally help lead California back to her golden days, when she was, in every way, the top state in the union.
Second, Nehring has something akin to Reagan's sense of humor: he's a happy warrior. Nehring was not afraid to criticize Gavin Newsom or Gov. Jerry Brown.  Nor was he afraid to make jokes at their, or other Republicans' expense.  His jokes, however, while biting, lack malice. Nehring comes across as a committed, disciplined, intelligent man, but not a mean man.
In this regard, Nehring contrasts wonderfully with, say, Barack Obama, whose specialty is truly nasty digs at his opponent. After all, who can forget Obama's condescending, singularly mean dig at Hillary, whom he characterized as "likable enough"? And then, of course, there was the time Obama subtly, but definitely, called Sarah Palin a pig. Neither of these remarks went to Clinton's or Palin's politics; both were just gratuitous insults. In other words, Obama is not a happy warrior, he's a school yard bully.
Nehring, by contrast, had some amusing digs about how busy Gavin Newsom has been . . . working at his winery. This wasn't a dig at Newsom's personal wealth but was, instead a political point that segued neatly into arguing that Newsom has failed to act in his most important role as lieutenant governor:  convening and chairing California Commission for Economic Development.
Given California's dire economic woes (greatest number of people living in poverty, one of the worst unemployment rates, the exodus of major businesses, etc.), one would think that Newsom would be all over the Commission.  One would be wrong.  In fact, Newsom has been too busy tending his grapes even to bother putting together a commission, let alone spending the time to focus on California's disastrous financial situation. In that context, any jokes about Newsom's labors in the field were perfectly appropriate.
Third, Nehring is quick-witted. His speech was short, as suited the small, informal venue.  That meant, of course, that he couldn't possible touch upon all the issues that matter to him as a person and a candidate.  During the subsequent question-and-answer period, one of the audience members wanted to confirm that, if Nehring became lieutenant governor, he could create a Commission for Economic Development even if Jerry Brown (who will be governor for some years to come) was opposed to the proposed commission members. When Nehring affirmed that yes, he could gather around him a group of people committed to making California great, rather than continuing down the same ruinous path, the man said, "This is an important issue that you should be using in your campaign." With a friendly smile, Nehring cheerfully replied, "I agree with you and I want to thank you for making it for me."
Fourth, Nehring is, as Reagan was, pro-Israel, which is really lovely coming from someone whose parents were born in Nazi Germany (although they were small children then, able to see only how it destroyed their country). Last month, Nehring and his campaign manager, the lovely, intelligent, vivacious Nyna Armstrong (a friend of mine whom I admire greatly) went on a week-long solidarity mission to Israel. Yes, I did mean last "month," not last "year." They went to Israel right in the middle of the war, when Hamas was lobbing hundreds of missiles daily into Israel's civilian centers.
Nehring is open about the fact that we have to recognize that Israel's enemy — radical, jihadist Islam acting through Hamas, ISIS, al Qaeda, and any number of violent organizations — is America's enemy too. While it's true that California doesn't set foreign policy, the fact remains that it matters when the governor of the most populous state in America is correct about one of the major moral issues of our time.
Winning a state-wide office as a Republican in California is a tough task. After all, with a few minor exceptions, California has morphed into a one-party state. Nehring recognizes that he has to make common cause with constituencies that normally reflexively vote for Democrats, but he thinks he can do it. For example, the people who are most negatively affected by California's vile public school system are blacks, and he wants to reach out to them. Likewise, the people who are most opposed to Gavin Newsom's call to legalize marijuana (a plan Jerry Brown, Dianne Feinstein, and Barbara Boxer oppose) are Hispanics, and Nehring wants to reach out to them too.
Across the board, Nehring has solid conservative solutions to problems that victimize the Democrat party's most fervent supporters. With his fluid, interesting speaking style; cheerful humor and quick wit; and mastery of facts and principles, Nehring may well be the man who breaks through the Democrat Leviathan that has grabbed hold of and is destroying California.
It helps that Nehring is running against a man who can't be bothered to run.  Newsom assumes that being a reasonably good-looking young Democrat with name recognition is all he needs. It helps too that the lieutenant governor's office isn't very powerful, so it's not the subject of a fierce, nationalized partisan focus.  That leaves room for an intelligent, able contender.
Winning matters.  Even if the office isn't very useful, once one gets that office — as Newsom knows — it is a launching platform to the governor's office. That being the case, how much better to give that platform to a bright, principled Republican, than to a entitled, hard-Left Democrat.
If you're a Californian reading this blog, I know that you're going to vote for Nehring, so I won't say "vote for Nehring."  What I really hope you'll do is:
(a) Make sure you do vote, no matter how disheartened you're feeling;
(b) Donate to Nehring's campaign, something that will offset the vast financial advantage that the Democrats (the so-called "party of the little people") have; and
(c) Contribute your time to the campaign, either by formally volunteering, or just by spreading the word about the fact that there's a candidate out there who might be able to help California back to the top of the list of great states, rather than keeping it at the top of the list of failed states.