Is it time to dig out the bullets packed in pig grease? (And let's identify the real Islamophobes.) *UPDATED*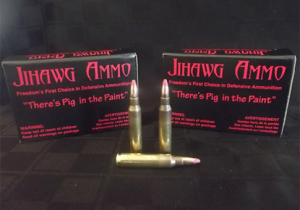 Practically from the moment after September 11, 2001, people started saying that the most effective way to fight Muslims was to lace American ammunition with pork.  Finally, in 2013, an Idaho company came up with pork-laced ammunition for non-military customers:
Jihawg Ammo today announced release of the industry's first truly defensive ammunition.

Not only does Jihawg guarantee that all of their ammunition meets or exceeds S.A.A.M.I. standards for velocity, penetration, and accuracy, they also coat each projectile with a special ballistic paint infused with pork to make it "Haraam" or unclean to a radical Jihadist.

This makes Jihawg Ammo the only commercially available ammunition with the added deterrent factor of eternal damnation for fundamentalist Islamic Jihadist.
The response was swift: Islamophobia! Ignorant, Islamophobic hicks thought that they could out-think the religion of peace. These bullets were the equivalent of a Muslim-directed genocide. And they were insulting!!
In the remainder of this post, I'll explain why the military should start using pork-laced weapons (or spread rumors that they're doing so), as well as explaining why those exposed to pork-laced bullets are the real Islamophobes.
Clearly, the U.S. military will never use pork.
But maybe it should….
At American Thinker, Clarice Feldman directs readers to Louis René Beres's article for the Gatestone Institute, The Jihadists' Promise: Power over Death. Boiled down to its essence, the article explains that the Quran holds, and fervent Muslims believe, that this life is but a way-station to the real world, which real world is an afterlife complete with unending, exquisite, and quite carnal, earthly pleasures. In other words, Muslim fanatics don't have a death cult; they have an (After)Life Cult. Their entire goal is to shuck this mortal coil in such a way as to ensure that they go straight into the arms of those seventy-two virgins (or raisins).
Christians, too, have an afterlife, but (as I understand it), they do not envision it as the carnal pleasures of this life, only on steroids.  It is, instead, a higher form of existence. Moreover, you don't get there by killing but, instead, by living this life well. Both Christians and Jews (who do not have a specific heaven) believe that, to the extent that God has blessed us with life, we have a moral obligation to cherish and enjoy life as a prerequisite to ascending to a higher level upon our death. The Judeo-Christian culture has, if you will a (This)Life Cult as a necessary prerequisite to an (After)Life Cult.
The net effect of the Muslim (After)Life Cult is that the Islamic fanatics aren't kidding when they say they don't fear death. While they might find unpleasant a boring, ignominious death, a death in battle against the infidel is a terminating event that is devoutly to be desired:
The Jihadi terrorist claims to "love death," but in his or her mind, that "suicide" is anything but final. Ironically, these Islamist terrorists aim to conquer mortality by "killing themselves." The would-be killer has been promised that death will represent just a trivial and momentary inconvenience, a minor detour on just one more glorious "martyr's" fiery trajectory toward a life everlasting, in Paradise.

How can one ever hope to counter such a seductive promise? How can any promise compete with the incomparable promise of immortality?

[snip]

A really good strategy needs to begin at the conceptual or psychological level. It is actually the Jihadists' fear of death that leads them to suicide, always in the hope that any short-term "dying" — the vainglorious fantasy that "martyring" themselves — will enable them to live forever in Paradise, and as beloved heroes on Earth.

While Washington and Jerusalem seek "peace" — an end to bloodshed — as their overriding objective, these faith-driven adversaries appear to see "peace" as merely a pretext. Their real objective is jihadist victory over "unbelievers," on the blessed road to a global caliphate.

This asymmetric view puts us all at a grievous disadvantage. While our Jihadist foes get ready for Paradise, by the slaughter of "infidels," our own political leaders seem to remain blithely unaware of — or in denial about — their enemies' fusion of sacredness with violence.
Beyond explaining all the ways in which traditional warfare has no effect on an enemy whose goal in battle is to die, Beres can do little more than to say that, to win against this latest jihad, we need to change the way Islamists think:
Going forward, our main task should be to systematically undermine these fantasies and doctrinal "underpinnings." In conjunction with the recommended nuanced persuasions of military firepower, it can be done.
What I'd like to know is how you go about telling the frenzied and growing number of jihadists that they're all wrong about the after life.  As far as I know, even we, with all our hyper-advanced 21st century ways, don't have any proof about the after life.  All that we've got is our own value system, one that demands decency and respect for life in our mortal form before we can be ensured of some rather inchoate wonderfulness after we die.  Absent proof, changing belief systems is a slow and tedious, or painful and brutal, process.
We're currently witnessing in America one of the three ways of changing how people think: Over the course of decades, you need to infiltrate all of the media through which people acquire their cultural messages. You slowly flood primary schools, higher education, media, entertainment and, finally, politics. As the late, great Andrew Breitbart understood, in a peaceful takeover pf belief systems, politics is downstream from culture.
The second, less time-consuming, way to change belief systems is through military conquest followed by rebuilding, as we did with Germany and Japan. We've already proven that we lack the will for true military conquest.  Moreover, this one gets us back to our original problem, which is that the Islamists truly don't mind dying.  It's hard to win when the other side is always willing to die.
That leaves the third third, and swiftest, way you change how people think.  You can call this one the "ISIS way of war":  Brute force. "Do it our way or we kill you as painfully as possible, and in numbers as great as we can handle."
Basically, we lack the ability, the time, the will, and the barbarism to change the Islamic mindset any time soon.  The only thing left, then, is to make the Islamist think we are destroying the pathway between death and paradise.  We need to tell the Islamists in no uncertain terms that we will ensure that, should they die in battle with Americans, they will never make it to paradise.
Will we do this? No. Should we do this? Absolutely.
As for those who say it's disrespectful to Muslims to put a dab of pig fat on a bullet or bomb (or create a rumor that we're doing so),  I say lets call those critics what they really are:  "Muslim killers."  After all, if pig-fat rumors or reality cause fanatic Islamists to run from the gun, instead of to the gun, we're saving Muslim lives, not taking them.  Anyone who wishes to prolong war by giving Muslims what they want — death on the receiving end of a bullet — is the real Islamophobe.
UPDATE:  A WWII cartoon reminds us that, as little as 70 years ago, pork and explosives were one and the same.