Obama's press conference shows he views the Republican tide as a mandate for him to act unilaterally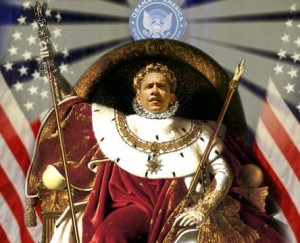 Since 2007, I've been saying that Obama isn't a mere narcissist but is, instead, a malignant narcissist. He worships at his own altar and is, in his own mind at least, infallible. The manifests itself most obviously in the fact that, once he's set himself on an intellectual or behavioral path, he is incapable of change — or at least, incapable of change based upon external critique and criticism. To a narcissist, any such external input must either be ignored or twisted so that it conforms to the narcissists own immutable infallibility.
Everything that I just wrote is highly abstract. If you want to see it played out concretely before your eyes, though, you can do so simply by checking in with the Obama press conference.
The first indication that you're dealing with a narcissist, rather than a balanced person is the thin skin he shows.  A good example occurs when Obama picks a fight with a reporter for daring to ask him about his future plans now that there's a new sheriff in town. (This clip has the bonus of an almost incoherently inarticulate Obama, forced to respond on the fly, instead of reading off his TelePrompter.)
Another sign of his narcissism is his effort (failed, I might add) to imply that his lack of communication with Mitch McConnell was somehow McConnell's fault for failing to talk to Boehner.  And no, that makes no sense unless, like a trapped rat, you're desperately seeking any escape from the consequences of your own conduct:
Most significantly, though, in terms of the narcissism charge is the fact that, rather than being chastened by the Republican roar across America, Obama made it clear that, in his own mind, he's still in the driver's seat and Republicans will have to work with him, rather than vice versa:
Congress will pass some bills I cannot sign. I'm pretty sure I'll take some actions that some in Congress will not like. That's natural. That's how our democracy works.

But we can surely find ways to work together on issues where there's broad agreement among the American people. So I look forward to Republicans putting forward their governing agenda. I will offer my ideas on areas where I think we can move together to respond to people's economic needs.
Obama's sense that he's still king of the world came through most clearly in his declaration that he intends to go through with mass amnesty for illegal aliens:
In terms of immigration, I have consistently said that it is my profound preference and interest to see Congress act on a comprehensive immigration reform bill that would strengthen our borders, would streamline our legal immigration system so that it works better and we're attracting the best and the brightest from around the world, and that we give an opportunity for folks who've lived here, in many cases for a very long time, may have kids who are U.S. citizens, but aren't properly documented, give them a chance to pay their back taxes, get in the back of the line, but get through a process that allows them to get legal.

The Senate on a bipartisan basis passed a good bill. It wasn't perfect, it wasn't exactly what I wanted, but it was a sound, smart piece of legislation that really would greatly improve not just our immigration system but our economy and would improve business conditions here in the United States and make sure that American-born workers aren't undercut by workers who are undocumented and aren't always paid a fair wage and as a consequence, employers who are breaking the rules are able to undercut folks who are doing the right thing.

So, we got a bipartisan bill out of the Senate. I asked John Boehner at that point, can we pass this through the House? There's a majority of votes in the House to get this passed. And Speaker Boehner, I think was sincere about wanting to pass it, but had difficulty over the last year getting it done. So, when he finally told me he wasn't going to call it up this year, what I indicated to him is I feel obliged to do everything I can lawfully with my executive authority to make sure that we don't keep on making the system worse, but that whatever executive actions that I take will be replaced and supplanted by action by Congress. You send me a bill that I can sign, and those executive actions go away.

That's a commitment I made not just to the American people and to businesses and evangelical community, law enforcement folks, and everybody who's looked at this issue and thinks that we need immigration reform, that's a commitment that I also made to John Boehner, that I would act in the absence of action by Congress.

So, before the end of the year, we're going to take whatever lawful actions that I can take, that I believe will improve the functioning of our immigration system, that will allow us to surge additional resources to the border, where I think the vast majority of Americans have the deepest concern.

And at the same time, I'll be reaching out to both Mitch McConnell, John Boehner, and other Republican as well as Democratic leaders to find out how it is that they want to proceed. And if they want to get a bill done, whether it's during the lame duck or next year, I am eager to see what they have to offer.

But what I'm not going to do is just wait. I think it's fair to say that I have shown a lot of patience and have tried to work on a bipartisan basis as much as possible. And I'm going to keep on doing so. But in the meantime, let's figure out what we can do lawfully though executive actions to improve the functioning of the existing system.
Lots of words there, but it boils down to this: I, King Obama, want amnesty. Because of Republican intransigence, Congress failed give me amnesty. I'm going to take this election, in which the American people voted in overwhelming numbers to elect Congress people who are opposed to amnesty, as a sign that the people do not want Congress to touch the issue.  Instead, they want me to handle the matter on my own. I therefore have a mandate to sign an executive order unilaterally granting mass amnesty to the illegal aliens in this country.
If you have the patience to read the transcript of his press conference, you'll see this theme appear over and over again: Obama believes that, when Americans sent Democrat politicians packing, they weren't repudiating Democrat policies but were, instead, sending a message that they want Obama to enforce Democrat policies unilaterally.
And that's what a malignant narcissist looks like in real time.