On Cuba, the difference between Barack Obama and John F. Kennedy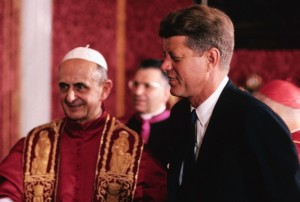 With Obama and the Democrats reveling in having handed Fidel Castro everything in exchange for nothing (except a man who is still a committed Marxist after five years in a communist prison), I got to thinking about Pope Francis's apparently pivotal role in this whole thing. And that got me thinking about how far we've come in history:
John F. Kennedy, September 12, 1960:  "I believe in an America where the separation of church and state is absolute, where no Catholic prelate would tell the president . . . how to act. . . ."
Barack Obama, December 17, 2014:  " His Holiness Pope Francis issued a personal appeal to me. . . .  In particular, I want to thank His Holiness Pope Francis. . . ."
In light of Obama's dependence on the Pope in making a major and historic foreign policy initiative, a friend of mine asks "If we allow the Pope to help direct foreign policy, does that mean our government is unlawfully promoting and sanctioning a particular religion?"
And of course, when it comes to Kennedy there those little things about Cuba — such as his humiliation with the Bay of Pigs debacle, his administration's efforts to assassinate Fidel Castro, and Castro's allegedly reciprocal efforts to try to assassinate Kennedy.