#BibiSpeech #NetanyahuSpeech — Open Thread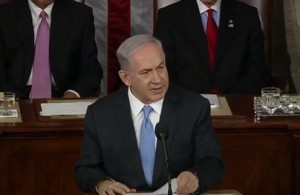 Have you listened to Netanyahu's speech yet?  It was a masterful speech (and I wish American conservatives would listen and learn from it). In clear, elegant, often clever English, Bibi explained precisely why Obama's proposed deal with Iran is an awful deal, one that paves the way for Iran to have a nuclear weapon system on the sly in the near future or completely legally in a decade. Bibi reminded his audience that Iran isn't just any state — it is now, and has been for 36 years — the largest single terrorism sponsor in the world.
If you haven't heard it yet, here's the video:
Or, if you prefer reading to listening, here's the transcript.
Bibi made a point that every sane person understands: Rewarding a bad actor does not make him less bad, it makes him more bad.
Along the way, Bibi addressed a point that has troubled some conservatives: Israel is much more worried about Iran than it is about ISIS, while the American people are more worried about ISIS than Iran. I really think that part of the speech gets to the heart of what should be every civilized person's concern about what's happening in the Middle East and around the world:
Now, this shouldn't be surprising, because the ideology of Iran's revolutionary regime is deeply rooted in militant Islam, and that's why this regime will always be an enemy of America.

Don't be fooled. The battle between Iran and ISIS doesn't turn Iran into a friend of America.

Iran and ISIS are competing for the crown of militant Islam. One calls itself the Islamic Republic. The other calls itself the Islamic State. Both want to impose a militant Islamic empire first on the region and then on the entire world. They just disagree among themselves who will be the ruler of that empire.

In this deadly game of thrones, there's no place for America or for Israel, no peace for Christians, Jews or Muslims who don't share the Islamist medieval creed, no rights for women, no freedom for anyone.

So when it comes to Iran and ISIS, the enemy of your enemy is your enemy.

(APPLAUSE)

The difference is that ISIS is armed with butcher knives, captured weapons and YouTube, whereas Iran could soon be armed with intercontinental ballistic missiles and nuclear bombs. We must always remember — I'll say it one more time — the greatest dangers facing our world is the marriage of militant Islam with nuclear weapons. To defeat ISIS and let Iran get nuclear weapons would be to win the battle, but lose the war. We can't let that happen.
Despite the fact that Netanyahu started off the speech being extremely gracious to Obama, thanking Obama for supporting Israel in ways both public and private, there was no getting around the fact that the speech was a slap at Obama. By eviscerating the rationales for Obama's proposed agreement with Iran, Bibi exposed Obama for being either an idiot or a naif or an appeaser or a confederate of an evil regime — or some combination of all four.
No wonder, then, that San Francisco's own Nancy Pelosi, lacking Bibi's subtlety, intelligence, and class, released a crude and insulting statement directed at Netanyahu (bolded emphasis mine):
Washington, D.C. – Democratic Leader Nancy Pelosi released the following statement regarding Israeli Prime Minister Benjamin Netanyahu's address to the Joint Meeting of Congress:

"The unbreakable bonds between the United States and Israel are rooted in our shared values, our common ideals and mutual interests. Ours is a deep and abiding friendship that will always reach beyond party. Americans stand shoulder to shoulder with the Israeli people. The state of Israel stands as the greatest political achievement of the 20th century, and the United States will always have an unshakable commitment to Israel's security.

"That is why, as one who values the U.S. – Israel relationship, and loves Israel, I was near tears throughout the Prime Minister's speech – saddened by the insult to the intelligence of the United States as part of the P5 +1 nations, and saddened by the condescension toward our knowledge of the threat posed by Iran and our broader commitment to preventing nuclear proliferation.

"Today, Prime Minister Netanyahu reiterated something we all agree upon: a nuclear armed Iran is unacceptable to both our countries. We have all said that a bad deal is worse than no deal, and stopping the spread of nuclear weapons is the bedrock of our foreign policy and national security. As President Obama has said consistently, all options are on the table for preventing a nuclear-armed Iran."
It was yet another reminder, as if we needed one, that the Obama administration and its confreres aren't subtle about their admiration for tyranny; they emulate its thuggishness too.
Over at Ace of Spades, you can see that Obama and Pelosi's fellow travelers were also deeply offended that Bibi had so effectively ripped away their Emperor's shoddy rationales for his "[bad] deal of the century."
Those are my first takes on the speech. I wish I could say more, but I have legal work to do, and that's deadline driven (not to mention the honor and necessity of client satisfaction). I guess my last word for now is that I hope desperately that his speech is sufficient to get Congress to do whatever it can to block Obama's very bad deal with Iran.
I'd love to hear what all of you thought about the speech.