Two good things about the new James Bond movie #JamesBond #Spectre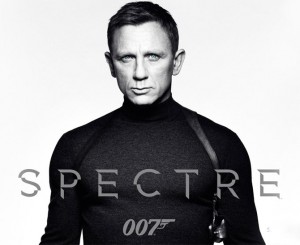 Last night, I saw the new James Bond movie, Spectre. I enjoyed it, although I must admit that it lagged in places. The fight and chase scenes, however, were spectacular, and they went a long way to make up for the slow parts. I've also come to like Daniel Craig's Bond. I didn't at first — Craig is a funny looking guy, despite those amazing blue eyes — but I've come to enjoy his tightly-coiled, muscled Bond, which is much closer to the character in the original books than the other Bond actors have been.
Daniel Craig and the fight/chase scenes notwithstanding, Andrew Klavan observed correctly that the movie fails at a very fundamental level because it doesn't reflect real-world concerns:
But more than that, as with last summer's Mission: Impossible — Rogue Nation (a much better movie) — and with the last three Star Wars flicks (much worse), Spectre suffers as a result of the deterioration of American values since the original source material was made.

The Bond of Dr. No, like the Ethan Hunt of the original MI TV series, like the Luke Skywalker of the first Star Wars trilogy, knew what he was fighting for and what he was fighting against. The story — all those stories — took place with the presence of the Soviet Union and Red China in every viewer's mind. We knew they were slave states who wished to impose their brand of slavery — called communism then, progressivism now — on the entire world. We knew we needed brave men and strong ideas to defeat them.

Where oh where could we find such villains today? Who holds to a slave philosophy now? Who wants to impose that philosophy on the rest of us? Why are they evil? Why should we oppose them?

The answers are 1. In the Middle East; 2. Islamists; 3. Also Islamists; 4. Because individual liberty is an objective good; and 5. Because if good men don't fight evil, evil wins.

The people who make these movies live in a haze of such intellectual dishonesty that they have forgotten, or chosen to ignore, these answers. They aren't honest so they can't write honest plots. Their villains have no motives and their master plans are confusing where they're not just laughable. Their heroes are merely an assemblage of characteristics from an earlier age: empty images that move and talk a certain way but have no virtue and so no power to thrill. They are, so to speak, merely spectres of their former selves.
I think, though, Klavan missed one very real issue that the movie did address, and that's the fact that our governments spy on us constantly.  This is especially true in England, which has more cameras per citizen, I believe, than any other First World country.  George Orwell would not be pleased.  Given the English setting, it's not surprising that a strong theme in the movie is a technocrat's efforts to create a massive, worldwide information database drawn from all cameras and telephone calls trained on every individual. It may not be Islamists, but it's a problem, so the movie isn't completely in la-la land by recognizing it.  (For those who like exotic locales, England's not the only place the movie shows.  It travels the world, with an especially strong opening sequence set in Mexico City.)
The other thing I liked about the movie — and I won't develop on too much lest I give away a few fun plot points — is that the movie is like an NRA advertisement.  Bad guys have guns and the only way to deal with them is when the good guys have guns.  Indeed, there are two scenes in which guns are front and center.  In one it's made clear that, even if one doesn't like guns, they serve a useful and necessary purpose.  In another scene, it's made just as clear that the mere fact that someone has a gun doesn't mean that the person will use it.  Guns are tools.  Whether they are safe or dangerous depends on the user, not the tool.
For current events, Spectre gets (as Andrew Klavan said) a "B."  For gun rights, though, I give the movie a strong "A."