A pleasant Second Amendment surprise from a Berkeley-based romance writer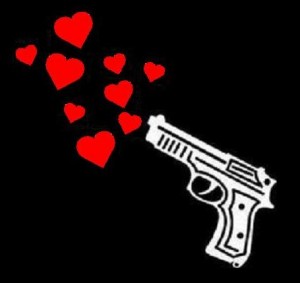 Part of why Andrew Breitbart was such an explosive presence in the conservative community was because he fully appreciated that "Politics is downstream from culture."  People's attitudes flow from the culture around them, rather than from the political platforms dragged out and speeches made every four years.  That's why I think it matters when a popular romance novelist writes books that dismiss PC-identity politics, recognize that there's nothing wrong with young people working and struggling to get ahead, and actively promote guns (including concealed carry) as a way for women to stay safe.
Before introducing you to those novels, let me digress a bit to explain why romance novels matter when it comes to popular culture.  Those who are not romance aficionados may be unaware that romance novels are the single biggest book category sold in America.  Good times or bad, romance fans will scrape together the money to get their fix.
If you're hoping to write a book that sells, take a gander at these statistics:  By 2013, it was estimated that sales for romance novels would be around $1.08 billion, accounting for 13% of all adult fiction.  Of that $1.08 billion in sales, 39% of romance novels are sold as e-books, with paperbacks coming in second at 32%.  (In addition to cheaper prices, e-books have the lovely advantage of hiding the often tawdry covers that are attached to even the classiest books.) Those are some darn impressive numbers.
Romance novels come in all sizes and flavors.  You can get short stories, novellas, stand-alone novels and, with increasing frequency, novels that ostensibly stand alone, but are actually part of a set.  This means that Boy 1 and Girl 1 get together in Novel 1, but you're also introduced to Girls 2, 3, and 4 (or maybe Boys 2, 3, and 4), with the promise that later novels will move these peripheral characters front and center, and show you how they too found romance.
If you happen to like a particular writer, you'll willingly shell out money for the whole series.  Moreover, publishers (whether self-publishers or publishing houses) have figured out that, if Novel 3 needs to be marketed, one of the best ways to do that is to offer the e-version of Novel 1 for free and Novel 2 at a discount.  Once hooked, and desperate to know what happened to "all the other characters in the book," your customer will willingly pay full price for Novel 3 and for all subsequent sequels, assuming the author is able to keep the writing fresh and interesting.
Fresh and interesting count for a lot in Romance Novel Land.  The reality is that all the novels are fundamentally identical:  boy meets girl, boy and girl go through travails, boy and girl end up happily ever after.  The freshness and interest come in devising a meeting and putting them through the travails.
As an author, you have to begin by selecting your romance genre, of course.  The major categories are Contemporary and Historic.  Within those two overarching classifications, though, there are endless subsets:  Suspense, Regency, Pirate, Western, Military, Scottish, British, Americana, Futurist, Murder Mystery, BDSM, Gay/Lesbian, Billionaire, Millionaire, Ditzy Heroine, Hard Boiled Heroine, Accomplished Heroine, Dead Heroine, Haunted Heroine, Psychic, Witty Plot, Emotional Plot, and on and on and on and on and on. . . .  Moreover, you also have to figure out whether, when it comes to sex, your book will be "sweet" (something my friend Judith Lown does so well), frisky, or "I wouldn't let my teenage daughter read that."
After you've figured out your genre and subgenre, well, then it's all up to you as a writer.  I've tried more than once to write a romance novel, but I just can't do it.  I don't have the knack. For the foreseeable future, I'll stick to political and social commentary, not that I'm complaining about that today, mind you, given my "serious brainpower."   (Doug Ross, incidentally, is my new and forever favorite person.)
Because I've found it impossible to write a romance myself, I'm always impressed by those writers who do it, and do it well.  Some of the really well-established writers are Georgette Heyer
, the grand dame of sparkling, witty, charming, delightful Regency romances; Linda Howard
, who specializes in strong women loved by even stronger men; Lisa Kleypas
, who writes good mid-19th century British historicals, and truly excellent contemporary novels (my favorite is this one
); and Jayne Ann Krentz
, aka Amanda Quick, whose prodigious output includes historicals, contemporaries, and futuristic, all of which involve accomplished women and slightly buttoned-down, but highly complementary men who fall in love while solving crimes.
Those are just the authors who pop easily into my mind. With romance novels having been hot sellers since Jane Austen, the list of authors is staggering and, thanks to e-books, growing by the minute.
Oh, and there's one more author — the one who actually gave rise to this post: Rosalind James
. Remember how I said earlier that one of the best marketing devices is, when e-novel 2 is published for full price, to entice people by marketing e-novel 1 for free? That's how I stumbled across Rosalind James. When Book 2 in her eight (going on nine) book series about New Zealand rugby players was published, her first book — Just This Once (Escape to New Zealand Book 1)
(which is still being sold at a low 99 cents) — was suddenly offered for free. I can never resist free books that might entertain me, so I gave it a spin. I liked it, and I started looking for James' books.
In addition to the New Zealand books, some of which are better than others, but all of which are at least somewhat enjoyable, James has written two other series: One is about three siblings, the Kincaids; and the other, most recent series, is about life in Paradise, Idaho. Two of those books contain some pleasant surprises. The first surprise comes in Welcome to Paradise: A Western Reality Show Romance (The Kincaids Book 1)
, which as of this writing is being offered for free; and the second is in Carry Me Home (Paradise, Idaho)
.
The premise in Welcome to Paradise is that the contestants are living as if they're 1885 homesteaders in the Midwest.  They show up in pairs (siblings, parent/child, married couples, unmarried couples, Hollywood bimbos) and the girl from the unmarried couple finds love with one of the male siblings. The book works well at many levels.  The main characters are likable, the secondary characters are surprisingly well-developed, the historical details are delightfully accurate, and, aside from the inevitable "boy gets girl," the plot is original and interesting.
What really revved my engine about the book though, is how strongly it comes out in favor of traditional values.  The competitors are "diverse" (white, black, Hispanic, Jewish, gay), etc., but James actively resists allowing her characters to mouth PC pieties.  That's how readers get a bit of interesting dialog when James introduces Stanley and Calvin, black father/son duo:
"My son Calvin," Stanley said, gesturing to a smaller, much leaner version of himself standing nearby, his expression less amiable than his father's.

"The token Black men," Calvin said. "It's just us and the Latinas, I guess." He nodded to two women talking to an older couple nearby. "Minority Number Two."

"You think the four of us are the only people of color who applied?" his father asked. "And yet they selected us, us four individuals. Nobody's asking you to represent your race, just like nobody's asking Mira here to represent hers."

"Pop," Calvin sighed. "You don't really believe that."

"That's how I choose to look at my time here," his father corrected him. "I can't be fussing about what anyone else thinks."
(James, Rosalind (2013-04-11). Welcome to Paradise (The Kincaids) (Kindle Locations 309-316).)
Stanley also turns out to be a former Marine, as well as an all-around good guy. Score one for James.
James also earns big points from me because she really doesn't like the academic crowd. She has nothing but disdain for her two crunchy organic types, Martin, an anthropology professor in Boston, and his wife Arlene, a textile designer. James has a very good ear for how this type sounds:
"Martin Deveraux," the man, thin and fortyish, said.

"And Arlene Filippi," the heavier dark-haired woman next to him cut in. "We're from Boston," she went on. "We're keenly interested in the negative impact that modern technology has on personal relationships and family dynamics. In fact, we've set up our own home as a technology-free zone, and we try to keep our children's life simple too. No TV, no video games, no iPods," she said proudly. "When we heard about this show, we felt it was the perfect chance to truly experience life as our great-grandparents lived it, and to model that simpler lifestyle for the rest of the country."
(James, Rosalind (2013-04-11). Welcome to Paradise (The Kincaids) (Kindle Locations 358-363).)
When Stanley chastises his son, Calvin, for using crude language in front of the women, he and Marin have a polite discussion about the way a man should treat women respectfully. James leaves no doubt that she sides with Stanley on this one:
"I learned why they call cowboy boots shitkickers," Calvin grimaced, prompting a rueful laugh from every man but his father.

"Language," he growled in his deep rumble. "Ladies."

"We've heard the word," Arlene protested. "It won't burn our tender ears."

"Calvin would never have said that word in front of his mama," Stanley countered, "and you wouldn't want her to hear you say it now, would you, son?"

"No," he muttered. "Sorry."

"You don't feel that kind of double standard is really another way of infantilizing women, part of the patriarchal belief system that's kept them from full participation in society?" Martin asked, seeming genuinely interested.

Stanley looked at him in amusement.

"No, I surely don't. I'd like to have heard you call Calvin's mama infantile, or try to keep her from participating. Where I'm from, you don't use that kind of language in mixed company, that's all."
(James, Rosalind (2013-04-11). Welcome to Paradise (The Kincaids) (Kindle Locations 637-646).)
Welcome to Paradise also stands out because James seemingly has no problem with guns. On guns, Martin and Arlene, again, are the voices of academia and elitism and, again, are politely disabused of their Ivory Tower notions. This bit of dialog takes place when the contestants assemble to learn basic gun handling:
"Can I just say something?" Arlene interjected.

"Go right ahead," John [the instructor] said resignedly.

"Martin and I would prefer to sit this out. We're pacifists, and we're not comfortable handling a weapon. We wouldn't shoot anything anyway, so there's no point in our learning."

"You planning on telling ol' Mama Grizz you're a pacifist, when she comes for you?" John asked. "Or when a pack of wolves shows up? You can call yourself anything you like. They'll just be calling you dinner."

"Bear attacks are extremely rare," Martin snapped. "And there's never been a documented case of a wolf attacking a human in the United States. I read up on it before we came."

"Have the bears and wolves signed your mutual nonaggression treaty?" Kevin [the gay man] asked innocently. "And what about livestock? Have wolves been given a bad rap on that too? Or do your rules of interspecies harmony require us to share our cattle with them?"
(James, Rosalind (2013-04-11). Welcome to Paradise (The Kincaids) (Kindle Locations 866-874).)
Now, it's entirely possible that James wrote about guns as she did because she was aiming for historical verisimilitude. After all, the real pioneers in 1885 couldn't haven't managed without their guns, so the show would necessarily have to use guns no matter how distasteful that could be to modern sensibilities. After all, disarmed vegans had a short life span when it came to homesteading. However, between Arlene's and Martin's pedantic, judgmental opposition to guns, and Kevin's funny, logical reply, I came away from Welcome to Paradise, feeling that James is okay with guns.
Any doubts I had about James' support for the Second Amendment were ended when I read Carry Me Home. Prof. Zoe Santangelo, the heroine, is a hydrogeologist who ends up being stalked by a rapist. Her love interest is Cal, a former pro football player and farmer. The setting is a small college town in Idaho.
I was less than thrilled when James' moved her plot forward by repeating at some length the canard that every one out of four or five young women on a college campus can expect to be sexually assaulted.  After all, if this were true, no parent in his or her right mind would ever send a daughter to college. I forgave James entirely, though, when she wrote the following passage, which takes place as Amy, a young woman attacked by the rapist, Zoe, and Cal are entering the campus police station:
"Personal Weapons: Secure Storage," Dr. Santangelo read aloud from the sign over the door to the right of the reception desk. "Does that mean the officers' personal weapons, or . . . what?" She watched a guy head out of the room, dropping a handgun into his backpack, a uniformed officer locking the door behind him. "Or . . . something else?"

"Oh," Amy explained, "you're supposed to turn in your guns for the day while you're on campus. But I didn't," she whispered.

"What?" Dr. Santangelo stared at her.

"I shouldn't say. Not here. But my dad said to keep it with me all the time." She shifted her backpack on her shoulder, and now Dr. Santangelo was staring at that, as if she'd never heard of anybody carrying a gun before.

"He was right, too," Cal said. "You listen to your dad. Make you feel a whole lot better. If he comes anywhere near you, you pull that thing out first and ask questions later."

"Wait. What?" Dr. Santangelo demanded.

"I told my dad I was supposed to lock it up," Amy said, "but he said if I never needed it, nobody would ever know I hadn't. And if I did . . . well, that would be the least of anybody's worries, that I was carrying."

"Carrying," Dr. Santangelo said faintly. "Sounds like some . . . movie."

"Nope," Cal said. "Just sounds like Idaho. Figure everybody's carrying, and you won't be too far off."

"Do you know how to use it, though?" Dr. Santangelo asked Amy. "Otherwise, isn't that really dangerous? I've always heard that a gun is dangerous because your attacker can use it against you."

"Only if he's not dead," Cal said, which was pretty much what Amy's dad would have said.

"Of course I do," Amy said. "You're right. It doesn't do you much good if you don't."

"It's like a whole new world," Dr. Santangelo said.
(James, Rosalind (2015-06-16). Carry Me Home (Paradise, Idaho) (pp. 142-143). Montlake Romance. Kindle Edition.)
Nor is that the last James has to say on the subject. Later, Zoe and Cal rendezvous with Jim, the sheriff, at the home of Cal's parents to discuss the stalker/rapist problem. Both Jim and Cal's father, Stan, have something to say on the subject too:
Jim shoved the notebook back into his pocket and pushed back from the table, the others rising with him. "I sure hope this Amy has something more than a bat next to her bed now. This mutt sounds like real bad news."

"She said that she . . ." Wait. Should she [Zoe] say? It was against the rules, Amy had told her.

"Be surprised if she didn't," Stan put in. "Mr. Smith and Mr. Wesson make a pretty powerful argument. If she were my daughter? You bet she would. No way she'd be back here [on campus] otherwise."
(James, Rosalind (2015-06-16). Carry Me Home (Paradise, Idaho) (p. 181). Montlake Romance. Kindle Edition.)
Bravo, Ms. James, for instructing your readers about the real world, and about the fact that, especially for women, guns are the great equalizer.
What's really interesting about Ms. James' stance on guns, political correctness, and the true way to respect women is that she's based in Berkeley, California. I have a hard enough time in Marin County being a conservative. How in the world does James survive with those views?
I've written before about romance novelists who have strong pro-Second Amendment themes in their books. Given romances' popularity, and the fact that politics flows downstream from culture, I think it's incredibly important that we conservatives support those authors who tactfully, but strongly, use the most popular genre in America to stand up against Leftist gun-grabbing misinformation.
So, if you're in the mood for some romance during these short winter days, think about buy a Rosalind James
or Linda Howard
book. Or check out Lisa Kleypas's Smooth Talking Stranger
, whose male romantic lead is an unabashedly old-fashioned guy who loves to go out hunting.
(If you do find yourself heading over to Amazon to check out one of those books, or to buy anything else for that matter, please consider using one of the links on this page to get to Amazon. If you do that, and if you make a purchase, a penny or two of that purchase ends up in my money jar.)