You like me! You really like me! (Or Doug Ross's Fabulous 50 came out today)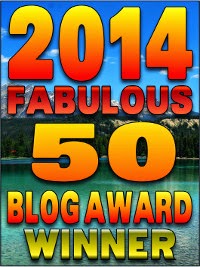 There is no way to say this without boasting:  I won!  I won!  (As did many of my blog friends and almost all of the legal thinkers I admire.)
For those bewildered by my boasting, a little context:  Every year, the inestimable Doug Ross publishes his fabulous 50 blog award winners:
So we're more than pleased to announce the winners of the 2015 Fabulous 50 Blog Awards, the most prestigious new media awards in the conservative blogosphere.

Or, at the very least, in the 993 area code.

These awards recognize a variety of blogs and websites operating in the conservative hemisphere of the Internet, all of which have worked tirelessly to promote conservatism, free market capitalism, fiscal sanity, the sovereignty of the individual, and otherwise protect America from the cockroach-like Statists — some in very unique ways.
For many years now, I've been a winner through my membership in the Watcher's Council, and the same holds true this year:
Best Blog-Ring:

The Watcher's Council: A repeat winner, all 2015 Council members qualify for this award. The longest running blog-ring of its kind, the Council's weekly winners are always must-reads.
I'm honored and proud to be a part of the Watcher's Council, and I'm delighted that Doug Ross thinks it offers something special to the conservative blogosphere.
But this year, Doug Ross thought that I — Bookworm Worm — offered something as well:
Best Grassroots Blogs

Bookworm Room: Serious brainpower applied to the problems of the day
Captain's Journal: Herschel Smith's site is always worth a visit and a stay
Da Tech Guy: A cadre of seven bloggers orchestrated by syndicated radio host Da Tech Guy
Edward Klein: The author has offered us some stunning inside looks at the Clinton family and related skulduggery
Had Enough Therapy?: Stuart Schneiderman's site never fails to offer critical insights
Just One Minute: Mr. Maguire's blog roll may be stuck in 2004, but his site remains timely and always interesting
The Mental Recession: Rusty Weiss always peels back the onion to get at the truth
Poor Richard's News: An excellent cure for the disease of mainstream media pap
The PC Graveyard: Highlighting key news bytes that few bother to cover
Victory Girls: ladies who are all beautiful spirits and patriettes
Western Rifle Shooters Association: do you understand yet?
Looking at my placement on that list, you can see where my clever strategy of choosing a blog name beginning with the letter "B" paid off.
It's actually ironic that the list came out just as I'm going through one of my periodic dry spells.  The holiday season always throws my rhythm off and seems to anesthetize my brain function for a few days.  The whole process is worse when, as happened last week, I have a sudden rush of legal deadlines.  I'm inspired now, though, and should be blogging with my accustomed fervor going into 2016.