Another "Monty Python was prophetic" moment — the lumberjack edition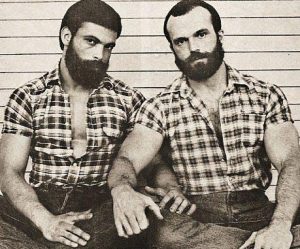 We've already discussed here how Monty Python was prophetic when it came to transgender issues — although the guys didn't realize that their point of view ("you're barmy") would be increasingly illegal in the 21st century. What we didn't see coming was that their famous Lumberjack song (which premiered in 1969) would also have its day in the sun.  First, the song, which I'm sure you'll enjoy whether you've heard it before or not:
I admit that the song is more transgender-oriented than gay-oriented but, with memories of flannel-clad gays flocking to the Castro District when it was their mecca in the 1970s, it was honestly the first thing I thought of when I read the following in the San Francisco Comical:
The orgy on the floor before dinner failed to shock me as much as when, a couple hours earlier, I'd found myself in the middle of the forest cutting down a mighty tree. Hacking away at the three-story redwood in the Mendocino wilderness, I had felt a kind of trepidation I hadn't experienced since high school PE. My life as a gay man in San Francisco had always felt relatively safe; I had never considered living anywhere else. But now, there I was channeling an inner lumberjack that I'd never known was inside of me. I felt much more natural sitting courtside at the orgy, trying to spot the most well-endowed guy through the flickering candlelight.

Such is life at the Groundswell Institute, a two-year-old, 200-acre eco-village in Mendocino County dedicated to creating a queer space that overlaps with environmental activism. Here, campers learn everything from how to cut down trees and build swales to how to don drag and participate in better group sex. Groundswell offers a chance for city dwellers like myself to break free of Castro stereotypes and, if nothing else, play woodsman for a weekend. But it's also a budding queer community where people come to live, an attempt to build a gay ghetto outside of a metropolitan area. You won't find a two-for-one well-drink night or a rainbow crosswalk for miles.
You can read the rest here, but I think you get the idea.
I have nothing to add. As we say in the law, res ipsa loquitur — the thing speaks for itself.