As Adam said . . . . . . to his wife, several millennia less one day ago, "Hey, it's Christmas, Eve." What better way to celebrate than with Christmas songs?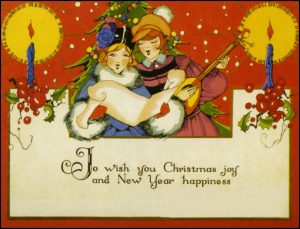 So with that intro, a few Christmassy things for your enjoyment
Ms. BWR's favorite, written in 1943, at the midpoint of WWII, with the war still in the balance and when many American soldiers did not know if they would ever be home again . . .
[UPDATE from Bookworm: Yes, I love "I'll Be Home For Christmas," but I never play it when I'm around others. Within five notes, I start leaking tears. By song's end, I'm a blubbery mess. If I ever star in a movie and need to cry for a scene, just put this song on in the background and watch the waterworks.]
And from the Daily Caller, the 12 Days Of Trump . . .
A beautiful rendition of Silent Night by Faith Hill . . .
O Come, O Come, Emmanuel by Anya . . .
and lastly, a classic Christmas parody song . . .
And on that note, Merry Christmas, all.