May Christmas bring you everything that you are wishing for
Last year was a better year than I could have dreamed and I hope that, for Christmas, we get the promise of an even better New Year.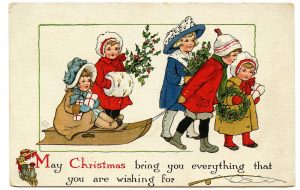 I was delighted with Wolf Howling's caroling contribution to Christmas. I know you'll enjoy all of the videos he posted, but I especially urge you to watch the Daily Caller's 12 Days of Trump. I couldn't stop grinning as I listened.
But here's a fact of life for me here at Bookworm Room: It's not Christmas without Josh Groban's gorgeous rendition of O Holy Night. Every year, I get chills all over again listening to it:
Last year at this time, we were looking ahead and hoping for the best in a Trumpian, post-Obama era. This year, we're looking back upon a spectacular Trump year and optimistically thinking it might get even better in the year to come.
Just think: Despite the hysterical "resistance" (which rose to sedition when it came from inside the government), Donald Trump has accomplished political miracles. He's entirely erased every single affirmative act Obama put into play, from open borders, to Obamacare, to DACA, to the Paris Accord, to the Iran Agreement.
This doesn't mean, of course, that Trump has been able to erase the damage Obama did, damage that ranges from, but is sadly not limited to, unconstitutional precedents, to a cash-rich, near-nuclearized Iran, to a level of race hatred last seen in the 1950s. However, it means that every unconstitutional, race-hating and baiting, un-American, pro-Islamic, socialist Obama initiative has been stopped in its tracks.
The big thing Christmas gift I'm hoping for (and I know I may be unreasonably optimistic, but I'm still hoping) is that, in the New Year all the moving parts Trump set into motion come together to expose and indict the perfidious, seditious, corrupt Deep State, from Obama and the Clintons at the top, down to each and every minion in the FBI, NSA, IRS, and God alone knows, the local DMV.
I also hope to see the complete disruption of the UN; the Sunni states' decision to abandon the Palestinians; a wall which doesn't pull the fascist trick of trapping people inside a cruel nation, but that aids a sovereign nation's reasonable efforts to control foreign traffic cross into its borders; a swift end — favorable to the West, of course — to North Korean nuclear dreams; a rip-roaring economy freed of onerous taxes; a federal budget that actually spends less money rather than boasting about spending more money only more slowly; a judiciary bound by the rule of law rather than the dreams of the Left; and the complete collapse of all American college and universities but for Hillsdale.
Merry Christmas, dear friends! I hope that whatever your wishes and dreams, they come true in the New Year.