[VIDEOS] When a patriotic Hollywood sang about freedom
It's hard to imagine now, but once upon time Hollywood celebrated American values and American victory in overseas wars. Sing along with me.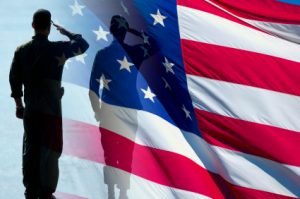 I meant to post these yesterday, but the only souvenir I brought home from my vacation was a bad cold, which has slowed me down a bit. It's no longer July 4, but I do believe that it's nice to remind ourselves that Hollywood once promoted American values — and perhaps can do so again. (For wonderful stills showing past Hollywood patriotism, check this out.)
Here's the queen of patriotic songs, from Irving Berlin's This is the Army, a soldier play that Warner Brothers turned into a movie in 1943:
I can't find a video from 1942's Holiday Inn, but the lyrics still resonate:
Also from Holiday Inn, another love letter Irving Berlin wrote to his adopted country, and one that Bing sang with such heart:
From 1944's Hollywood Canteen, the only song I know that explicitly lauds the Constitution and the Bill of Rights:
In 1944, Hollywood came out with Meet the People, which is a fascinating, although not terribly good movie, the explicitly celebrates shipyard workers. Although this song isn't blatantly patriotic, I think it does make the point about supporting ordinary Americans and the war effort:
(The movie also rejoices in a strange song/dance by Ziggy Talent that reminds us that rap isn't the only form of un-music to sweep America, as well as Spike Jones' delightfully funny and savage Hey, Schikelgruber, which starts at around 2:30.
And yes, Cohan wrote Yankee Doodle Dandy years before Hollywood existed, but Hollywood showcased it in the wonderful 1942 Yankee Doodle Dandy, with a true patriot, Jimmy Cagney putting his all into in:
One year before, in Babes on Broadway, Mickey Rooney, along with Judy Garland, took a stab at the same song. They gave it their all, but I think Cagney sells it better:
In the same film, Judy Garland sing a full-throated paean to the beleaguered British fighting the Blitz:
Judy Garland figures again in 1942's For Me And My Gal, which used WWI as the framework for good old-fashioned patriotic songs:
In 1933, with FDR newly in the White House and hope running high, Busby Berkeley directed Footlight Parade, which has one of my all-time favorite musical numbers: Shanghai Lil. Unfortunately, for this blog, Warner Brothers won't release the full video, which means there is no good quality footage of the most patriotic part of the number. Fortunately, someone recorded a very small snippet of Berkeley, a former Marine, going to town with patriotic images.
Interestingly, just three years later, in 1936, Berkeley directed the truly awful Stage Struck. What makes Struck striking, though, is this song, which the Yacht Club Boys wrote and sang, lamenting soaring income tax rates. Take note that, by 1936/1937, FDR's Democrat economic policies had brought the Depression to its deepest abyss. (Pardon the video quality; it's all I could find.)
I also want to mention a song that, sadly, I couldn't find on YouTube or elsewhere (I couldn't even find the lyrics online): From 1944's Up In Arms, All Out For Freedom, Music by Harold Arlen, Lyrics by Ted Koehler (Sung by soldiers boarding the ship and during the end credits).
I've got errands to run now. What have I forgotten? Please include in the comments your links to patriotic Hollywood songs.