Comey Skates Through Round 1
The DOJ has opted not to prosecute former FBI Director James Comey for leaking memos about his interactions with President Trump with the intent that they be made public.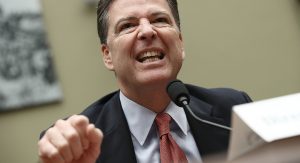 James Comey is a corrupt man who, in tandem with the Obama DOJ, conducted the whitewash of Hillary Clinton's criminal mishandling of reams of classified information.  He is a corrupt man up to his neck in the seditious effort to investigate Trump on false charges.  But what he is not, for the moment, is a criminal defendant charged with mishandling classified information.  This from Fox News:
The Justice Department has decided against prosecuting former FBI Director James Comey for leaking classified information following a referral from the department's inspector general, sources familiar with the deliberations told Fox News.

"Everyone at the DOJ involved in the decision said it wasn't a close call," one official said. "They all thought this could not be prosecuted."

Comey penned memos memorializing his interactions with President Trump in the days leading up to his firing. He then passed those documents to a friend, Columbia University Law Professor Daniel Richman, who gave them to The New York Times. Comey admitted to that arrangement during congressional testimony.

After the fact, the FBI classified two of those memos as "confidential."

DOJ Inspector General Michael Horowitz had referred Comey for potential prosecution as part of an internal review.

But one of the key factors leading to the DOJ declining to prosecute apparently was the fact that the two memos were labeled "confidential" after he set in motion the chain of events that led to them ending up with the press.
This charge was always the least of Comey's criminal exposures.  There was nothing made public by the NYT that would have been classifiable at a level of Secret or higher.  I am not aware of anyone ever being prosecuted under 18 U.S. Code § 793 for mishandling information classified at the lowest level of Confidential.  For one, while it is obvious that, regardless of whether the information is marked or unmarked, certain information relates to national secrets — Top Secret and Secret information by their nature usually fall in this category — information merely classifiable as Confidential may not, thus making proof that Comey knew or should have known that he was transmitting classified information difficult. Moreover, Comey would no doubt have claimed that he was merely exposing what he believed to be criminal conduct by Trump, a legitimate defense that would have further complicated prosecution. So Comey skates on this one, just as he skated on the whitewash of Hillary Clinton's criminal enterprise.
No matter.  Comey's real exposure lies with misrepresentations to obtain FISA warrants and using counterintelligence assets to spy on Trump and his administration without probably cause (i.e., a fact based reasonable suspicion that Trump was a foreign agent.)  And on those, we wait for word from AG Barr, IG Horowitz, and U.S. Attorney John Durham.