The Trump haters and Biden lovers are irritating me
Most of the time, I retain my equanimity when dealing with Trump haters and Biden lovers. Today, I cut loose just a little bit.
I am in an unusually feisty mood today. I try not to be in feisty moods. I tend to write or say things I regret when these moods descend upon me. I was hostile to two people on Facebook and just stopped myself from responding to a very hysterical letter about Trump.
I'm sharing everything with you now because maybe that will get it out of my system and allowing me to return to the imitation of serenity that I try to impose on myself most of the time.
I'll start with that hostile letter. The letter writer – a leftist Jewish woman — was deeply offended that conservatives would care about Jews, because we're all going to die here from the virus, and it's all Trump's fault. She also said that millions will die from preexisting conditions because of Trump and that Trump will replace Roe v. Wade. Also, Trump is a dictator who can only be compared to Hitler. He doesn't give a damn about Jews, blacks, Hispanics, immigrants, and LGBT people. He is, in other words, evil personified.
I wrote the letter below and decided, at the last minute, not to send it. I've learned that engaging with crazy people is like getting sucked into a black hole and, while there, being gnawed relentlessly by thousands of rabid rats. But this is what I wanted to say before common sense reasserted itself:
Dear XXXX:

I meant to begin this email by stating how impressed I was that you could correspond from the concentration camp in which Trump has placed America's Jews preparatory to slaughtering them. You don't deserve that kind of sarcasm, though. I can see that you're genuinely upset here.

I might also have pointed out that Trump cannot take away Roe v. Wade. Only the Supreme Court can — and the most that the court can do is return the matter to the states, which may make their own choices about whether to allow abortion within their borders or not. Along the way, I would have said that the slaughter of 61 million babies since 1973 is quite a Holocaust, but one that doesn't seem to concern you much. But again, I see that you are frightened of the prospect of de-federalizing the abortion question, so I'll leave that one alone too.

As for his not caring about the blacks, well, I will admit that Trump doesn't seem interested in defining people by and limiting people to their skin color. The fact that he's past laws that help get out of prison the black men whom Joe Biden put there with his 1994 Crime Bill is surely an accident, as is the fact that he's finally funded Americans Historically Black Colleges and Universities. Other than that, all he did was deliver a roaring economy that most benefitted blacks and Hispanics — but he was trying to benefit all Americans when he did it, so you're right, he doesn't care about blacks or Hispanics.

My parents were indeed immigrants. They waited patiently for nine years to come to America. It wouldn't have occurred to them to sneak into the country and live here illegally while taking benefits from taxpayers. I guess there was something very wrong with my parents.

I can't write about Obamacare as I can't afford it. I'm not in the class of people who are heavily subsidized, but I am in the class of people who's private market policies went up so dramatically in price that insurance is beyond my means. Let's just say I'm not a fan of Obamacare. But clearly, it means a lot to you, and I respect that. I believe in the free market. Government mandates always strike me as costly, inefficient and reeking of political favoritism.

As for the virus, we must agree to disagree. While Trump was closing the borders and creating task groups, Biden was calling him a xenophobe and making vague statements about sending money abroad as he did during the incredibly incompetent Ebola response. While Trump was mobilizing the American industry to provide PPE and ventilators, Biden was still talking about Ebola. Only later did Biden start saying that he would use the government to make PPE more available.

Trump also had the opportunity to use the virus to become a full-blown tyrant and take over all of America — but he didn't. Instead, he respected federalism and told the states to do what they felt they needed, knowing that he would support them in all ways. He rushed equipment to them, mobilized better testing after the CDC's dismal failures, and helped built emergency hospitals (or send hospital ships), which were never used. New York, New Jersey, Michigan, and one or two other states had the brilliant idea to lock up healthy people and mandate that nursing homes, filled with the old and sick, must take virus-infected patients. The death rate was appalling.

You're obviously someone of strong opinions and deeply felt emotions. I think it's fantastic that you reach across the political divide to read a conservative site. I would urge you, though, to gather more facts, think more deeply, and, for God's sake, turn off MSNBC. It's rotting your brain.

Sincerely
As I said, I refrained. That letter-writer was a tar baby, and I was not going to show myself to advantage in that fight.
On Facebook, I got irritated when someone re-posted this ridiculous Facebook post: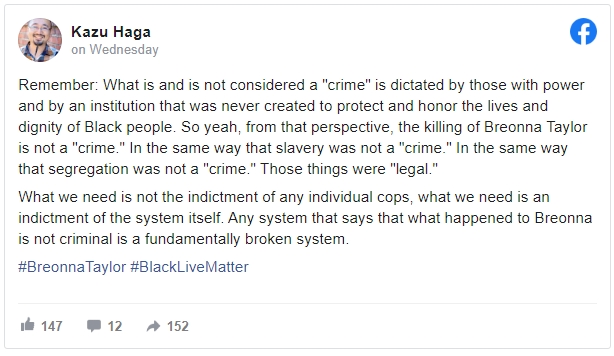 I posted a snarkily disingenuous reply:
What did Kazu Haga think needed to be changed in the fundamental system? The evidence for the following came from third-party testimony, from the boyfriend himself, from police body cams, from forensic evidence, and from tapping a drug lord's phones.

Breonna was identified because she had extremely close contacts with someone who was the head of a large drug ring in Louisville. Should the police stop investigating drug rings, which mostly harm poor people?

According to a third-party witness, the police loudly knocked and announced themselves, which gave the boyfriend time to arm himself and prepare to shoot. Should they have conducted a no-knock raid instead? Breonna would probably be alive if they had.

The moment the police entered, as they are allowed to do by law to preserve evidence, the boyfriend, with Breonna at his side, shot one of the police in the femoral artery, a potentially fatal wound. Should the police have stood there and waited to see if he shot again?

So what should be different?
And finally, when someone used the latest Deep State Pentagon leftist who just announced he's supporting Biden as a reason to say she stands with Biden because he's going to be a great president, I also snapped.
I have problems with Biden because he used his political power to block Ukraine's anti-corruption investigations into a business that was paying his son tens of thousands of dollars a month.

I have problems with Biden because he called his political opponent Goebbels, something that completely debases American political discourse. Trump is not a Nazi, and it is an insult to those who died because of the Nazis to throw the term around.

I have problems with Biden because he still posts about his 1994 Crime Bill, which sent generations of black men to prison, rather than giving them the opportunity to be fathers and role models in their communities. Trump is getting those men out of prison if they've proven to be model prisoners and rehabilitated.

I have problems with Biden because he views Americans solely based on race and sex. If he didn't, he would not have promised that his vice president could only be a woman, and any Supreme Court nominee could only be a black woman.

I have problems with Biden because he's on tape calling our troops "stupid bastards" because they didn't clap at something he said.

I have problems with Biden because I'm not okay with the fact that Biden's campaign is hiding him, which seems to suggest that they're hiding a problem with him.

I have problems with Biden because of his continued love affair with China, a country that gave his son $1.5 billion in business contracts, that has genocidal concentration camps for Uighurs, that uses slave labor, that unleashed a virus on the world, and that is systematically stealing American technology and jobs.

Everybody should stop pretending that Biden is okay. He's not okay at all. He is a corrupt man with a long history of lying and bad judgment, and he's now lapsing into dementia.

I'd have a lot more respect for Biden voters if they would admit that they are not voting for him but are voting instead for the policies his administration will enact: higher taxes, pro-choice judges and funding for Planned Parenthood, amnesty for illegal aliens, the reinstatement of Critical Race Theory training in the federal government, government healthcare, government support for unions, etc.

It's different with Trump, who is obviously leading the decisions from his administration. Biden is a placeholder. Those who support him would do so if the only thing that showed up at the debates were a giant letter D.
I need to stop doing this because I'm talking to people who cannot change their minds. This is different from just be stubborn.
These are people whose world view is so diametrically opposed that we're from different planets. We don't have the same goals, in which case we'd just be arguing about policies to achieve those goals, something that's been the norm in elections up until Obama. The current point in American politics truly is socialism (plus that all-important abortion) versus a free market, individual liberty system (with states' rights determining abortion policy).
All the arguments about Trump's taxes and even Biden's dementia are just window dressing. This is the most values' driven election we've ever had. If you're arguing with someone who wants socialized medicine, open borders, 90% wealth taxes, appeasement of China, a reversion to pre-modern energy usage to save us from natural climate change, using race as the highest value for determining citizen rights (the darker the skin, the greater the rights), abortion up until and even after birth – there is no common ground. There is no persuasion. There is nothing left.
And that's why I shouldn't get in these feisty moods and say the things I said or that, just in time, I drew back from saying.
Image: Pixhere public domain photo