Conservatives — we have to be our own deus ex machina
A theatrical deus ex machina will not appear in the next week to save us. We're on our own but there are things we can do to save ourselves.
The news is clear about what's happening today in America: The American private sector — social media, internet search engines, web hosting engines, 14,000 American companies, banks, media outlets — is systematically working to silence and destroy anyone who opposes the Democrat political agenda. For example, Mozilla's leftist leadership, apparently finally over the "guilt by association" horrors of the McCarthy era (an era leftists still use as a rallying point), is reinstating guilt by association. It's CEO, Mitchell Baker published a statement entitled "we need more than deplatforming."
After applauding shutting down Trump, he had some specific prescriptions:
Changing these dangerous dynamics requires more than just the temporary silencing or permanent removal of bad actors from social media platforms.

Additional precise and specific actions must also be taken:  

Reveal who is paying for advertisements, how much they are paying and who is being targeted.

Commit to meaningful transparency of platform algorithms so we know how and what content is being amplified, to whom, and the associated impact.

Turn on by default the tools to amplify factual voices over disinformation.

Work with independent researchers to facilitate in-depth studies of the platforms' impact on people and our societies, and what we can do to improve things.
In other words, pure McCarthyism: Are you now or have you ever been a member of the Republican party? Or a Trump supporter? Or someone who refuses to kneel when shown the American flag or hearing the national anthem?
It's not surprising, of course. Do you remember that, back in 2008, Mozilla fired Brendan Eich, who created JavaScript and co-founded Mozilla, because he believed marriage is between a man and a woman? He moved on, thankfully, to found Brave, which I use as my browser.
Meanwhile, on the political front, congressional Democrats will impeach Trump again in a (futile) attempt to prevent him from a second crack at the presidency. They are also trying to boot from federal and state office anyone who claims that the election outcome resulted from fraud.
In the face of this profoundly un-American activity, I get a lot of emails promising me things. They promise me that Trump activated the insurrection act so that he and General Flynn can retake America. They promise me that pictures of Hunter Biden with 10-year-olds — and proof that Joe Biden was complicit — are about to be released. They promise me that Italy leaders, from the Pope on down, have been or will be arrested for (a) pedophilia, (b) murder, (c) interfering in the American election, or (d) all of the above. They promise me that people deep within the U.S. government have been turned and will publicly confess their election sins.
All of those emails are deus ex machina emails. Deus ex machina means "the god from the machine." It was a theatrical device with roots in the ancient Greek theater. When the plot reached a point at which no human agency could save the beleaguered characters, a crane (the machine) would lower onto the stage an actor dressed as a god. There'd often be exciting noises and smoke to maintain the image. And then that "god" would set things right and ensure a happy ending. It's a fiction. It's not reality.
There is no insurrection act, there are no Italian confessions that anyone is going to act upon, there are no hidden witnesses about to come out. And even if all of that were true, the Democrats have clamped down on the engines of communication that would allow anyone to hear their sounds. Remember the philosophy question asking, "If a tree falls in a forest and no one is there, does it make a sound?" Same goes here: If the truth is spoken but all the megaphones have been seized, can anyone hear?  No. The answer is no.
But… (You knew I was going to leave you on such a downer note, right?)
There actually is a deus ex machina here. It's us. We are the ones who can make things right. I haven't yet figured out how to deal with the election system, but we can make change against the private sector:
Social media: As we've long known, social media is not "free." We have "free" access because the real money comes from advertisers who want to reach us. If conservatives get off social media — and I mean off, off — the advertisers lose interest. Democrats routinely destroy private businesses with boycotts, something I've found appalling. I no longer find it appalling. Any business that supports the suppression of speech deserves to die. Let a few conservative media types stay on social media so as to keep an eye on what's going on. I recommend Twitchy, which stays abreast of Twitter so you don't have to.
For the same reason, because of my paying work, I also have to stay on social media for stories but believe me that I won't post there. (I just have to figure out how to stop the automatic posting I do now with this site. I set it up, but don't remember how. Give me some time on that one.)
The flip side of this is that it's time to go back to the old way of doing things: Follow your favorite conservative sites. Conservative sites are currently heavily dependent on social media for their traffic. If you're going off social media, you need to support your favorite sites in another way. You can pay for an annual subscription, donate to their PayPal accounts, or simply visit them every single day, even if you don't have time to read anything. If you have a site, reinstate the old practice of a "blog roll." That lets your followers know which conservatives sites you think are worth following. Back in the day, this networking was how conservatives changed politics change before the switch to social media — and it's how it can happen again. I'll put together a blogroll over the next few weeks.
Also, cast your mind back to the fact that, even before social media, we used to communicate. We did it via emails, via phone calls, via snail mail, and via getting out and talking to people face to face. For the time being, there's also this: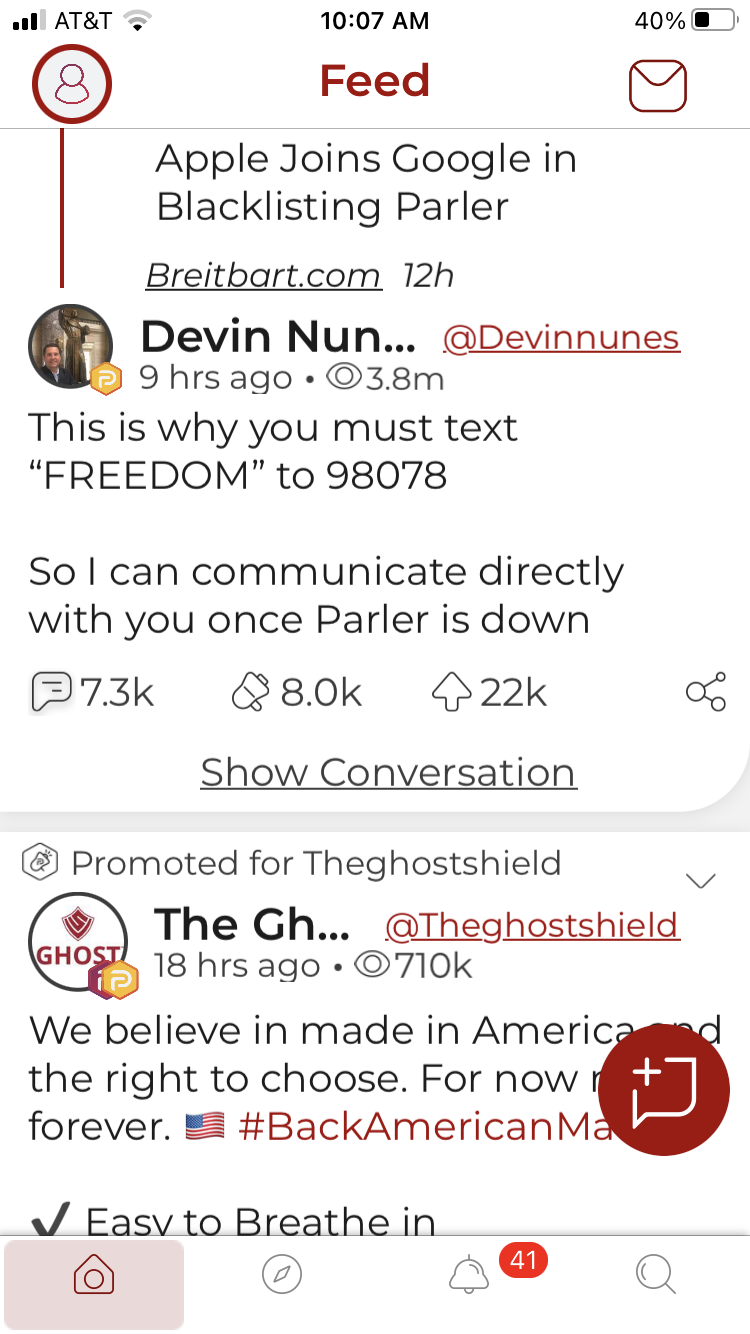 Boycott businesses and China: It's time for us to do without, which isn't a bad thing anyway considering how tight money is. As I said, I used to oppose mass boycotts but I've changed my mind. Stop buying anything from Amazon, which shut down Parler, except for conservative books or publications in line with what Sarah Hoyt recommends. I know Amazon is convenient, but there are other sites that will also mail products to you. And people like me, who hate shopping in brick and mortar stores had better learn how again.
If you can afford to do so, avoid Walmart, whether online or in person. Walmart is effectively a Chinese front. It destroyed American businesses by undercutting every American manufacturer by pushing cheap goods from China. If you do have to shop there, try to avoid Chinese-made products.
And yes, if a product is made in China, and you can get by without it, DON'T BUY IT. When it comes to cheap consumer goods, we're like crack addicts keeping our dealers in money. I was reading boxes like crazy yesterday when I went out shopping and discovered that I can make do without all kinds of things. Thankfully, the home fire extinguisher was made in Mexico.
While I encourage you to buy American, if you buy things, buy from patriotic companies. If at all possible, don't buy from the companies who belong to the Business Roundtable, because it's their organization that's trying to kick Trump out of office in the few days left to him. You'll be surprised to discover how many products you can do without. For example, is there anything the Coca Cola company makes that's actually good for you? They peddle products that make Americans fat, unhealthy, and poor.
I understand that we still live in the world and that we're going to buy stuff from those 14,000 companies. However, I urge you to go through the list and figure out what you can do without. If we all trim down our purchases, those companies are going to hurt.
If you haven't already, unless your college is Hillsdale, stop sending it money when you get those alumni requests. All American colleges and universities are hotbeds of leftist indoctrination. I don't care about their football or basketball teams, and nor should you. Those are just ways to inveigle more people into the propaganda machine.
Other ideas for our being the gods from the machine that save us are welcome here. This is just a start. But for goodness sake, we've got to stop funding the people and nations that despise us. We've got to stop being the money trees funding our own destruction.
If you're feeling despair, well, I am too. But as I keep saying, depression and despair are passive emotions. Democrats would be delighted if we were depressed and despairing. Instead, we have to be the engines of change. Turn those feelings into anger and optimism. We can act and we will act.
And let me be perfectly clear: I am talking about legal, non-violent action. Dig out Alinsky's Rules for Radicals and follow them. He advocated clever, non-violent tactics, and he was exactly right, as we know to our cost. Remember, the tactics are good; it was just the leftist goals that were bad.
Copy the Democrat boycott machine. And remember that it wasn't just that Democrats stopped buying products. They would inundate the companies they were boycotting with phone calls, emails, letters, etc., letting the companies know exactly what was coming their way.
Get involved in local organizations, where change happens first. Get on the school board, get on the water board, get on the local college board, volunteer to work with immigrants (including those damn illegal ones) so that they get exposed to conservative ideas instead of only socialist ones. Follow that stupid leftist mantra: Be The Change.
Leftists took the culture; we can re-take it — and we can do it without a single smidgen of violence. Why? Because the leftists will help us. First, their coalition is a house of sand. They divided, and then subdivided, and the sub-sub-divided people into dozens of victim/identity groups and told all of them that the enemy was on the right. With the right routed, there is nothing to hold these groups together. They will destroy each other in the rush for spoils. I'm waiting for the day when the Squad realizes that Pelosi is an old white woman wrongfully occupying a spot that belongs to one of them — and brutally de-thrones her.
Second, as we've witnessed in Democrat-run states this year, they may be ruthless, but they're also utterly incompetent. Their gift is destruction. They have no other abilities.
To sum up this post: Things are really bad. There is no magical deus ex machina who's going to appear in the next nine days to save America. Therefore, it's up to us to act. We have the power — the legal, non-violent power — but we have to stop waiting for someone else to do it for us.
I'll leave you with the words of Harry Truman, harking back to a time when Democrats still had American values: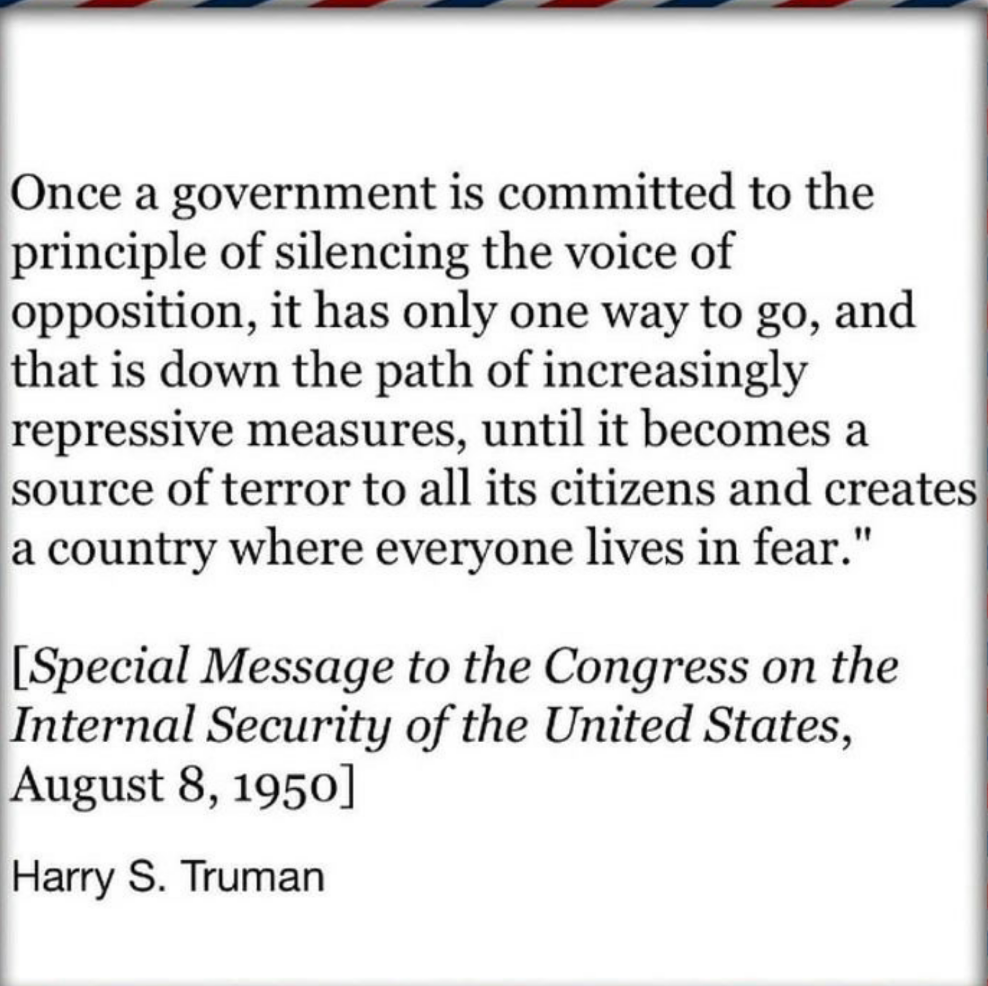 IMAGE: Lauracorominas. CC BY-SA 4.0