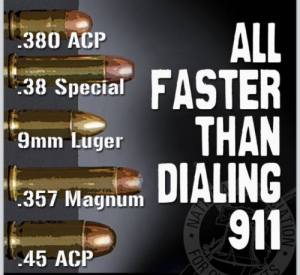 I have been engaged engaged in a running battle . . . er, discussion with a Progressive acquaintance about the Castle Doctrine.  This is the doctrine derived from the ancient Anglo-Saxon principle that "a man's home is his castle" and he has a right to be safe within its wells.  In practice, the Castle Doctrine means that, if someone breaks into a home, that person is presumed to have lethal intent, giving the homeowner the right to use lethal force in his defense.
As I detailed in an earlier post, my Progressive acquaintance simply can't wrap  his mind around the whole notion of "presumption."  To him, it means "permission" and, flowing from that gross mis-translation,  he interprets this permission to mean that, in Castle Doctrine states, a homeowner can, with impunity, shoot anyone on his property.
Yesterday, I sent the Progressive the news story about a 14-year-old boy who was staying with his grandmother when, late at night, a man smashed a window.  When the teen challenged the man, the man ignored him and continued to try to break into the house.  The teen shot the man — 18-year-old Isai Robert Delcid — three times, killing him.