"Alien Encounters" — The subtle propaganda of a pseudo-documentary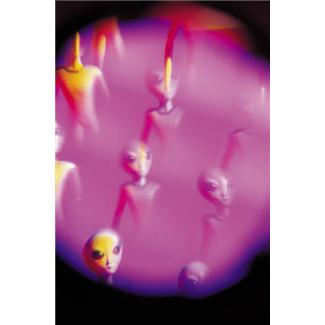 The Science Channel's Alien Encounters is a two-part pseudo-documentary that interweaves footage of real scientists and novelists talking about possible alien encounters, with faux footage of the world dealing with an actual alien encounter.  Alien Encounters has gotten decent press from the usual suspects.
I disagree.  As a science show, it's not impressive.  The children, who are sophisticated media consumers, were perpetually confused about what was real and what was faux, and eventually walked out on the show in frustration.  We grown-ups didn't fare much better, as we kept falling asleep.  A show that induces narcolepsy probably isn't a very good show.
I did stay awake long enough, though, to be concerned about those children and those adults who stuck it out despite the show's muddled story line and sleep-inducing presentation.  In addition to having some vaguely scientific content (Cue Twilight Zone music and repeat after me — "We are not alone"), the show has a very strong Progressive tone.  This is stealth politics. A rumination about aliens contacting earth should be about space and science.  As is typical, though, for anything Progressives touch, their politics and biases  just kind of ooze out.
In pertinent part, the plot goes as follows:  The SETI Institute, which was established to monitor the cosmos for other life forms, picks up a signal from space that is quite obviously meant to communicate with earth.  It proves, as the SETI people have long realized, that we here on earth are not the pinnacle of evolution — someone else (or something else) obviously is, because that other culture can communicate with us.
At least, that's what Jill Tarter, who's head of the SETI Institution and one of the show's writers, says.  She also says that we're not ready for alien contact because we have pollution or wars, or something like that.  (She was a bit muddled there.)  Tarter's fascination with outer space may have come about because she obviously doesn't like us here on planet earth.
Tarter's statements about war and pollution, and her general disdain for humanity, have the virtue of being explicit.  Tucked into the show were other messages, however, ranging from silly to mean.
The first more subtle political message showed itself in the usual "global warming" stuff that is by now par for the course for any non-conservative production.  Indeed, bows to global warming appear in shows with the same frequency as Obama's "ums" and "uhs" and "ers" when he's speaking off teleprompter — which is to say, way too often.
In Alien Encounters, we learn that the alien beings have included in their message a code sequence that is light years (pardon the pun) more sophisticated than any computer code ever devised here on earth.  The hip young things paying attention to this cool alien invasion immediately appreciate the ramifications of this code.  The words "reverse global warming" are flashed across the screen at least twice.  (I may have slept through subsequent iterations.)  Yes, the secret to resolving global warming is . . . wait for it . . . an alien invasion.  Woo-hoo!
That's the obvious propaganda.  It's heavy-handed, but probably harmless, because it's just another piece of white noise in the Progressive universe.  Although I must say I find rather amusing that an ostensibly scientific institution (that would be the SETI Institute) so blindly accepts global warming, despite the burgeoning body of evidence to the contrary.  But that's another story….
The less obvious propaganda is what really irked me.  In an obvious effort to stretch a thin one-hour show into a two-hour show, the writers repeat themes, images and words over and over and over again.  Thus, we hear repeatedly that some people will be excited and open-minded about this invasion, while some will be scared and hostile.
"Scared and hostile" is represented by a moustachioed old white man who sits alone, drinking, and writing "end of the world?" and "danger" on reports about the alien encounter.  Later, he is shown stockpiling booze and weapons for his survivalist retreat.  And still later, the show finally reveals the hitherto cryptic writing on his baseball cap:  "82nd Airborne."
Yup — the only ones who might be somewhat worried that a vastly more intelligent life form is heading towards our seriously imperfect (and overheated) world are the crazy, drunken, old militarists .  The show hints, although it's too tactful to say, that drunken old survivalists are the scarier of the two invaders.
I haven't actually seen the aliens land yet.  When I finally succumbed completely to sleep, they were still making their way to planet earth.  I'll watch the last half hour tonight on my TiVo and get back to you on whether or not we survive our contact with this fine alien culture.  I do wonder, though, whether these aliens, who clearly have the potential to bring about the "moment when the rise of the oceans began to slow and our planet began to heal," will bear an uncanny resemblance to Barack Obama.  After all, there are those who have posited that, based upon his fixed smile in official state photos, he might not be of this earth:
Barack Obama's amazingly consistent smile from Eric Spiegelman on Vimeo.