UC Berkeley student government announces that the phrase "illegal immigrant" is banned *UPDATED*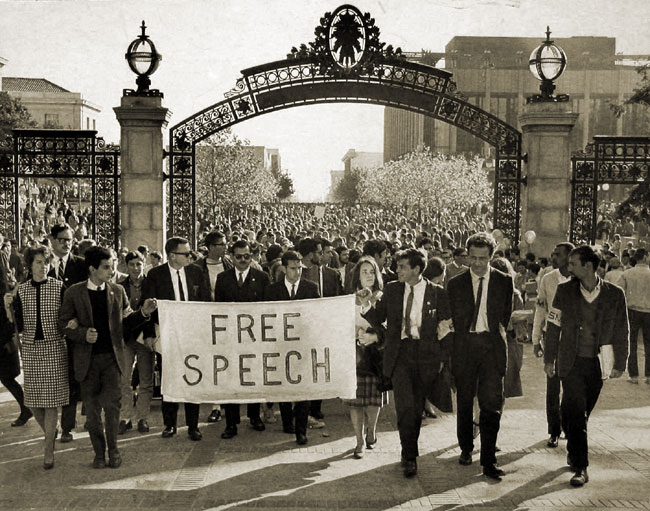 The People's Republic of Berkeley or, as it's more commonly known, the University of California, Berkeley, has stayed true to its core Orwellian Leftism by banning language. Today's targeted "bad thinking" is the phrase "illegal immigrant." According to the censors occupying Berkeley's student government, that phrase is "racially charged," "dehumanizes" people, and contributes to "punitive and discriminatory actions aimed primarily at immigrants and communities of color." Apparently the truth hurts.
The resolution, of course, carried with the usual Soviet style unanimity: 18 voted "yes" to censor thought and language, while one student abstained. (More on that single abstention later.)
Actually, the ultra-Left Berkeley was late to the party on this one, but that's only because the University of California in Los Angeles has a much higher population of illegal immigrant students. That's almost certainly why UCLA passed a similar resolution in August, while Berzerkley didn't get around to it until November.
The resolution is a beautiful example of Orwellian speech. It leads with pure academese nonsense: "The 'I' word is legally inaccurate since being out of status is a civil rather than criminal infraction." You'll note that the "I" word (and we're not sure whether the "I" word is "illegal" or "immigrant") is now so tainted that I t's been elevated to the status of the infamous "N" word. (For those of you too young to remember the OJ Simpson trial, or those who just dislike censorship, the "N" word is "nigger." It's a nasty, mean-spirited word, but nobody has ever dropped dead spontaneously from hearing or reading it.)
That nonsense phrase is just a warm-up for the Orwellian language changes the students propose:
"No human being is illegal. 'Foreign nationals,' 'undocumented immigrants,' 'immigrants without papers' and 'immigrants seeking status' are examples of terms we can use that do not dehumanize people.
You can use all the metaphors you like, dear little UC Berkeley soviets, but the fact remains that, to the extent these people are in America in an undocumented way without papers, it's because they broke the law by sneaking over the border like thieves in the nights. In other words, adjectively, they're immigrants who are here illegally, which makes them – yes, wait for it — ILLEGAL IMMIGRANTS.
The problem, of course, isn't the words. It's the behavior. You can dress mutton up as lamb, but it's still mutton. And someone who sneaked over the border in violation of our nation's laws is still illegal no matter how frilly the words you drape around that person.
Of course, the commissars at Berkeley can't just stop with a stupid resolution. What's Soviet-style censorship and shaming without communist-style re-education? To that end, the resolution also calls for administrators and faculty to attend an "UndocuAlly training workshop."
Considering that greater than 90% of Berkeley's administrators and faculty members are the ones who trained these junior Leftists, it's actually funny to hear the students demand that their mentors need re-education. Of course, that's the way it happened in China too, when the younger generation decided that the elders who ushered in Communism showed inadequate fervor in their commitment to the monster they had created. It was these radicalized students who ushered in Mao's "Great Leap Forward," complete with 50-70 million dead Chinese citizens – all of whom no doubt starved to death joyfully thanks to their contribution to the great communist cause.
As for the sole abstention, it's worth noting that he's probably ready for re-education too. Student senator Solomon Nwoche agrees in principle with the resolution, but thought it was a waste of time. That shows practical intelligence. His real sin, though, was in his sneaking respect for freedom of speech and the marketplace of ideas. He was disappointed, he said, that, when a single person tried to speak out against the resolution, the student senators laughed at him or, even more disgustingly, turned their backs to him.
(A slightly modified version of this post first appeared at Mr. Conservative.)
UPDATE:  I should add here that I agree that America's immigration laws are dreadful.  Having said that, it's up to America to change her laws, not for illegal immigrants to change them by ignoring them.  (Well, in theory that's the case.  In fact, the Obama administration is also changing them by ignoring them.)  We also should start putting pressure on Mexico.  Immigrants come here illegally because Mexico is so shamefully corrupt and poorly run that a country rich in resources, but natural and human, is mired in poverty, and because Mexico charges its citizens such heinous amounts to allow them to leave the country legally that poor are stymied both by America's laws and by Mexico's.  A fix is a good thing; disrespect for our country's borders and laws is a disastrous thing, going to the sovereign integrity of our nation and her citizens.