On raising boys *UPDATED*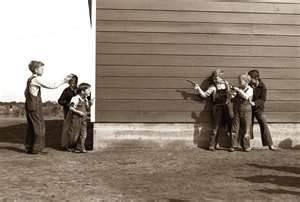 On my Facebook page today, two of my friends put up links with advice for parents raising sons.  One link came from an ultra liberal friend and the other link came from a solidly conservative friend.  There is a vast chasm between the two sites when it comes the types of men each post is trying to create.  I therefore thought it would be interesting to offer the two sets of advice side by side.  Please note that I've only included the headings.  You should visit both sites to see the specifics behind each heading.  (My comments, which I hope clarify the more cryptic headlines, are in parentheses.)
First, from "Raising Boys," a subset of "The Good Men Project", comes a post entitled Seven Memes That Will Change The Way You Think About Raising Boys:
1. We Need To Teach Boys That Being "A Girl" Is Not An Insult.
2. All Boys Are "All Boy" (e.g., it's not just rambunctious, athletic boys who are "all boy").
3. But They Should Not Get Away With Bad Behavior Just Because They Are Boys.
4. We Believe In Men, Their Maturity And Compassion
5. Teach Your Son to Respect Women
6. We Need to Showcase More Multi-Dimensional Boys and Men in the Media (e.g., not just vampires)
7. And One Day Soon, We Will Be Using the Expression "Boys Will Be Boys" To Describe This: (followed by a picture of a trio of boys sitting quietly on the floor pretending to give bottles of milk to dolls)
Second, from "Belief Net," comes a post entitled Ten Things Every Dad Should Tell His Son:
1. Do Courageous Things
2. Work Harder Than Anyone Else
3. Hang with the Wise
4. Stay Away From Porn
5. Reflect True American Character (i.e, fulfill the Founder's vision)
6. Assume a Gift Is Hidden (i.e., you have to work to get the good things out of life)
7. Remember that Everything Counts (i.e., don't live your life making careless choices because you assume something isn't important)
8. Know that Marriage is a Covenant
9. After You Screw Up, Step Up
10. Focus on Stewardship
I've often said that the Left wants to feminize boys, while conservatives should have as their goal taking boy's behaviors (their energy, their loyalty, their drive to leadership) and channeling them into virtuous values and conduct. These two lists seem to exemplify those different ways of thinking about transitioning boys to men.
This is not to say that I reflexively disagree with the first list. Indeed, I strongly believe in several of the items on that list. It's just that the list's purpose doesn't seem to have as its primary purpose taking ordinary, generic boys and turning them into ordinary, generic, and good men. Instead, its primary purpose seems to be to validate those boys who don't have an excess of what I call "boy energy" (and I live surrounded by lots of very boy energy) and to insinuate that the best boys are the ones who, rather than channeling their boy energy to a more noble way of being, simply sublimate it altogether.
I probably would endorse the first list if it were merged into the second.  If one successfully raised a boy with all of those principles, what would emerge would be a fully-rounded man perfect for romance novels:  tough, but sensitive….  Back in the real world, however, which is where I live, if I were parenting a completely generic boy (which I actually am) and could pick only one list to use to raise my child, I'd pick the BeliefNet list.  I like that list because it recognizes the reality of boys, rather than trying to force boys to conform to a theory.
I'd also pick the BeliefNet list because the good parts of the "Raising Boys" list can be incorporated as subsets of the ideas in the BeliefNet list.  For example, items 4 and 8 from the BeliefNet list ("stay away from porn" and "marriage is a covenant") incorporate within them the notion that "girl" is not an insult, that men should be compassionate, and that men must respect women.  Likewise, items 1, 2, 3, 5, 7, 9, and 10 readily encompass "believing in men, their maturity and compassion," because guys who step up to the requirements in the BeliefNet list will be mature, reliable, honorable and, one hopes, compassionate.
In sum, for me the BeliefNet list looks at boys as they actually are, and prepares them to become the men that they should be.  Meanwhile, the "Raising Boys" list looks at boys as girls are, and prepares them to become the men that, without being homosexual, nevertheless most closely resemble girls.
UPDATE:  With perfect timing, one of my "real me" Facebook friends posted this on his wall today: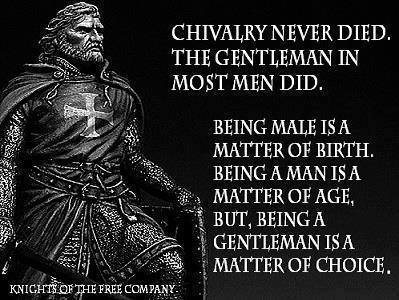 UPDATE II: You may also want to read Kay Hymovitz on the damage single motherhood does to boys.