J'Accuse! The Western media has the blood of Gazan children on its hands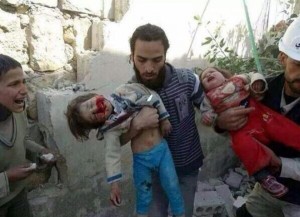 At a military level, Hamas's advantages in the war with Israel are minimal.  Its rocket strikes were ineffectual against Israel because of the Iron Dome missile defense system.  In the ground war, it is certainly able to kill Israeli soldiers (most recently, three died in a booby-trapped UN building), but ultimately Israel has both the overwhelming fire power and technology that will enable it to destroy Hamas's weapons caches and tunnels.
Because of Israel's military advantage, she could and would win the war against Hamas if only she were given enough time to do the job.  You see, time is the one thing Israel lacks.  Unlike all other nations warring against a savage enemy intent upon committing mass murder against her citizens, Israel is being pressured from every corner to lay down her arms, to bend down, and to take it.
Why is this?  Why is a nation that is stable, free, pluralist, and humanist being urged to surrender to a terrorist group that is tyrannical, genocidal, misogynistic, anti-Semitic, anti-Christian, and homophobic?
The answer is simple:  Hamas has the ultimate weapon of mass destruction — its own children or, as I like to call this weapon, the Dead-Child WMD.
Hamas uses its children in two ways.  Alive, they deter Israel; dead, they inflame the West.  It is this second effect that triggers worldwide demands that Israel lay down her arms as she seeks to destroy rockets that fire and her homes, schools, hospitals, and civilian airports, and that she stop destroying the tunnels that were readied to facilitate a terrorist attack on Israel that would easily have rivaled 9/11 in its destructive power.
In utilizing its Dead-Child WMD, Hamas understands that Israel is a nation that values life, not just the lives of her own citizens, but the lives of all the innocents trapped in a terrorist madhouse.  To that end, the IDF will immediately call off a rocket strike on a known Hamas arsenal and rocket launch pad if it sees even a single child (or, indeed, any civilian) in the area.
The problem for Hamas is that planting rockets in schools, playgrounds, and hospitals only defers pinpoint Israeli strikes, it doesn't stop them.  Israel will either try again when there are no visible civilians or it will eventually make the soul-searing decision that, if it is to save its own children, sometimes it will have to take action that harms Gazan children.
With regard to the West, Hamas's use of its Dead-Child WMD is even more cynical and much more effective.  Hamas has figured out that, when ignorant people, unaware of the real nature of the combatants in this war, see pictures of dead children, they will automatically cast Israel as the bad actor.  In this scenario, Gaza — which freely elected the tyrannical, genocidal, brutal, anti-Semitic, anti-Christian, misogynistic, homophobic Hamas to govern it — is transformed into the hapless and helpless victim of a predatory Jewish nation.
Of course, any WMD is useless if it just sits there.  It requires a delivery system.  Fat Man and Little Boy would have been merely decorative if it wasn't for the Enola Gay.  Hamas also requires a delivery system for its Dead-Child WMD.  Without that delivery system, the Dead-Child WMD is useless.  If you're a death cult, dead children are just one of those things.
So who or what is the essential delivery system for the Dead-Child WMD, without which the WMD would be inoperative?  Again, the answer is simple:  The Western media has become an indispensable part of the Dead-Child WMD by becoming that weapon's delivery system.
It's the Western media that hungers for Gazan snuff films.  It has an insatiable desire to fill its pages and screens with pictures of little corpses, of screaming children covered with blood, and of wailing women and children huddled around small, still bodies.  This mentality demands a steady supply of dead bodies, the more heart-wrenching and disturbing the better.  Put another way, the Western media is complicit in the death of those Palestinian children because, without its endless demands for more images showing small, bloodied bodies, the Dead-Child WMD would instantly become completely useless.
What's especially disturbing about the media's complicity in the Gazan dead-child bloodbath is that its ceaseless craving for dead bodies has a fetish-like quality.  That is, it doesn't just want to sell its product by using pictures of any old dead kids.  Instead, it focuses obsessively on pictures of dead children whose death, accurately or falsely, is alleged to have come at Jewish hands.
Even as it slavers after pictures of dead children in Gaza, the Western media is completely disinterested in the dead bodies of hundreds of thousands of people, significant numbers of which are children, when Muslims do the killing.  Whatever sick thrill the media gets from seeing dead Gazan kids evaporates when the dead kids have died in Syria, Iraq, Libya, Sudan, Somalia, Afghanistan, Kenya, or any other place in which the Arab and Islamist killing machines are running riot.
If the world's media were to announce tomorrow that it will never again publish pictures of dead bodies in Gaza, it would effectively disarm Hamas.  Without the crucial delivery system needed to launch its Dead-Child WMD, all that Hamas would have left would be a rag-tag terrorist army, desperate to kill, but unable to defeat Israel's greater military might.  The war would end quickly, not because a liberal, pluralist, free society was bullied into surrendering, but because her tyrannical, genocidal, misogynistic, homophobic, anti-Semitic, anti-Christian enemy would have been disarmed.
To echo Zola, "J'Accuse!  Western media, the blood of all those dead Gazan children, the ones for whom you cry your crocodile tears, is on your hands.  You have allowed yourself to become an essential component of the Hamas war machine and have therefore become complicit in a death cult's willingness to kill its own children as a necessary precursor to committing genocide against the world's Jews. You are therefore despicable and deserve to be denounced far and wide."