What blight has fallen on Hispanic kids that keeps too many of them from succeeding?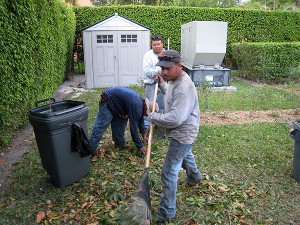 Here in Marin, children grow up in very politically correct homes.  It would be the rare household in which kids here racist comments from their parents.  Also, here in Marin, kids grow up with Hispanic housekeepers and gardeners, most of whom have an incredible work ethic.  They show up, and they work long, well, and hard.  They are admirable.
But here's something funny:  I listen to the kids, and what I pick up from them is that, at their public schools, the Hispanic kids are seen as second class.  This isn't because they're Hispanic, it's because they have two qualities the kids in my community disdain:  they're disproportionately represented amongst the academically lazy and stoner kids.
Think about how peculiar this is:  In the 20th century, most of America's middle class came, not from the immigrants, but from the immigrants' children.  The children were born into the migrant slums and saw their parents working like dogs just to get back.  To get out of that poverty and to relieve their parents terrible burden, these children studied hard, if they had access to education, and worked like dogs to raise themselves out of the ghettos.  That held true for Irish, Russians, Italians, Asians, old-time Hispanics, etc.
But something toxic apparently happened to too many in this current generation of Hispanic children.  They live in lousy neighborhoods, their parents and older, Latin-American-born siblings have a superior work ethic and, between wanting to escape the former and being able to emulate the latter, they should be precisely like those Asian "model minorities."  But the opposite is true.  Too many of them have neither ambition nor discipline.
Any theories?  This is not a race issue.  This is a generational thing, with the children being the mirror image of what immigrant children used to be.