Sorry, people, but size matters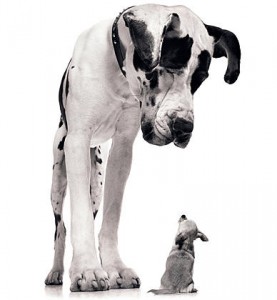 The phrase "size matters" often has sexual connotations, but not in this post.  Instead, I'm talking about the dynamics of violence.  In the real world, as opposed to a Leftist utopia, big usual has an advantage over small in matters of violence, with weapons being the great equalizer.
While I know that the bigger combatant doesn't always win over the small one, it's certainly the rule, with few exceptions.  A lumbering, untrained giant can be brought to heel by an agile, intelligent small person (viz David and Goliath), but the more common situation is that, even if a small, aggressive person starts the fight, the giant, once roused, is likely to finish it:
The big versus small situation plays out most frequently in the battle between the sexes.  Ignoring outliers who are, by definition, rare, men are bigger and stronger than women. Our Leftist culture, however, insists that we ignore this biological reality in favor of a political construct insisting that we cannot impose equal standards that may result in different outcomes.  Instead, to ensure "justice," we must have different standards to ensure equal outcomes.
The result of this PC policy from the self-identified "reality-based" community emerged in a small, buried detail regarding Omar Gonzalez's terrifying assault on the White House, one that put the president and his family at real risk:  The Secret Service agent who couldn't bar Gonzalez at the door was a woman:
The female agent assigned to the front door of the White House when Omar Gonzalez gained entry and "overpowered" her, was required to meet far lower standards of physical strength than her male colleagues. John McCormack writes in the Weekly Standard:

According to the Secret Service, male recruits in their twenties need to perform 11 chin-ups to receive an "excellent" rating; performing four chin-ups or fewer would disqualify him from serving as a Secret Service agent.

But for a female recruit in her twenties, four chin-ups would earn her an "excellent" rating; just one chin-up is enough for her to avoid the disqualifying "very poor" rating.
This is not the first time we've seen a disaster unfold because a woman was on duty in a position in which strength mattered.  In March 2005, Brian Nichols, a violent ex-con was awaiting trial on yet another offense when he overpowered and killed a sheriff's deputy at the courthouse, raced into the courtroom to kill the judge and court reporter, killed a federal agent when he was on the run, and eventually took hostage a woman who talked him down by sharing her meth and introducing him to Rick Warren's The Purpose Driven Life.
The first link in the chain of events that saw Nichols kill four people was the fact that the sheriff's deputy could not restrain him.  It's entirely possible that Nichols could have shown such strength and cunning that he quickly overpowered a 6'4″ deputy who was once a linebacker.  But that's not what happened.  What happened was that the sheriff's deputy escorting this huge, violent man to the court room was a 51-year-old, 5'2″ woman.  I am here to tell you, as a fairly experienced martial artist, that even the most fit 51-year-old 5'2″ woman has no chance against a young, determined, tall, well-muscled man.  His mass wins against her fitness every time.  (And that's true even if the man goes to great effort to create the external impression that he's a she.)
There's only one exception to the truism that a big man beats a small woman every time:  if the small woman is armed, suddenly she's equal.  (In the Nichols case, the sheriff's deputy was changing her uniform in some way, so she had apparently put her gun out of her own reach.)
Rather than expounding on this point myself, I'll pass the baton to my friend Mike McDaniel, who has addressed just this issue with his usual lyricism at The Truth About Guns blog.  Please check it out, because it's a lovely encomium to football, a rumination about physical size disparities, and a tongue-lashing against the Left's pernicious habit of denying reality, all wrapped up in a package that states some hard truths about guns and size, written from the perspective of someone who knows guns.