The DOJ's claim that communications between Mr. and Mrs. Eric Holder are privileged reminds me of a sleazy attorney I once knew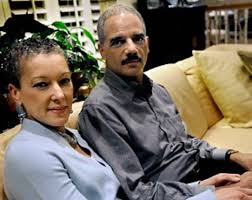 Since you're all very well-informed, it won't be news to you that Eric Holder's Justice Department, in yet another effort to frustrate a Freedom of Information Act ("FOIA") request about Fast & Furious documents, claims that Eric Holder's communications with both his wife, a private practice physician, and his mother are subject to executive privilege:
The document details the Attorney General Holder's personal involvement in managing the Justice Department's strategy on media and Congressional investigations into the Fast and Furious scandal. Notably, the document discloses that emails between Attorney General Holder and his wife Sharon Malone – as well as his mother – are being withheld under an extraordinary claim of executive privilege as well as a dubious claim of deliberative process privilege under the Freedom of Information Act. The "First Lady of the Justice Department" is a physician and not a government employee.
Boy, did that parental privilege claim trigger a flashback for me. You see, exactly twenty years ago, I worked on a case opposite the most unethical lawyer I've ever seen, and he too made that claim on his client's behalf.
I won't name names, because the lawyer is still practicing and he's an extraordinarily litigious guy, who will sue anyone and everyone on the drop of a dime.  Once he's initiated the litigation, he clings like grim death to the case until the opposing party simply wears out and gives up. It's a form of greenmail: settle now, on my terms, or I will bankrupt you for having the temerity to oppose my frivolous lawsuit against you. Most people gave up without much of a fight.  For convenience, I'll call this human pit bull Attorney X.
Thankfully, there were a few people willing to stand up to Attorney X. Indeed, there's a wonderful California Appellate Court decision, written by a judge I knew personally (I used to babysit for his kids) and therefore knew was one of the kindest, gentlest people in the world, but his opinion is neither kind nor gentle. It lambasted Attorney X for being an utterly unprincipled practitioner who always skates just on the right side of the law while nevertheless making a mockery of the entire system. My story of dealings with Attorney X precisely reflects this dynamic.
At the time, I was working for an attorney who had the backbone not to back down in the face of Attorney X's greenmail-style litigation. (That attorney, incidentally, is a staunch conservative, and someone I credit with my political conversion.)  Every time Attorney X pushed, we pushed back harder.
A lot of this pushing took place during the discovery phase of the trial. Despite representing the plaintiff who filed suit (i.e., the one claiming to have a colorable lawsuit), Attorney X and his client refused to produce any of the documents we requested, even though they were manifestly related to the allegations in the complaint.
We'd serve a document request and Attorney X would come back with objections about attorney-client privilege (even though no attorney was involved in the communication), or attorney work product (even though there was no attorney work at issue), or relevance (even though the language of the request parroted a claim in the complaint), or any number of other manifestly spurious objections. So every time, we'd have to spend the money to file a motion to compel discovery.
I'm pleased to say that we won almost all of those motions.  Unfortunately, though, even though we won the motions, the discovery commissioner never imposed sanctions on Attorney X or his client. This was because Attorney X positioned himself as the little guy against the big guy (even though our clients had even fewer resources than he and his client did).  At least back then, San Francisco Superior Court bench was all about the 99% long before that Leftist idea surfaced in street protests.
Anyway, the only time I ever thought that we might actually lose a valid discovery motion was when Attorney X made the most spurious, risible, unprincipled objection I'd ever seen. To understand precisely what happened, you need to know that in a California civil case you can depose a third party and even ask that third party to bring relevant documents to the deposition. However, for certain categories of third parties who are asked to bring a consumer's "personal records," you need to go through a special notice procedure in order to protect the consumer's statutory privacy rights.
Here is a list of the third parties who are subject to special notice for a deposition subpoena:
"Personal records" means the original, any copy of books, documents, other writings, or electronically stored information pertaining to a consumer and which are maintained by any "witness" which is a physician, dentist, ophthalmologist, optometrist, chiropractor, physical therapist, acupuncturist, podiatrist, veterinarian, veterinary hospital, veterinary clinic, pharmacist, pharmacy, hospital, medical center, clinic, radiology or MRI center, clinical or diagnostic laboratory, state or national bank, state or federal association (as defined in Section 5102 of the Financial Code), state or federal credit union, trust company, anyone authorized by this state to make or arrange loans that are secured by real property, security brokerage firm, insurance company, title insurance company, underwritten title company, escrow agent licensed pursuant to Division 6 (commencing with Section 17000) of the Financial Code or exempt from licensure pursuant to Section 17006 of the Financial Code, attorney, accountant, institution of the Farm Credit System, as specified in Section 2002 of Title 12 of the United States Code, or telephone corporation which is a public utility, as defined in Section 216 of the Public Utilities Code, or psychotherapist, as defined in Section 1010 of the Evidence Code, or a private or public preschool, elementary school, secondary school, or postsecondary school as described in Section 76244 of the Education Code. (Calif. Code Civ. Proc. sec. 1985.3)
In English:  If the third party is employed in the medical, legal, financial, or educational field, and if the subpoena asks for a consumer's documents or other information from that third party, the subpoena is subject to special procedures in order to ensure that the consumer's privacy rights are respected.  The specialized notice procedure is called "a 1985.3 notice."
Well, we served an ordinary deposition subpoena (including a document request) on the mother of Attorney X's client. This was entirely reasonable because the complaint mentioned the mother, Attorney X's client derived her alleged claim through her mother, and the mother was a major player in many of the events Attorney X had asserted in the complaint. As a matter of both fact and law, Attorney X had no valid objections to make to the discovery request.  He therefore made an invalid objection:  He contended that we had failed to serve the deposition subpoena properly because we hadn't complied with sec. 1985.3's stringent notice and timing requirements.
As required by law, I wrote Attorney X a long meet-and-confer letter carefully explaining that a mother does not fall anywhere within sec. 1985.3's parameters. Attorney X was unmoved. I had no choice but to file a motion to compel the deposition.  Attorney X's opposition was gibberish — and how could it be anything else? He had absolutely no law whatsoever to support his claim that a mother falls within sec. 1985.3's parameters.
The way it works in California courts is that, the day before the hearing, the court will issue a tentative ruling. Sometimes, both parties abide by the ruling and there's no hearing. Sometimes, however, one party or another will oppose the ruling, and then both troop into court for a hearing. And rarely, very rarely, the court will refuse to issue a tentative ruling at all but instead will insist that the parties show up. This usually means that the judge is very uncertain about which way to rule.
To my great surprise, the tentative demanded our appearance. How in the world could the discovery commissioner need oral argument on this one? "Mother" is neither specified in sec. 1985.3 nor is it implied. What's left then?
What apparently was left was a discovery commissioner who just couldn't wrap his mind around the concept that there wasn't some sort of privacy principle governing the mother-child relationship in the context of a lawsuit alleging that my client had stiffed the mother and child out of some money. After futile argument, I urged the commissioner just to read the statute himself, something he apparently hadn't done before and he agreed to do so.  The commissioner sat down with the big code book balanced on his knees, and clutched tightly in both hands. He bent his head towards the text and, with his lips moving, began reading slowly and silently to himself.
After a good five minutes of this, he sat up, turned to Attorney X and said "She's right. It doesn't say mother in here. The motion to compel discovery is granted."
Whew! At that point, I thought, "Surely the commissioner will impose sanctions against Attorney X for making a manifestly frivolous objection to a reasonable discovery request." Wrong again! When I requested sanctions, the discovery commissioner said that it was a close call (!) and refused.
Right about now, I'm thinking that the discovery commissioner, someone I assumed had either stayed at San Francisco Superior Court or retired, in fact moved to the Department of Justice and was the one who came up with the Eric Holder "spousal executive privilege" objection to a FOIA request.
Oh, and if you're wondering about that lawsuit, we won and we won big.  We were fortunate enough to get a trial judge who listened very carefully to all the evidence and realized that Attorney X and his client had no case. Not only did our clients walk away vindicated, we also got more than $1 million in attorneys fees (including fees for all the time wasted in those discovery motions).  Woo-hoo!!!