The feminist focus on microaggression meets romance in the book world — a view from inside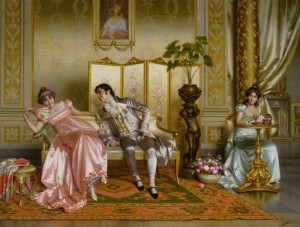 Some of you may recall that, a couple of years ago, I did one of my periodic posts about romance novels, arguing that the real "porn" part of the novels is the relationship, not the sex. One of my readers, Judith Lown, wrote me to say that there are traditional romances still out there and, in fact, she had written one: A Sensible Lady: A Traditional Regency Romance
.
When I went to Amazon to buy A Sensible Lady, I discovered that I had already bought it, read it, and thoroughly enjoyed it. It's no insult to Lown that I didn't quite remember it.  I read around 250 books a year (all kinds of genres) and lose track of those I've already read.  I enjoyed Lown's other novel, A Match for Lady Constance
, just as much.
Although I am a few years removed from having read Lown's books, I know that what charmed me was the same thing that charms me about Georgette Heyer
novels: the lead characters are people you wish you could meet, and the intellectual relationship between the protagonists is witty, fun, and understandable. In other words, Lown is a very good writer in the traditional Regency romance style: elegant, funny, and restrained.
This introduction is important because Lown sent me an interesting email after she read my post about a modern reviewer who saw "classic sexual assault" in a Georgette Heyer book.  The "classic sexual assault" was a kiss.  Admittedly not an invited kiss, but a kiss nonetheless. There was no intimation of intimidation, and certainly Heyer's heroines were not intimidated.  It was, instead, a classic male ploy of the type that's been a staple of 20th century books and movies.
Here's Judith's email to me:
Your post on Heyer resonated with me because of my publishing experience. My first Regency, A Match For Lady Constance, was published by a house that specialized in traditional historicals, mysteries, and Westerns. When I submitted my second Regency, A Sensible Lady, their feedback was that my hero was not a "warm and sensitive man", and therefore not the kind of hero they wanted in their books. Frankly, I don't write "warm and sensitive men." Their specific complaint was that I opened the book with the hero embracing and kissing the heroine, and being put in his place by her. Clearly, they considered it an assault. For heaven's sake! The story line is that he has just returned from the War in the Peninsula, with French blood just dried on his sword. What would one expect?

Eventually, I e-published A Sensible Lady with efrog press.

What I don't understand is that it is no problem to write "Regencies" that include repeated graphic sexual encounters involving never married heroines. But the sort of physical advances by men that my generation took for granted and handled with little anxiety, are considered to be "sexual assault". It drives me crazy. I won't write premarital sex into a Regency, because it is not in keeping with the period. If it happened, the heroine's future was totally compromised and if the man wasn't a totally worthless piece of garbage, he married her asap. You can get a plot out of that, but it's melodrama, not comedy.

I think the expression is "straining at a fly and swallowing a camel."