We have just a sliver of time within which to preserve our constitutional rights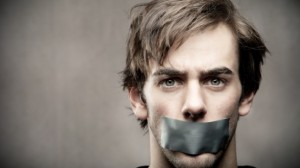 My news feed, lately, seems to be overwhelmed by two primary stories: the Left's increasingly shrill control over public discourse and ISIS's depredations in the Middle East. Both stories, believe it or not, have led me to rethink the role, or perhaps "plight," of ordinary Germans during World War II — and to realize that we are much closer to those ordinary Germans than we would like to believe, both in terms of our behavior and the risks we face.
Growing up, of course, I had nothing but disdain for every reasonably sentient German alive during the years from 1933 through 1945. They were all complicit and therefore they were all evil. I considered myself emotionally generous in that I did not believe that the post-War generation of Germans carried with them the sins of their fathers. (Indeed, I've long held that it's a very dangerous mistake to make people live with a guilt they haven't earned.) But the actual World War II generation . . . well, they were all guilty, guilty, guilty!
But I've learned and seen a few things of late that have made me aware that ordinary citizens in an evil nation, even if they never actively fought against that evil and seemed to enjoy the benefits of cooperation, may nevertheless be victims.
One of the things I've learned is that in the 1933 election that brought the Nazis to power they only had 33% of the popular vote. People may bemoan our two-party, winner take all system, but it actually serves as a bulwark against a minority power grab. As it was, once the Nazis controlled the Reichstag, they consolidated power very quickly, at which point votes became irrelevant.
The Germans consolidated power in two ways: The first was the campus Leftist way, which was thought control through speech control.  This took the form of both censorship and those hysterical mass rallies. The second way was the ISIS way, which was brute force.  While the rest of Europe and America, caught up in their own Depressions, turned a blind eye, this brute force was something very public for German citizens:  It consisted of murder, torture, and other forms of both physical and psychological intimidation. Those who tried to stand up for the victims (whether Jews or communists or gays or other targets) were very swiftly brought to realize that their efforts would result in the Nazis destroying them and, perhaps even worse, using the most painful methods to destroy their loved ones.
We all like to think that, if we were living in Germany in the 1930s, we would have stood up to the Nazis. But here's the truth: most people aren't that courageous. They want to live their lives free from pain and fear. They want their children to be safe. And if the bad guys come into town and conspicuously arrest, beat, shoot, behead, or throw of buildings a few human examples of people the bad guys dislike, everyone else is going to fall into line. This isn't because they're evil, it's because they lack moral and physical courage — something that, when push comes to bloody shove, most of us lack.
I know that much as I'm aware of right and wrong, and freedom and tyranny, the first time someone puts a knife to my or my children's throats, I'm going to back down.  I can't pretend otherwise.  I'd like to be brave, but I doubt that I am.
What this means is that, when the bad guys start to move in, there is an achingly small window of time within which the ordinary people, the ones who just want to live their lives and lack the fortitude to face down raw evil, can speak and act to stop the bad guys in their tracks. Just keep in mind that, percentage-wise, the Bolsheviks, the Nazis, ISIS — every totalitarian group, didn't traffic in numbers. They trafficked in fear when they had tested the population and the power structure and discovered that, even when the bad guys started their first tentative probes at these societies, things that could easily have been countered, no one would fight back.
With American Leftists on the move, we are getting very close to the last chance for ordinary people — the one who will yield to brutality — to have their say. This is our time to be as brave as we can be. Once a totalitarian group gets the bit in its mouth, it will not hesitate to use force to cow the majority. I understand now that most ordinary Germans were not bad people. They were people who didn't speak out before 1933 and, because of their ordinary-people limitations, couldn't speak out after 1933.
What we need to do now is stand up firmly to the Left's increasingly strident (and scarily successful) efforts at thought and speech control.  When our guns are gone and theirs come out, we've lost.
We must ridicule the insane university speech codes; call out Progressives on their refusal to allow people to express dissenting opinions; constantly remind all of the people in our world that ISIS and Boko Haram and all these other fanatic groups are entirely in keeping with Mohamed's dictates; and, among other things, get people to acknowledge that you, as a non-Muslim, are allowed to draw a picture of Mohamed — although you can make it clear that, as someone who respects religion, you would not gratuitously draw a deliberately offensive picture of Mohamed.
By the way, here's a nice, and quite respectful, picture of Mohamed: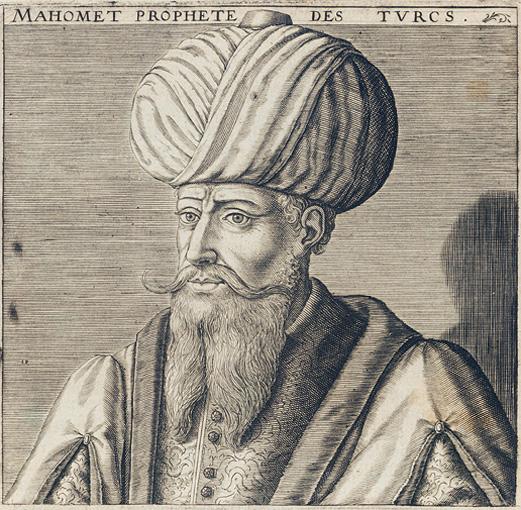 (Incidentally, let me just point out that, because we have no images from life of either Jesus or Mohamed, none of the pictures we draw are actually of those two men. Jesus is typically drawn as a 14th century Northern European man, while the picture above demonstrates that, over the centuries, Mohamed was drawn as some sort of Ottoman potentate. We know these men through their words, not their visages. I prefer Jesus's words.)
Again, let me repeat my message: we are very quickly losing the window of time within which we can push back against a totalitarian movement. The Left's attacks on Christian bakers is a warning shot over the bow. Obama's endless efforts to politicize every madman's act in order to destroy the 2nd Amendment is another shot over the bow. The insanity of speech codes in universities — more preliminary missiles.
We are being silenced, softened up, and threatened. If we ordinary Americans, the ones who have passively valued our constitutional rights, don't push back now — and all that we need to do push back now is to speak up, politely, firmly, logically, and freely — the Left will bring out its big guns, secure in its minority victory over a cowed American majority.