Science is crying out for a reformation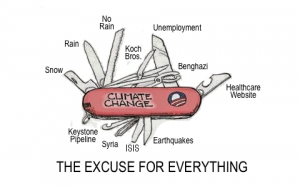 I recently finished reading a delightful book about medieval history — Terry Jones' Medieval Lives
. What makes it stand out a bit from other history books is that the Terry Jones in the book's title is the same one you may remember from Monty Python. As it happens, he was a medieval history scholar at Oxford and that has always remained his passion.
The book is organized so that each chapter looks at different figures in medieval society: kings, knights, entertainers, alchemists, clerics, etc., and gives a brief summary of the development of those roles over the length of the medieval era from the so-called Dark Ages before the 13th century, all the way through the Renaissance. It's quite obviously not a deep history, but its organization is useful in seeing the trajectory of an institution or idea over the centuries.
The chapter on the initial purity and resulting corruption of the medieval church, which eventually and inevitably led to Reformation and Counter Reformation, struck me as being peculiarly familiar. It wasn't just that I've read so many medieval history books over the decades that most things ring a bell. That is, for me there are very few new ideas or facts in a history book about medieval Europe; instead, there are familiar ideas and facts presented in new and interesting ways. But with the clergy chapter, there was something more than just the usual "Oh, I know that historic tidbit" feeling. Instead, I felt as if I were reading something very modern.
And then it struck me. The trajectory of the modern church matches with eerie precision the trajectory of modern science. In its early years, when it was separate from government, the Christian church was a remarkably pure institution, devoted to developing each individual's relationship with Jesus Christ. There were different ideas and approaches floated, as well as battles within the Church (think of the gnostic heresy), but the faithful and their clergy were remarkably untainted by worldly considerations.
Science, too, up until the mid-20th century or so, had an austere honesty. Men and women of passion and conviction devoted their lives to research. There were stupid mistakes and prejudices along the way (everything from the denial of germ theory to the denial that bacteria cause ulcers) but these were internecine battles, dedicated to preserving science's intellectual honesty and purity.
The early church was attractive because it promised relief from the darkness of paganism, with its human sacrifice and the many rules it had, rules that obscured the fact that paganism generally lacked underlying and, if you'll pardon me for the word play, overarching moral principles. In the same way, science, from the Enlightenment through the mid-20th century, promised relief from the darkness of Hippocrates's and Galen's ideas about the four humours and the crazy (and often terribly painful or dangerous) medical ideas that flowed from the Ancient Greeks' approach to medicine.
In the case of both institutions — that is, the medieval Catholic Church and science — as they gained popularity, they attracted the attention of power and money. Royalty tried to integrate the church into its power structure (and, in the case of Henry VIII, succeeded magnificently), while the wealthy plied churches, monasteries, and nunneries with money in an effort to preserve their immortal souls. The result was that the medieval church became fabulously wealthy and began to devote its time to managing money, not shepherding men's souls, while too many churchmen were unable to resist the earthly temptations that came with wealth and power.
Science followed precisely the same trajectory. After WWII, governments began to fund scientists, most notably in connection with America's space program. It became apparent to anyone paying attention that, if a government, an organization, or an individual invested enough money into a scientist or scientific institution, the scientists or institutions would reliably produce outcomes, some real and some imagined, that followed that money.
By the 15th century, the medieval church, while it had clergy who still played by the Bible's rules, was a disgraced institution, embroiled in war, debauchery, financial corruption, murder, sloth, and just about every other vice attendant upon too much money and too much power. The Reformation was inevitable and quite necessary, even if it did at times go too far. But reformation is a bloody business, as the Thirty Years War and all other Renaissance era religious wars demonstrate.
Modern science is the equivalent of the medieval church. Indeed, like the church, it even has its faithful who, its faults notwithstanding, insist upon its infallibility and are ready to burn at the stake anyone who denies its righteousness.
The Church of Science has sacraments that cannot be questioned and must be followed:
Abortion, which can never be tempered by such considerations as the child's life versus the woman's;
Anthropogenic climate change, which long ago parted ways with scientific principles and is now an irrefutable dogma that answers all human and natural phenomena, even if the answers ought to be conflicting, and that treats all questioners as heretics fit for excommunication or even death;
Hostility to genetically modified food, despite the fact that there is no evidence whatsoever that this food is dangerous and a great deal of evidence, as is the case with golden rice, that it can save the lives of impoverished children; and
The mutability and, indeed, irrelevance of biological sex differences because, as modern scientific dogma holds, human feelings trump sexual genetics and biology (unless of course one is "born gay," in which case biology is immutable).
Not only has the Church of Science become as intellectually corrupt as the medieval Catholic Church once was, it's become as practically corrupt. Today's scientific monks don't break their vows by having sex; instead, they ignore true scientific doctrine by publishing false studies, and by doing so in ever increasing numbers.
I have to head out now but, since you are all usually much smarter and more insightful than I am, I bet that your comments can help develop my idea. I'd love to hear from you.