The "Un-Strike"; or, the case for ICE agents to ignore Obama and enforce immigration laws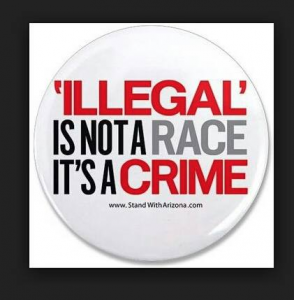 The Third World is moving in on the First World in numbers that probably haven't been seen since the barbarians made their moves against Rome. In Europe, there's a race to see which nation can commit suicide faster. Here at home, Donald Trump has become a single issue candidate, but what an issue: America, he states firmly, needs to start enforcing her own immigration laws by deporting illegal immigrants. A recent poll indicates that almost 60% of Americans agree with Trump:
The latest IBD/TIPP Poll asked 913 adults coast to coast if they "support or oppose mandatory deportation of illegal immigrants in the U.S." Not surprisingly, 87% of Trump supporters back the proposal.

What's surprising is that 59% of the overall public does as well. Mandatory deportation gets majority support in all age groups except 18-24, every income group, among both women and men, at every level of educational achievement, and in rural, urban and suburban regions.

More interesting still is the fact that 64% of independents and 55% of moderates support deportation.

Even among Hispanics, the poll found 40% backed mandatory deportation — although the sample size is too small to make much of that number.
It's no wonder Americans are upset. Last summer, tens of thousands of children poured across America's southern border, and the Obama administration, rather than returning them to Mexico and allowing that nation (which has singularly stringent immigration laws) to deal with them, quickly dispersed them — and their contagious diseases and gang members — throughout America. The administration showed a blatant disregard for the statutory immigration scheme that Congress, which rumor has it represents the American people, has enacted.
This year a young woman named Katie Steinle, while walking in San Francisco, which has styled itself as a "sanctuary city" (meaning that, with federal connivance, it blatantly flouts immigration laws), was shot to death by an illegal alien. Not only was he an illegal alien, but he was a five-time deportee who had actually been in custody, but was on the streets because of the City's and the federal government's "catch-and-release-back-in-the-U.S." program. Steinle's family is now suing San Francisco's uber-Leftist Sheriff, Immigration and Customs Enforcement, and The Bureau of Land Management.
The Steinles' decision to include Immigration and Customs Enforcement ("ICE") in the lawsuit really started me thinking about the rank-and-file agents in ICE, including what they are supposed to do, what they actually do, and what they want to do. According to ICE's own website, the agents in Enforcement and Removal Operations ("ERO") have an explicit mandate to serve as the police force carrying out the nation's immigration laws against those who enter or remain in this country in violation of those same laws.
ICE's self-described mission, and the specific tasks underlying that mission are quoted in full below although, if long government paragraphs bore you, you can skip most of it. The gist is that ICE agents are supposed to apprehend bad guy aliens, stop manifestly illegal aliens at the border, and to catch and get rid of illegal aliens already in the country. Priority goes to the seriously bad aliens, but everyone is theoretically on the "if you're not here legally, you need to leave" list:
To identify, arrest, and remove aliens who present a danger to national security or are a risk to public safety, as well as those who enter the United States illegally or otherwise undermine the integrity of our immigration laws and our border control efforts. Enforcement and Removal Operations (ERO) upholds America's immigration laws at, within and beyond our borders through efficient enforcement and removal operations.

Means of effectuating the mission:

ERO enforces the nation's immigration laws in a fair and effective manner. It identifies and apprehends removable aliens, detains these individuals when necessary and removes illegal aliens from the United States.

ERO prioritizes the apprehension, arrest and removal of convicted criminals, those who pose a threat to national security, fugitives and recent border entrants. Individuals seeking asylum also work with ERO.

ERO transports removable aliens from point to point, manages aliens in custody or in an alternative to detention program, provides access to legal resources and representatives of advocacy groups and removes individuals from the United States who have been ordered to be deported.

FY 2014 ICE Immigration Removals

In addition to its criminal investigative responsibilities, ICE shares responsibility for enforcing the nation's civil immigration laws with U.S. Customs and Border Protection (CBP) and U.S. Citizenship and Immigration Services (USCIS). ICE's role in the immigration enforcement system is focused on two primary missions: (1) the identification and apprehension of criminal aliens and other removable individuals located in the United States; and (2) the detention and removal of those individuals apprehended in the interior of the U.S., as well as those apprehended by CBP officers and agents patrolling our nation's borders.

In executing these responsibilities, ICE has prioritized its limited resources on the identification and removal of criminal aliens and those apprehended at the border while attempting to unlawfully enter the United States. This report provides an overview of ICE Fiscal Year (FY) 2014 civil immigration enforcement and removal operations.
The flood of illegal immigrants at the border; the blind-eye that's turned on people who are here illegally, whether because they sneaked in or overstayed their welcome; and the catch-and-release practice that led to Katie Steinle's death all seem to indicate that rank-and-file ICE agents are slackers. In fact, they're not.
The reality is that ICE agents on the ground want to do their jobs. When they apprehend illegal aliens in the act of crossing the border, they want to turn them right around. When they discover that the driver who just rear-ended a little old lady is here illegally, they want to send her back to her country of origin. When they know that the Mexican or Saudi student has overstayed his visa, they want to kick him out. But they can't.
As Chris Crane, President of the National Immigration and Customs Enforcement Council (118) of the American Federation of Government Employees testified before Congress, that orders from above — that is, the orders from the Obama administration — are that ICE agents must refrain from carrying out their duties under the law. Unlike the website blather above, Crane's February 5, 2013, testimony, much of which I've excerpted here, deserves to be read at length. I've added to the testimony only by inserting bracketed references to the federal laws that the administration is forcing the agents to violate:
However, ICE agents do believe in law enforcement and the rule of law. Most Americans going about their daily lives believe that ICE agents and officers are permitted to enforce the laws of the United States. However, ICE agents and officers would tell America a much different story.

The day-to-day duties of ICE agents and officers often seem in conflict with the law as ICE officers are prohibited from enforcing many laws enacted by Congress; laws they took an oath to enforce. ICE is not guided in large part by the influences of powerful special interest groups that advocate on behalf of illegal aliens. These influences have in large part eroded the order, stability and effectiveness of the agency, creating confusion among all ICE employees. For the last four years it has been a roller coaster for ICE officers with regard to who they can or cannot arrest, and which Federal laws they will be permitted to enforce. Most of these directives restricting enforcement are given only verbally to prevent written evidence from reaching the public.

Most Americans would be surprised to know that immigration agents are regularly prohibited from enforcing the two most fundamental sections of United States immigration law. According to ICE policy, in most cases immigration agents can no longer arrest persons solely for entering the United States illegally [in direct contravention of 8 U.S. Code §§ 1225 and 1227]. Additionally, in most cases immigration agents cannot arrest persons solely because they have entered the United States with a visa and then overstayed that visa and failed to return to their country [in direct contravention of 8 U.S.Code § 1227]. Essentially, only individuals charged or convicted of very serious criminal offenses by other law enforcement agencies may be arrested or charged by ICE agents and officers for illegal entry or overstay.

In fact, under current policy individuals illegally in the United States must now be convicted of three or more criminal misdemeanors before ICE agents are permitted to charge or arrest the illegal alien for illegal entry or overstaying a visa, unless the misdemeanors involve the most serious types of offenses such as assault, sexual abuse or drug trafficking [in contravention of 8 U.S. Code § 1227]. With regard to traffic violations, other than DUI and fleeing the scene of an accident, ICE agents are also prohibited from making an immigration arrest of illegal aliens who have multiple convictions for traffic related misdemeanors.

[snip]

DACA, or Deferred Action for Childhood Arrivals, which prevents the deportation of many aliens brought to the U.S. as children, is for the most part applied by ICE immigration agents to adults held in state correctional facilities and jails pending criminal charges. News has spread quickly through illegal alien populations within jails and communities that immigration agents have been instructed by the agency not to investigate illegal aliens who claim protections from immigration arrest under DACA. ICE immigration agents have been instructed to accept the illegal alien's claim as to whether he or she graduated or is attending high school or college or otherwise qualifies under DACA. Illegal aliens are not required to provide officers with any type of proof such as a diploma or transcripts to prove that they qualify before being released. Even though the immigration officer generally has no proof that the alien qualifies under DACA, officers may not arrest these aliens unless a qualifying criminal conviction or other disqualifier exists. As one immigration agent stated last week, "every person we encounter in the jails now claims to qualify for release under DACA."

[snip]

Also important to understand, pressures from special interest groups have resulted in the majority of ICE agents and officers being prohibited from making street arrests. Most officers are only allowed to work inside of jails hidden from public view, and may only arrest certain individuals who have already been already been arrested by police departments and other Federal agencies. As a general rule, if ICE agents or officers are on duty in a public place and witness a violation of immigration law, they are prohibited from making arrests and from asking questions under threat of disciplinary action.

[snip]

In Salt Lake City, Utah, three ICE agents witnessed an individual admit in open court to a Federal Immigration Judge that he was in the United States illegally. ICE agents waited until the alien left the hearing and then politely asked him to accompany them, never using handcuffs in the course of the arrest. An immigration attorney and activist called the ICE Field Office Director in Salt Lake City verbally complaining that ICE officers had arrested an illegal alien. The ICE Field Office Director responded by ordering that all charges against the illegal alien be dropped and that the alien be released immediately. While the ICE Director ordered the immigration violator to be set free, the Director also ordered that all three ICE agents be placed under investigation for no other reason than arresting an illegal alien.
The administration, of course, contends that it's just allocating resources. The ICE agents' complaints, however, make it clear that they are ready, willing, and able to carry out their mandate, but are being instructed not to do so — and that their jobs are on the line if they refuse to slack off.
ICE agents are so frustrated about their inability to protect America's sovereignty (i.e., her ability to control her borders and make her own decisions, even misguided ones, about the level of legal immigration she wants) that several of them filed suit against the Obama administration begging to be allowed to do their jobs, at least as regards those phony DREAMers. Sadly, the suit failed:
In an Order issued July 31 (full embed at bottom of post), the Judge agreed with the government on the jurisdiction issue, finding that although the government violated the law, these plaintiffs could not bring suit and the court therefore lacked subject matter jurisdiction over the plaintiffs' claims.  The Court dismissed the case "without prejudice," meaning that the dismissal was not binding and that some person not bound by CSRA could raise the same issues as to which the Court found illegality. . . .
The current situation when it comes to ICE and the Obama administration can be summed up as follows:
1. Congress has passed laws empowering the federal government, through its agents, to
a. Block manifestly illegal immigrants as they cross the border;
b. Deport people who entered the country legally but overstayed their right to be here and who cannot prove that they are subject to an exception, such as the DREAM Act; and
c. Deport manifestly illegal aliens in the country who have been caught engaging in any type of criminal conduct, above and beyond the baseline criminal act of being in the country illegally.
2. ICE agents believe themselves capable of carrying out these statutory mandates. That is, they believe their abilities extend beyond merely apprehending the worst behaved criminal illegal aliens.
3. Both directly and indirectly — through explicit mandates, oral orders passed through the chain of command, and pressure regarding job security — the Obama administration blocks ICE agents from carrying out their statutory responsibilities.
4. Representatives for ICE agents have tried both through lawsuits and Congressional testimony to change the administration's ukase on enacting the immigration laws, but with no success.
When I discussed this situation with a friend, I threw in the off-the-cuff remark that "the agents should strike." This is an impossibility, of course. Federal agencies are barred by law from striking, something Ronald Reagan established definitively in 1981 when he fired the air traffic controllers following a walk-out.
But if ICE agents can't "walk off" the job, can they "walk on" the job, so to speak? That is, does concerted ICE agent action constitute a strike if the agents insist on carrying out their duties when the administration insists instead that they violate the law? I did a little research and it seems entirely possible that the agents do not run afoul of strike laws if they ignore executive orders and insinuations that they cannot perform their jobs in accordance with Congressional mandates.
The controlling authority here is 5 USCA § 7311. That statute provides in relevant part as follows:
An individual may not accept or hold a position in the Government of the United States or the government of the District of Columbia if he—

[snip]

(3) participates in a strike, or asserts the right to strike, against the Government of the United States or the government of the District of Columbia. . . .
In the context of § 7311(3), the word "strike" is a term of art with a very specific meaning. It doesn't mean just "oppose the executive branch." Instead, it means to refuse to work, whether by slowing down or stopping altogether. Anything else is not a "strike" as contemplated by the statute:
These concepts of 'striking' and 'participating in a strike' occupy central positions in our labor statutes and accompanying caselaw, and have been construed and interpreted many times by numerous state and federal courts. 'Strike' is defined in § 501(2) of the Taft-Hartley Act to include 'any strike or other concerted stoppage of work by employees * * * and any concerted slowdown or other concerted interruption of operations by employees.' On its face this is a straightforward definition. It is difficult to understand how a word used and defined so often could be sufficiently ambiguous as to be constitutionally suspect. 'Strike' is a term of such common usage and acceptance that 'men of common intelligence' need not guess at its meaning. Connally v. General Construction Co. [269 U.S. 385, 391, 46 S.Ct. 126, 127, 70 L.Ed. 322 (1926)], supra, at 391, 46 S.Ct. at 127.

[snip]

We stress that it is only an actual refusal by particular employees to provide services that is forbidden by 5 U.S.C. § 7311(3) and penalized by 18 U.S.C. § 1918.
United Federation of Postal Clerks v. Blount (D.D.C. 1971) 325 F.Supp. 879, 884 aff'd, (1971) 404 U.S. 802 [92 S.Ct. 80, 30 L.Ed.2d 38] (emphasis added).
The above definition appears to be the last, best word on the subject. As far as I can tell, at least in the context of § 7311(3), no other federal court has challenged United Federation of Postal Clerks regarding this definition.
What this means, at least in theory, is that ICE workers can do an "un-strike." They can challenge the administration by doing their job. Sure, it's risky. If only five agents do that — if they proactively turn illegal aliens back at the border rather than housing and distributing them throughout America — not only will they be fired, their protest-by-actually-doing-their-job won't make the newspaper.  They will be martyrs without a cause.
However, if the vast majority of ICE agents take a public stand by actually carrying out their jobs, the administration has a problem, especially because a significant majority of Americans support deporting illegal aliens. Moreover, if the administration tries to discipline or fire thousands of agents for actually doing their jobs it will find itself in the midst of a PR firestorm, not to mention that it will lack any authority whatsoever to fire employees for doing their job.
Just imagine the administration trying to defend its decision to fire agents who are actually working. To date, the administration's rationale for ignoring huge sections of the federal immigration scheme is that the executive has the right to allocate limited resources. According to Obama & Co., ICE resources are so limited that just about the only thing ICE can do is get rid of violently criminal illegal aliens. That statement will fall part if the administration is seen trying to block agents who say that they are easily able to enforce immigration laws other than those limited to violent felons. At that point, the administration either has to fall in line with the ICE agents or think really fast to explain why it's ordering its employees to violate federal law.
Anyway, that's my theory. I'm not an immigration lawyer, so what I don't know far exceeds what I do know. I would appreciate anyone who can educate me further about whether I'm on the right track here or have derailed completely.