Kim Davis: 21st century Civil Disobedience and the federal overthrow of the First Amendment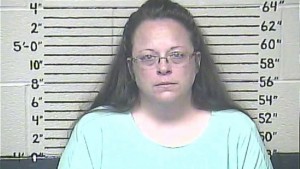 If you read the post caption and thought "Kim who?", you haven't been following the news lately. Kim Davis is the Rowan County, Kentucky clerk who has chosen to go to jail rather than issue a marriage license to gay couples. She is being pilloried on the Left as an utterly evil woman, not to mention a hypocritical one, since she's apparently been divorced before and has children born out of wedlock.
On the right, many who fancy themselves thoughtful intellectuals are conceding that Anthony Kennedy's decision legalizing gay marriage is utterly awful (my take's here), but are adding words to the effect that "the law's the law, so Davis ought to get with it or quit." That view is fatuous and simplistic, because there are very big ideas at issue here, and a small town country clerk is proving to be the first American to put both Civil Disobedience and the First Amendment to the test in the 21st century.
Today, Tom Trinko made what I think is the most interesting observation about Kim Davis's imprisonment, and that is that people on the Left who willfully violate laws governing traditional social norms are invariably celebrated as heroes:
Jerry Brown refused to defend Prop 8 in California thereby refusing to follow his oath to uphold the laws of California, but he's not in jail.

Obama and Holder both swore to uphold the laws of this great nation but both refused to follow the DOMA law yet neither are in jail.

There are many mayors of sanctuary cities that openly declare their refusal to follow immigration laws yet none of them are in jail.

The DNC has knowingly hired an illegal alien, thereby breaking the law, yet no charges have yet been filed.

A key tenet of the law is that it applies to everyone.
Trinko is right, of course, that we in America have developed two completely separate legal (and moral) systems, one applying to Leftists and the other to conservatives (especially Christian conservatives).  Whether it's gay marriage, tax fraud, baby mutilation, rioting, illegal border crossing, or anything else, if a Leftie takes a stand, it's a cause for celebration, while if a conservative makes even a squeak in the direction of ideas that have been part of the American fabric for hundreds of years, that conservative needs to be thrown into the deepest, darkest dungeon.  Here's a nice poster making just that point: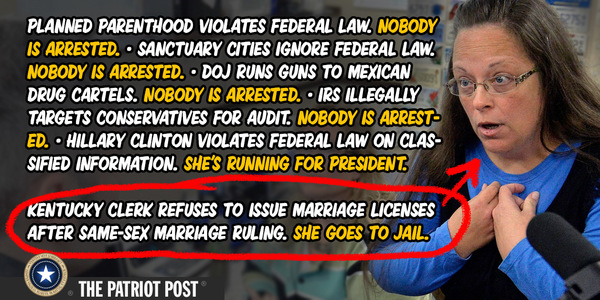 All of which got me thinking about classic civil disobedience, something that Americans (and, before then, British subjects) long practiced, that Henry David Thoreau articulated, and that Gandhi and Martin Luther King brought to its modern apex.  Under the Left's tender aegis, however, civil disobedience definitely isn't what it used to be.
Although civil disobedience has always been around, it was Thoreau, in the mid-19th Century, who best articulated the doctrine we now recognize. Thoreau objected to a poll tax, because he felt the money was being improperly spent to support slavery and the war with Mexico. Rather than paying the tax, he took a principled stand, refused to pay the tax, and went to prison (from which his friends quickly bailed him out).
Thoreau's single night in jail inspired him to write an essay about a citizen's obligation to strike out against unjust laws — and to demonstrate the law's invalidity through each citizen's personal martyrdom. In his essay, Thoreau ruminated about irritating laws versus unjust laws, and about vehicles for protesting the latter (e.g., the ballot box or a refusal to comply with an unjust law or a tax that supports something unjust). Significantly, Thoreau felt that a principled stand gained weight from an attendant sacrifice, which is usually imprisonment:
Under a government which imprisons unjustly, the true place for a just man is also a prison. The proper place today, the only place which Massachusetts has provided for her freer and less despondent spirits, is in her prisons, to be put out and locked out of the State by her own act, as they have already put themselves out by their principles. It is there that the fugitive slave, and the Mexican prisoner on parole, and the Indian come to plead the wrongs of his race should find them; on that separate but more free and honorable ground, where the State places those who are not with her, but against her–the only house in a slave State in which a free man can abide with honor. [Emphasis mine.]
The Twentieth Century saw two men, on different continents, who understood that when a government acts unjustly the strongest protest is to put yourself in the path of that unjust law, and have yourself punished. Gandhi and Martin Luther King were each willing to accept imprisonment, thereby demonstrating the manifest unfairness and immorality of the laws against which each struggled. Had they meekly yielded to fundamentally unjust infringements of intrinsic human rights, neither would have even appeared as a footnote in the history books.
Nowadays, though, if the right type of Leftist breaks the right type of law, he does so with impunity and to applause. The best example of this in the context of Kim Davis's true act of civil disobedience took place in 2004, when then-San Francisco mayor Gavin Newsome took a stance that is the mirror image of what Davis is doing:  He announced that he was going to ignore California's laws banning same sex marriage and, instead, have the City issue marriage licenses to all gay couples desiring them.
The consequences that came Newsome's way as a result of his theoretical act of "civil disobedience" would have surprised Thoreau, Gandhi, and King.  There was no martyrdom involved.  Instead, Newsome was suddenly a fifteen minute wonder, which set him on the path to California's Lieutenant Governorship (and, he hopes, eventually to the Governor's chair). The Press oooh'ed and aaah'ed about Newsome's bravery.
But, really, what was so brave? He wasn't running any risks politically in San Francisco, where a critical mass of voters approve his step. He wasn't running any risk of humiliation or ostracism, because he became the media's darling. No one even mentioned prosecuting him for breaking the law, or impeaching him for violating his official obligations.
Ultimately, what Newsome did wasn't civil disobedience, it was just a media stunt.  The public most certainly did not have its conscience shocked by the spectacle of a righteous man felled by an unjust government. There was nothing principled going on.  Instead, it was sheer opportunism, without either moral and practical weight.
Davis, however, is engaging in an act of civil disobedience of the type that Thoreau, Gandhi, and King championed:  In the face of an unjust government, one that has asserted an alleged  "civil rights" principle that makes a mockery and a shambles of those rights inherent in the Constitution, King has opted to take a stand.  More than that, she is willing to take the precise stand that Thoreau recommended:  "Under a government which imprisons unjustly, the true place for a just man is also a prison."
Davis's martyrdom exposes the terrible think that happened when Justice Kennedy wrote his teary, maudlin encomium to the federal government's hitherto unknown obligation to smooth the path of love:  The Supreme Court effectively imposed a religious test on government employment.
In Kennedy's brave new world, if you wish to work for the government, you must abandon a core tenet of your faith.  We are not talking here about religious practices that are less central to the faith, such as rules about attire or diet.  There is, after all, a difference between ritual and doctrine.  For examples, the rabbis have long held that, when orthodox Jews are faced with a choice between hewing to kosher dietary laws or starving to death, they may eat non-kosher food.  What they cannot do, though, is back away from the covenant with God and the Ten Commandments.
The sanctity of monogamous heterosexual marriage is intrinsic to the Judeo-Christian tradition.  In the Catholic faith, it's a sacrament.  It is a core doctrine, not a ritual.
Going back in time a few hundred years, one of the primary things that drove British people to America's shores — beginning in 1620 — was religious discrimination.  A significant feature of this discrimination came into being in the late 17th century with various laws aimed at preventing anyone who was not a member of the Church of England from holding public office (civil or military) or working in a university or college.  To get those jobs, one had to take an oath:
I, ____________, profess, testify, and declare, that I do believe that in the Sacrament of the Lord's Supper there is not any Transubstantiation of the elements of bread and wine into the Body and Blood of Christ at or after the consecration thereof by any person whatsoever: and that the invocation or adoration of the Virgin Mary or any other Saint, and the Sacrifice of the Mass, as they are now used in the Church of Rome, are superstitious and idolatrous…
In other words, no non-conformists, Catholics, Jews, Muslims, Hindus, or practitioners of any other non-C of E religions need apply. It was against this backdrop that the Founders, more than twenty years before England slowly started reforming its religious restrictions, enacted the First Amendment to the Constitution, the very first clause of which definitively rejects a religious test for public employment:
Congress shall make no law respecting an establishment of religion, or prohibiting the free exercise thereof; or abridging the freedom of speech, or of the press; or the right of the people peaceably to assemble, and to petition the Government for a redress of grievances.
Today, though, thanks again to Judge Kennedy's fatuous romanticism and magical constitutional thinking, we are seeing the federal government reject the First Amendment and revert to the Test Act mentality. Davis and others similarly situated are being forced into the equivalent of an oath, by which they effectively must vow as follows:
I, ___________, profess, testify, and declare that I no longer believe in the meaningless of the sacrament of heterosexual marriage despite the fact that it is central to core Judeo-Christian tradition, and has been so for thousands of years, and that up until last year, every mainstream politician in America purported to believe in traditional marriage's sanctity on religious grounds.  Henceforth, in order to hold my government job, I further profess, testify, and declare that marriage has no meaning other than the joining together before the government of any combination of humans (and perhaps, one day, animals) who orally or through tail wagging profess their love for each other.  My former invocation of traditional precepts is homophobic, hate-filled, and both a micro- and a macroagression.
I warned years ago that, if the gay marriage crowd got its way, we would see the end of the First Amendment and I issued this warning because I foresaw what is happening here:  Because gay marriage is antithetical to mainstream traditional faith it can be forced on Americans only if the federal government requires people to abandon their faith — something directly contrary to the promise of the Bill of Rights.
Kim Davis may not be a pretty Hollywood star or an even prettier San Francisco mayor, and her own approach to traditional monogamous heterosexual marriage may be spotty, but she has proven herself to be a true member of the civil disobedience club, one who is willing to go to jail to defend her civil right to practice her religion freely without the United States government forcing her to abandon core doctrinal beliefs as a condition for employment.